Crib vs Pack n Play: What is The Best Option?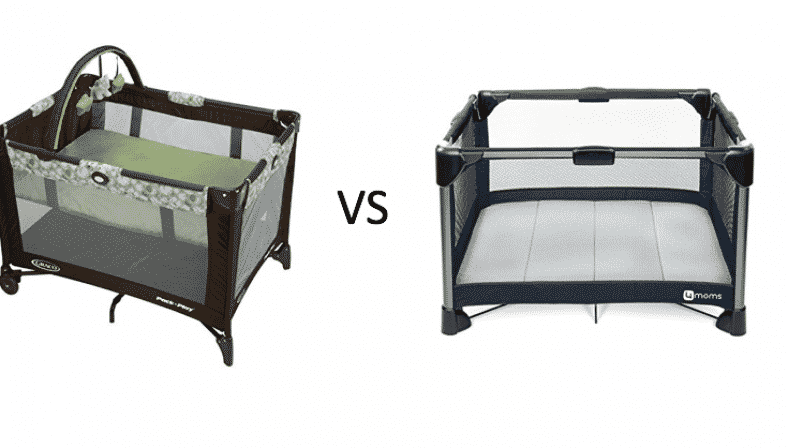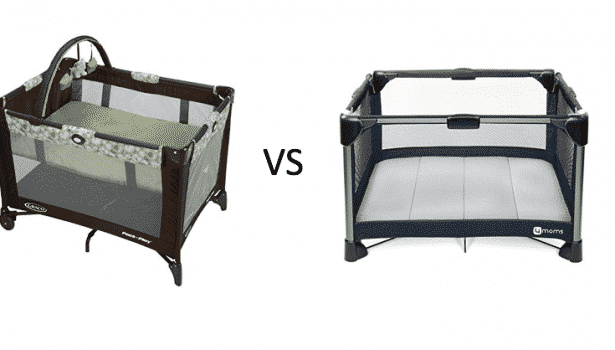 Crib vs Pack n Play: What is The Best Option?
Is your baby on the way? Sleep is an important thing both for you and your baby. So, it is also important to choose the best bed for newborn. Because the bed you choose for your baby can increase your chances of getting more good night sleep. The American Academy of Pediatrics (AAP) recommends keeping your infant in the same room where you sleep (but not in the same bed) to greatly reduce the risk of Sudden Infant Death Syndrome (SIDS). A pack n play or a crib is the safest place to sleep for baby. Getting the best pack n play for sleeping may depend on your budget, room space and portability as well. A lot of parents have questions nowadays whether they should use pack n play instead of crib? What the differences are between a crib vs a pack n play? Now, if you are considering buying a pack n play or a pack and play crib, here are couple of things you should know.
---
Last update was on: May 23, 2022 6:07 pm
Quick Overview of a Crib
So, what is baby crib? According to Wikipedia:
"A baby crib is a small baby bed for newborns and very young children that are a historical development intended to contain a child capable of standing. The cage-like design of infant beds restricts the child to the bed. Between one and two years of age, children are able to climb out and are moved to a toddler bed to prevent an injurious fall while escaping the bed."
Crib vs Pack n Play: What is The Best Option?
Sleep is an important thing both for you and your #baby. So, it is also #important to #choose the #best #bedforyournewborn This may depend on your budget, ...
A crib is an safety baby bed that is permanently fixed so it can be moved. Baby cribs are much durable and they last longer until your child is a toddler. Later, cribs can be converted as toddler beds. Now, Let's see the pros and cons of mini crib.
PROS:
Strong and durable design.
Higher longevity.
Affordable.
CONS:
Difficult to Assemble.
Higher Cost.
Older Recalls.
Space Hog.
---
Last update was on: May 27, 2022 2:53 pm
Rules and Regulations of The Size and Safety of Cribs
Baby cribs are usually around 38 inches long vs the 52 of a standard crib. There are also mini cribs available in the market. Those mini cribs are usually 38 inches long vs the 52 of a standard crib. Standard cribs are heavy, weighting from 30lbs to over 50-100lbs. Due to its heavyweight, cribs are not portable. Moreover, cribs are difficult to assemble. Once it is assembled in the nursery, it is unlikely movable until the baby outgrows the crib. Cribs usually cost minimum of $100 to $120, usually more.
If you're trying to figure out what kind of crib you can fit in your new nursery, here's how big is a crib mattress and the standard baby crib size dimensions that are federally regulated in the United States.
Standard crib mattress dimensions: 27 1/4 x 52 inches, and not more than 6 inches thick (usually thinner).
Standard crib size dimensions (interior): 28 x 52 3/8 inches, plus or minus around 5/8 inch.
Top of crib mattress to top of side rail: ~20 inches.
Crib height off the floor (floor to bottom of mattress support): ~6 inches.
---
Last update was on: May 23, 2022 6:07 pm
Standard Size of Some Popular Cribs
Here are the standard crib size dimensions of some most popular cribs, given by the manufacturer. Know how much space these cribs will take in your house.
| Crib Mattress | Max Exterior Width | Length | Maximum Height (Inches) |
| --- | --- | --- | --- |
| Union convertible crib | 53.5L | 30.5W | 33.5H |
| Graco Benton crib | 56.7L | 29.8W | 40.5H |
| Pottery Barn Lark crib | 59.5L | 32W | 46.5H |
| Sorelle Annie Elite crib | 55L | 30.25W | 40.35H |
| Babyletto Gelato crib | 55L | 31W | 35.2H |
| Delta Children Brayden crib | 54.5L | 30W | 41.25H |
| Serta Mid Century Modern crib | 55L | 29.75W | 39.25H |
| Little Seeds Monarch Hill Ivy crib | 54.5L | 28W | 40.6H |
| Baby Mod Modena crib | 54.25L | 29.63W | 35H |
| Babyletto Hudson crib | 54L | 29.8W | 35H |
| Pottery Barn Kendall Crib | 57L | 32W | 44H |
| IKEA Gulliver crib | 53.5L | 29.5W | 32.6H |
| Graco Charleston crib | 56.5L | 30.1W | 45.7H |
Last update was on: May 27, 2022 2:53 pm
Baby Crib Alternatives
If you have tight room space and budget as well, or you want to save some money on the crib, there are some alternatives for you. Although these alternatives are not any long term or some sort of permanent solution but doing the same job as a crib does.
There are many type of cribs are available which is known as mini cribs, that can work as a standard full-size crib. They can be any size approximately between 36 and 43 inches long. That mini crib dimensions might work great if your home space is tight. It reduces the floor space you need for a permanent sleeping spot for your little one. The problem is, babies will outgrow mini cribs so quickly. So, you will be facing that the mini crib no longer be useful when your kid is really for a toddler bed.
Co sleeper beds are like little baskets or box looking things that allow to sleep in close proximity to your child. It may be in the same bed or just in the same room. Co sleeper provides protection by preventing rolling away from baby's bed. Parents usually use co sleeper beds during the early days after they bring your baby home.
Moses baskets are simple baby holding baskets, one kind of bassinet which is designed to be set upon a stand. Moses baskets are obviously portable. Very useful for traveling parents. But still, these are only temporary solutions.
4

Rockers, Cradles & Bassinets
There are a lot of freestanding sleeping solutions like rockets, cradles and bassinets are also work for young babies. This best playard for sleeping have nice and cool features like cool rocking, vibrating or built-in music options.
Cardboard boxes can also be used for newborn baby's sleeping place. Newborns and young babies can sleep in a simple cardboard box. So, if you are on a tight budget or don't have room space, you can use a cardboard box for babies sleeping place.
---
Last update was on: May 27, 2022 2:53 pm
Quick Overview of Pack N Play
A Pack N Play can be an alternative of Crib. First of all, let's know what a Pack n Play is?
"A pack n play is a playard and sleep/bassinet, a portable sleep and play area that is used for baby and young toddlers. A pack n play can also be used instead of a bassinet or crib since it grows with baby. Now, Let's see the Pros and Cons of a Pack n Play."
PROS:
Ease of Use.
Close Proximity for Nighttime Feedings.
Transportable and Packs Away When Not in Use.
Inexpensive.
Easy Assembly.
CONS:
Lack of Back Support as Baby Grows.
---
Pack n Plays are rectangle shape boxes, comes with legs and wheels and are slightly elevated from the ground. Pack and plays are ideal place for safe co sleeping with newborn. Like a Crib, pack n plays are completely safe and featuring some important safety standards/protocols that help prevent sudden infant death syndrome (SIDS). The play area sides are made from a breathable mesh. Pack n Plays often have an optional elevated sleeping area for newborns that can be removed as needed. Children can sleep or play at the bottom of the pack 'n play when the playform has been taken out.
Pack n play comes with attached or removable infant changing tables. The structure of Pack n Play is made of flexible vinyl or polyester materials, that are suitable for folding.
---
Last update was on: May 23, 2022 6:07 pm
Rules and Regulations of The Size and Safety of Pack N Play
Baby Pack N Play are 40 inches long by 28 to 30 inches wide. The weight of a pack n play depends on the attachments it consists. It weighted around 15-30lbs. They are lightweight and have wheels, that allow easy movement from room to room and great option for travel too. The best feature of a baby pack and play is that they're designed to fold up and stow away, usually in some kind of bag or case. Usually, a perfect, super quality pack and play cost under $150.
---
Last update was on: May 27, 2022 5:47 pm
Main Differences Between Cribs and Pack N Plays
There is not much difference between a crib vs pack n play. A crib is a permanently fixed baby bed, so it can't be moved hence isn't portable while a pack n play has wheels and is moveable from one place to another. Moreover, pack n plays are bit smaller, shorter and lighter than standard cribs. Both Cribs and Pack n plays are safe place for babies to sleep and play. If you have much room space and do not need portable baby carrier option, then a crib might be perfect option for you. On the other hand, families with smaller room space should have pack n play. When you should buy pack n play instead of a standard crib.
When you want to save money.
Have little room space/save room space.
You want better portability option.
---
Comparison Between Crib Vs Pack N Play
Surely, a pack n play is lighter weight and has better portability. But it also includes some disadvantages too. You should know them before consider buying a best pack and play for sleeping.
Pack 'n plays are smaller and have lower weight limits, so your baby will outgrow it faster. Pack n plays usually be replaced in a year or maximum two.
Cribs can be converted into a toddler bed. So, a crib can be used for child's sleeping place for more than 5 years. While a pack n play does not have such kind of durability. A best pack n play for sleeping may last about two years.
Pack n play comes with changing table and play area and other accessories that can easily be disassembled, shove in a bag and travel with. But, packing all of these accessories including bells, whistles are not fun all the time. Moreover, some pack n plays are lightweight but bulky. So, packing and carrying those pack n play can be a huge pain.
Besides all of these factors, a pack n plays are more expensive than cribs. Another problem is, the wheels, legs are constantly breaking. So, fixing and setting them is a huge pain.
Using a pack n play properly might be difficult than a crib.
---
Last update was on: May 23, 2022 6:07 pm
Learn how to pick the best Pick N Play for your precious little one.
Final Thoughts
Crib Vs Pack N Play both are safe for your baby. If you live in a tight apartment, you can go for a pack n play. On the contrary, if you do not have space problem and want a long-time solution, you can have a full size folding crib for your little one. And, if you do not have money or space problem, if you can afford it, buy a good pack and play crib and a higher quality pack n play for newborn sleeping. Both are solid investment and you will have a permanent sleeping place and a portable playard too! The choice is really up to you and what works best for your budget, style, and household.
---
Last update was on: May 23, 2022 6:07 pm