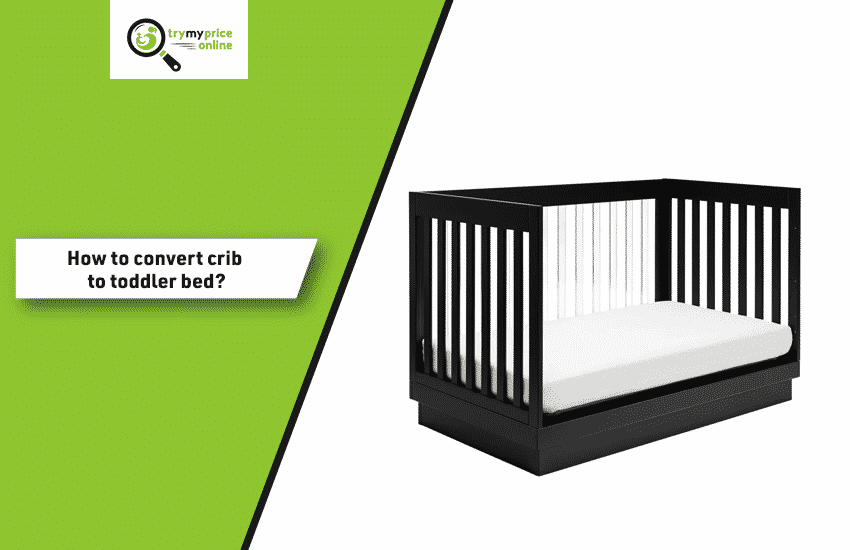 From the moment you notice the pregnancy symptom signs  down to the birth of your baby, your whole world as you know it changes. One minute you are holding on to a tiny human, and the next thing, you are learning how to convert crib into the toddler bed. 
When the time comes to switch up your baby's sleeping arrangements, you will be able to save both money and time when you learn how to convert crib into toddler bed. 
Bear in mind that the typical wooden crib can be converted to a highly functional bed for your child. You need to make use of the simplest option, which is to add a universal guardrail. 
Since you have used convertible car seats, the convert crib to toddler bed DIY may come off as easy for you. However, unlike trying to switch between  similac and enfamil, transitioning from crib to bed does not come naturally all the time. 
The general rule of thumb is for parents to make the switch before the baby learns how to climb out of the crib. 
In this article:
Crib To Toddler Bed Conversion Kit
As a parent, the crib to toddler bed conversion kit you will need is:
Convertible crib

Four Phillips head screws, one inch each, which is 2.5cm

A universal toddler guardrail

Two metal L-brackets. They should be two to three inches each which is roughly five to 7.6cm, and;

Phillips screwdriver. 
Convert Crib To Toddler Bed DIY
We will be outlining how you can do it for those that want to convert crib to toddler bed DIY. The steps to follow when fixing the guardrail on the convertible crib is: 
Unless your baby's crib came with its rail for the toddler bed, you would have to buy a separate rail. Note that the toddler bed rails are shorter and lower than the crib's sides. 
Even though your toddler might be capable of getting in and out of bed without any help, the rail should be able to prevent them from rolling out of bed accidentally while they sleep. 
Now, the best option will be to make use of a universal guardrail kit. This rail fits most of the manufactured cribs. And, the crib to toddler bed conversion kit contains the screws and metal brackets one will need to attach to the rail. 
You will need to use a manual or electric screwdriver to take off the screws that are holding one of the crib's sides in place. When you remove the screws, you will be able to remove the side comfortably. 
However, the exact way it will go will be dependent on the model and manufacturer of the crib. Normally, there will be diverse screws positioned along the right and left posts of the crib's side. 
In some cases, you will only need to remove one side of the crib, but you will need to install the toddler rail on both sides if you decide to take off both sides. Or, you will have to push one side of the bed against the bedroom wall. 
It must be noted that this can only work for convertible-style cribs. This is because stationary cribs do not come with removable sides. 
Here, you will need to have easy access to the bottom slats of the bed when you are installing the guardrail. This means you will need to take off the mattress and bedding before you start. 
The bedding should be set aside, and since the bed's dimension will not be changing when you convert it, you can use the same sheets and mattress. Note that it will be simpler to complete the entire step when you remove one side of the crib. 
But, if you will be making use of the bottom slats to take the sides off, remove the bedding and mattress first. 
You are to place one L-bracket on the inside of every rail post. You are to do this with the aid of a screwdriver and screws. The guard rail kit will be coming with the appropriate L-brackets and screws. 
However, if you buy separate hardware, ensure that you pick two inches or three inches corner brackets with four mounting holes. Plus, you are to pick one-inch-long Philips head screws. 
If you are not aware, you will be installing one bracket on each of the two guardrail posts. The brackets must be positioned so that the foot of the bracket will lie flush with the bottom of the guardrail post. 
Also, the vertical position of the bracket must be aligned with the middle of the post. Finally, two screws should be used to secure this bracket to the post. 
As you practice how to convert crib to toddler bed DIY, you will need to lift the guardrail and place it over the bare side of the bed. Next, you are to hold the rail for the end posts and attached brackets to line up with two separate slats on the bottom of the baby's bed. 
It would help if you tried leaving roughly nine inches of space between the headboard and the rail. Also, another nine inches of space should be left between the footboard and the rail. When you leave this much space, it is easier for toddlers to get in and out of bed. 
As you hold the tail steady, start installing two screws via the remaining holes of each bracket and into the slat rolls under the bed. You are to make use of two screws with each of the brackets. 
More so, it would be best if you kept the bracket positioned down the middle of every corresponding slat. This is needed for maximum security. Finally, ensure that the screws are very tight and capable of holding the brackets strongly in place. 
When you finish, you should try wiggling the rail. The guardrail is not meant to move. 
When the guardrail is positioned, return the mattress and cover it with sheets, blankets, and pillows. Now, the toddler bed will be ready for usage. 
If you do not want to install the second rail on the other side of the bed, you can follow the above step. You are to install both rails before you return the bedding and mattress after successfully learning how to convert crib into toddler bed. 
Things To Look For When Buying A Crib
After going through the phase of picking out the best manual breast pumps  and even baby carriers, you will need to consider some things when you get to the stage of purchasing a crib. 
Some of the things to look out for include:
Even after settling for a convertible crib, you will have to determine if you want to go home with a portable option, a mini crib convert toddler bed, or the standard full-size convertible. 
You will find alternatives outside of the convertible cribs that may be quite affordable because they have been designed for travel or made for newborns similar to bassinets. 
When you purchase the mini crib convert toddler bed, it is ideal to buy the crib to toddler bed conversion kit right away. Or you can buy a full-size bed, day bed, or baby bed that turns into a toddler bed. However, you must purchase everything at once as the designs can phase out over time. 
It is best to have the compatible hardware that is specifically designed for your crib on hand before the time to convert reaches. 
You can go for a crib with diverse mattress settings for those who want to save their backs. Like this, when your baby is born, you can leave the crib in the highest setting.
As your baby grows, you can begin lowering it down to the height you desire when you learn how to convert crib into toddler bed. 
Although all new mini crib convert toddler bed on the market are structured to adhere to all the latest safety standards, it must be noted that not all are made of the same quality materials. In addition, some items such as finishing paint or specifically manufactured woods may likely have VOCs. 
For this reason, third-party Certifications such as GreenGuard Gold are vital designations to seek. This certification signifies that the product has been successfully reviewed to make sure there are low emissions. 
Some cribs provide in-built storage operations. This is ultimately nice for storing the bay essentials such as sheets and diapers. For others, this means drawers are situated underneath the crib. 
It further means that they will not have to think of purchasing a crib skirt. However, others will see it as an added bulk on the crib's side. 
Best Convertible Cribs
Some of the best convertible cribs you will find out there include: 
Are you aware that you can convert Dream On Me Crib to toddler bed? Well, if space is premium, you may have to opt for a mini crib that offers all the comfort of the typical crib. 
The fact that you are purchasing a mini crib does not mean it will not be one that can convert.
This is where the mini crib from Dream On Me crib to toddler bed comes into the picture. Understand that this mini crib can be converted to a mini daybed. 
This may likely be perfect for a toddler bed, but it will be dependent on your child as there will be no side railing. It can also convert to a twin bed with the crib to toddler bed conversion kit sold separately. 
This crib is sold in roughly seven beautiful yet pleasing colors and can hold children that weigh up to forty pounds. It has been tested for led and every other toxic material. This is to convince you that it is safe for your baby. 
However, if your child is tall, they may grow out of this or need to convert this crib to a twin bed. It is vital to note that this crib is a wonderful blend of substance and style. 
It is created out of New Zealand pine wood and comes with a robust build. More so, its sturdy frame and sole adherence to safety standards are a part of its durability. In addition, this crib sits low on the ground, making it easy to get your baby. 
Moreover, it has a comfortable three-position adjustable mattress support system. And, its tiny size makes it perfect for a small nursery when you have to co-share or have more than one baby to attend to. 
The Dream On Me Crib to toddler bed is capable of meeting the growing desires of your baby, and it comes with a stationary rail design.
All cribs designed by Dream On Me are done with safety as the primary focus. They also meet every ASTM and CPSC standard.
It comes with a small footprint and clean design, which makes it fit into the theme of any nursery.
Internally, this crib is quite spacious.  In time, you will learn how to convert Dream On Me Crib to toddler bed.
No matter how expensive baby items are, it gets frustrating when your baby swiftly outgrows their crib. However, there is no need to pay a huge sum of money for some months when you can purchase the Delta Children baby crib. 
This crib is hassle-free as it is a baby bed that turns into a toddler bed. In addition, this crib is laminated with the help of a non-toxic finish. It helps for the sake of peace of mind when your baby begins teething. 
Also, the mattress can be lowered when your baby begins learning how to stand. This will keep the escape artist from crawling out when parents are not paying attention. Finally, note that that Canton 4 in 1 crib is timeless.
More so, it is fully embellished with a sleek yet sleigh-style headboard. It has amazingly curved legs and a versatile design that helps you convert delta crib to toddler bed. This crib is known for creating a welcoming and warm space. 
Aside from being aesthetically pleasing, it is JPMA certified and has undergone rigorous testing to make sure your baby is safe for years to come.  Are you aware that you can convert Delta crib to toddler bed? 
Converting Delta Crib To Toddler Bed
In learning how to convert delta crib to toddler bed, the delta crib to toddler bed steps include:
Take off the front rail assembly from the crib. 
When you do this, you are to insert the Allen key into every one of the four bolts and turn them counterclockwise in a bid to loosen the bolts. Since you will be reinstalling the crib's legs, you will not need to remove the bolts from the side of the panels completely. 
Make use of the Allen key to remove the legs from the front rail assembly.
Each one of the legs is held in position by a bolt along the top rail. And another is held near the bottom of the rail assembly. 
Take off the metal stabilizer that connects the front rail to the legs. It will be easy to remove if you grab them using pliers and subtly pull them out. 
Finally, you are to install the legs to the side rails of the crib by lining up the metal pins to the holes on the side rail. Now, you are to subtly push on the legs in a bid to hold them in position to successfully learn how to convert Delta crib to toddler bed. 
Remember to tighten the Allen bolts by turning the Allen key clockwise when converting delta crib to toddler bed. 
For those unaware, there are ways to convert Graco crib to toddler bed. But first of all, you must note that the Benton crib by Graco is manufactured from high-quality pine wood and verified composite materials. 
As a popular option, it features three height settings and can be converted from a normal crib to a toddler bed, full-size bed, and even a daybed. In addition, users have made it known that it is a solid and attractive crib available at a good price. 
It is manufactured in many non-toxic finishes, such as pebble grey, white, black, espressos, and driftwood.
All these finishes will blend with any nursery decor. The Graco crib has been created to be used for many years. 
This baby bed that turns into a toddler bed features three positions adjustable mattress support base.
Note that the Graco crib to toddler bed conversion kit is sold separately. 
Experts have tested Benton to meet all the applicable federal safety standards similar to all its cribs. This is done to make sure your baby gets the safest sleeping environment. 
The maximum recommended weight for this Graco crib to toddler bed is fifty pounds. Bear in mind that Graco cribs are manufactured exclusively by none other than Storkcraft. 
For more than seventy years, Storkcraft has been responsible for manufacturing high-quality furniture for kids, toddlers, infants, and even teenagers. The mattress height has been crafted to adapt to your growing child. 
Convert Graco Crib To Toddler Bed
When you want to convert Graco crib to toddler bed, the Graco 4 in 1 crib instructions toddler bed to follow include:
Remove the bedding and the mattress from the crib. When you do this, you can set the drop side to be as high as you want it to go for the

Graco crib to toddler bed

. 

The next step is to take off the block brakes or rail stops underneath each plastic track below the drop side. Next, you are to make use of a Philips head screwdriver. Note that the block brake is almost similar to the Philips head screws and has a tiny plastic cylinder around its top half. 

You are to pull the block brakes out of the plastic rails and finally set them aside in case of future usage. 

The next step entails lowering the drop-side gradually. When it finally falls below the area where the block brakes were formerly positioned, it will suddenly come off the rail. You are to remove the drop-side completely. 

Now, you are to set up the mattress stretcher to the lowest point if you want. In doing this, you are to remove the ¾ inch bolts that successfully attach the stretcher to the legs with the aid of an Allen wrench. 
Bear in mind that you are to align the holes in the metal tabs on the stretcher with the lowest corresponding holes in the legs.
From this point, you are to re-insert the bolts and fully tighten them using the Allen wrench. 
As for the final step, you will need to replace the mattress and make the toddler bed the way you desire.
If you want to learn how to turn a Graco crib to toddler bed, you can follow the steps above. 
Conclusion 
It is worthy to note that you can convert crib to toddler bed DIY successfully without making any mistakes. Also, we have provided interested users with steps on how to convert crib into toddler bed using some of the best mini cribs as examples. 
All you need to do is follow this guide and successfully turn your crib into an amazing toddler bed without spending money. 
Frequently Asked Questions
 Can any conversion kit be used for my child's crib?
Yes, you can make use of any conversion kit.
 What age should I convert my child's crib to toddler bed?
Honestly, there is no particular answer to this question. But, it is alright to start the conversion when your toddler is too big for the crib.
What exactly is the maximum age for toddler beds?
The maximum age is four years.
Can I place my toddler straight into a single bed?
Yes you can. But, the mattress should be soft
Sources
Dream On Me Aden 4-in-1 Convertible Mini Crib in White, Greenguard Gold Certified
out of stock
as of November 23, 2023 3:23 am
Features
LONG LASTING - Made of New Zealand pinewood, the Aden 4-in-1 Convertible Mini Crib is both durable and stylish. A clean design and small footprint allow it to fit into any nursery theme. All tools for assembly are included
4-in-1 CONVERTIBILITY OPTIONS - The Aden grows along with your child. You can convert the crib into a mini daybed and a twin size bed and it has a convenient 3-position mattress support system(Twin Size Rail and Bed frame sold separately)
YOUR SAFETY MATTERS - The Aden 4-in-1 is JPMA Certified to meet or exceed all safety standards set by the CPSC and ASTM. All of our products are tested by 3rd party labs for lead and other toxic elements to meet or exceed CPSC and ASTM safety standards
SMALL WONDER - Compact dimensions mean the Aden occupies a small footprint. But internally it is very spacious, making it ideal for small nurseries, co-sharing or when you have multiple kids to tend to
MATTRESS COMPATIBILITY - The Aden measures 39"Lx28"Wx37"H. For the best fit, we recommend any Dream On Me, non-toxic.
Delta Children Canton 4-in-1 Convertible Crib - Easy to Assemble, Espresso Cherry
3 new from $232.66
Free shipping
as of November 23, 2023 3:23 am
Features
CONVERTIBLE CRIB: Converts from a crib to a toddler bed, daybed and full size bed with headboard and footboard (Daybed Rail and Toddler Guardrail included; Full Size Bed Rails #0020 sold separately)
GROWS WITH BABY: The 3 position mattress height adjustment on this crib allows you to lower the mattress as your baby begins to sit or stand.Care & Cleaning: Spot or Wipe Clean
BUILT TO LAST: Strong and sturdy wood construction helps create a dream nursery where you'll spend plenty of Mommy and Me/Daddy and Me time | Easy assembly
WE PUT YOUR BABY'S SAFETY FIRST: This crib is JPMA certified to meet or exceed all safety standards set by the CPSC & ASTM | Tested for lead and other toxic elements to meet or exceed government and ASTM safety standards
SIZE: 54.25" W x 43.25" H x 35.25" D
Graco Benton 4-in-1 Convertible Crib (Pebble Gray) Solid Pine and Wood Product Construction, Converts to Toddler Bed, Day Bed, and Full Size Bed (Mattress Not Included)
6 used from $145.46
Free shipping
as of November 23, 2023 3:23 am
Features
5-IN-1 CONVERTIBLE CRIB: Converts from baby crib (mattress sold separately) to toddler bed [Graco Universal Toddler Safety Guardrail Kit (01340-60x Series) sold separately], daybed, and full-size bed (Graco Full-Size Bed Conversion Kit sold separately)
ADAPTS TO YOUR GROWING BABY: Adjustable mattress support base with 4 different height options; Fits any standard full-size crib mattress (sold separately); This baby crib may be used until your child can easily climb out or is taller than 35in (89cm)
GREENGUARD GOLD CERTIFIED, JPMA CERTIFIED: GREENGUARD Gold Certified products are screened for more than 10,000 chemicals and VOCs known to pollute indoor air; Expert tested to meet or exceed all applicable category voluntary and mandatory safety standards
QUALITY CRAFTSMANSHIP: Crafted with pine wood, TCSA compliant engineered wood, and wood composites; Packaging tested to reduce the risk of incidental damage that could occur during shipment; Backed 1-year limited manufacturer's warranty; Assembly required
AWARD-WINNING BRAND: Exclusively from Graco, proud recipient of the 2021-2023 Women's Choice Award for 9 out of 10 Customer Recommended Baby & Kids Furniture and Parent Tested Parent Approved (PTPA) Seal of Approval for nursery and children's furniture