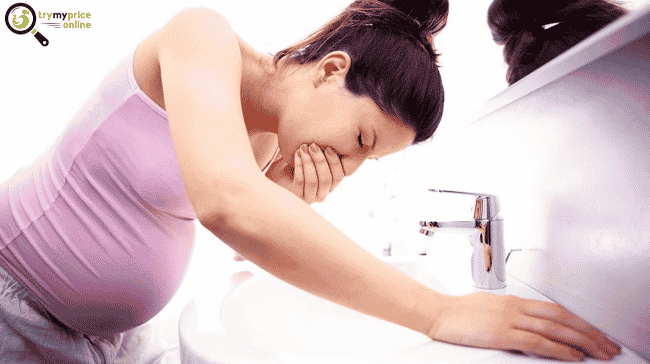 Morning sickness is a typical pregnancy symptom that is characterized by nausea and vomiting. Morning sickness can come at any time during the day, despite its name. It is common in the first four months of pregnancy and is frequently the first indication that a woman is expecting. Morning sickness can be handled in a number of ways, and complications are rare.
Related: B6 And Unisom during Pregnancy: Is It Safe?
Morning sickness
Morning sickness during pregnancy is caused by a variety of factors, and the severity varies from one woman to the next.
A rise in hormone levels during the first several weeks of pregnancy is one of the most prominent causes.
Another common reason for sickness is low blood sugar.
Morning sickness can be worse by a number of factors. Here are a few examples:
Excessive fatigue and emotional stress are common side effects of having twins or triplets.
A lot of travelling
Morning sickness varies from pregnancy to pregnancy. 
Sickness may have been severe during one pregnancy but be quite minor in subsequent pregnancies.
Related: Pregnancy insomnia causes and treatment
Morning sickness has the potential to cause difficulties
Loss of appetite is a common side effect of nausea and vomiting. 
Many pregnant mothers are concerned that this will harm their unborn children. Mild morning sickness is rarely dangerous.
After the first three to four months of pregnancy, women who experience sickness should see their doctor.
If you aren't gaining any weight during your pregnancy, you should get help.
Sickness is rarely severe enough to obstruct prenatal growth and development.
Some pregnant women endure significant vomiting and weight loss as a result of nausea.
Hyperemesis gravidarum is the medical term for this condition. 
The result is electrolyte imbalances and unintentional weight loss. This problem, if left unchecked, could result in your baby's death.
If you encounter any of the symptoms described below, you should immediately consult your doctor.
Being unable to keep meals down
2 pound or more weight reduction
Fever
Urinating infrequently with little amounts of dark-colored urine
Dizziness or lightheadedness
A rapid heartbeat
Severe nausea, blood in the vomit, frequent headaches, abdominal pain, Spotting, or bleeding throughout the second trimester
Severe morning sickness frequently warrants hospitalization.
For rehydration, hyperemesis gravidarum frequently needs intravenous (IV) fluids.
Related: Tubal pregnancy risks and treatment
Morning sickness treatment
Your doctor may give vitamins or medicines to alleviate nausea and aid in the retention of foods and fluids.
Your doctor may prescribe the following medications:
Antihistamines: Antihistamines are a type of medication that is used to treat nausea and motion sickness.
The drug phenothiazine is used to treat severe nausea and vomiting.
Antacids are used to neutralize stomach acid and prevent acid reflux.
Metoclopramide (Reglan): 
To aid in the transport of food from the stomach to the intestines, as well as to relieve nausea and vomiting.
Take these drugs only after checking with your doctor.
Some people believe that alternative remedies can help with morning sickness.
Before you try any of these, make sure you talk to your doctor first. Here are a few of the options:
Prenatal vitamins are supplemented with vitamin B-6.
Ginger items, such as ginger ale, ginger tea, and saltine crackers with ginger drops.
You can get the best product for morning sickness from amazon
Related: Pregnancy test calculator week by week
Getting rid of morning sickness
The following steps can help you avoid or reduce nausea:
Make sure you drink plenty of water.
Drink lots of fluids before and after meals.
Take naps when you can.
Make sure your home and workstation are sufficiently aired to avoid irritating scents.
Spicy foods should be avoided.
Related: Glucose test pregnancy and its importance
Finally, If none of these precautions work, or if your morning sickness lasts longer than the first three to four months of your pregnancy, see your doctor.
References: