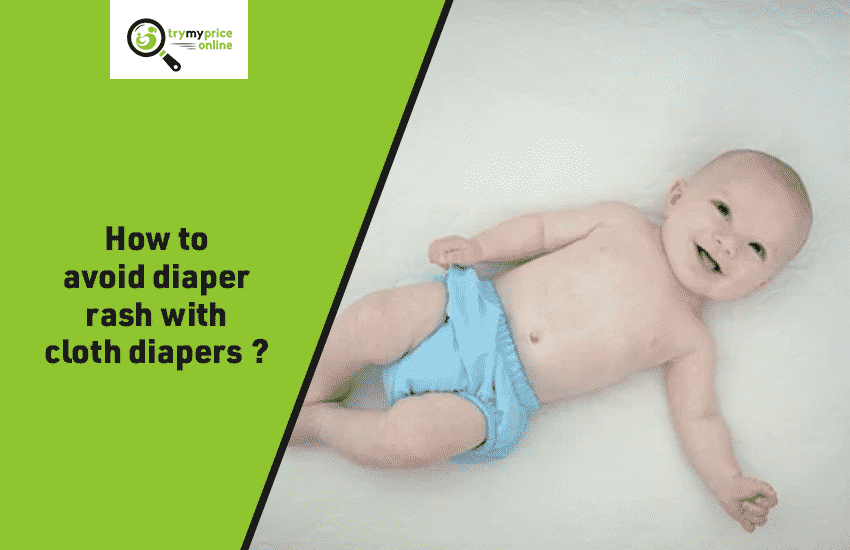 Diaper rash is a frequent kind of inflamed skin (dermatitis) that emerges as a patchwork of bright red skin on the bottom of your infant. Diaper rash is often associated with damp or rarely changed diapers, sensitive skin, and chafing.
It is most common in infants, although anybody who uses a diaper regularly may acquire the disease. Diaper rash may be a source of concern for parents and annoyance for infants. However, simple at-home remedies like air drying, more frequent diaper changes, and ointment typically resolve the problem. Now, there is an issue arising in your mind about preventing diaper rash with cloth diapers.
Many infants, regardless of diaper type, may develop a minor cloth diaper rash at some time. Diaper rashes are quite frequent due to the warm, moist temperatures, coupled with friction and a high-bacteria environment. Changing your infant regularly — every two hours with wet diapers or whenever the baby produces a dirty diaper — may help avoid diaper rashes. The majority of mild diaper rashes resolve on their own within a day or two with little intervention.
What are the Causes of Diaper Rash?
Poor hygiene
It is essential to clean infants after each diaper change. This implies that even if no poop is present, the baby must be wet cleaned and then air-dried or pat dried before putting on the following cloth diaper. In most instances, poor cleaning and hygiene results in urine/poop residues causing rashes in infants.
New food introductions
As infants begin to eat solid meals, the composition of their feces changes. This raises the risk of developing diaper rash. Changes in your baby's nutrition may also increase in feces frequency, resulting in diaper rash. If you breastfeed your baby, they may get diaper rash due to anything the mother eats.
Use of antibiotics
Antibiotics are intended to eliminate germs, both healthy and harmful. A baby's immune system may be compromised when they receive antibiotics, resulting in a yeast infection that causes diaper rash. The use of antibiotics increases the likelihood of developing diarrhea. Diaper rash is also more common in breastfed infants whose moms are taking antibiotics.
Bacterial infection
What starts as a superficial skin infection may quickly spread across the surrounding area. When you wear a diaper, the region covered by it is particularly susceptible since it is warm and wet. This makes it an ideal breeding ground for germs and yeast to thrive. It is possible to find these rashes inside the skin's creases, and there may be red spots distributed throughout the wrinkles.
Delayed changes of diaper
Cloth diapers, although very effective, are made of cloth, which makes them environmentally unfriendly. You would most likely need to change cloth diapers more often than disposable ones since they contain fewer chemicals. Leaving a kid in a wet diaper for an extended period can result in rashes. It is possible that a single event may not cause significant damage, but repeated incidents may result in inflammation.
When it comes to changing the time of day for newborn babies, every 2 hours is reasonable. According to their peeing capacity, you may even extend the time limit for toddlers to 4 hours or more. Not to mention that if there is an accident, you must change the diaper as soon as possible.
They are not being washed regularly.
Diapers should be cleaned at least every other day, perhaps more often in humid climates such as India. A thick diaper may encourage the development of germs and fungi, which can not only harm cloth diapers but also irritate the infant's skin when the diaper is worn.
It would help if you subsequently treated any bacterial development on diapers with bleach and chemicals, which is a waste of time and money that you might have avoided. As a result, taking excellent care of them and cleaning them regularly should become the standard.
How to Avoid Diaper Rash?
One of the most frequent reasons parents opt for cloth diapers on their children is that it is straightforward to avoid cloth diaper rash!
It is possible to have diaper rash even if you correctly use cloth diapers. However, if you follow the advice in the following ten suggestions, you will avoid diaper rash from occurring in your kid quickly. You are pleased to know that cloth diaper rash treatment is very easy.
Now here, you will learn that how to avoid diaper rash using cloth diapers.
When your infant is moist, you should change their diapers often.
Change cloth diaper when baby is wet.
It may seem obvious, but some infants are just more comfortable when they are dressed in cloth. Cloth diapers are about 3 degrees cooler than disposable diapers, which means your baby is less likely to get upset and alert you that it is time for a change.
Diaper rashes can appear if a baby's skin comes into touch with moist or dirty diapers for an extended period. Diaper changes regularly are the most simple and effective method of preventing diaper rash.
Infants should be examined for dampness every 60 to 90 minutes during the first 60 to 90 minutes of life. Generally speaking, older infants will feel wet after 2 to 4 hours of wearing a cloth diaper, depending on their age. Because cloth diapers are often less absorbent than disposable diapers, your baby will need to be changed more frequently to avoid rashes while using cloth diapers.
There is no data to indicate that either cloth diapers or disposable diapers are more likely to cause rashes in babies than the other. There are many types of cloth diaper friendly rash creams are available in the market.
Use cotton washcloths
Using a cotton wipe and a small amount of warm water is similar to taking a mini-bath. It's also a more convenient, cost-effective, and environmentally friendly plus, hey, you know what's on the wipe! Anyone who has used poopy wipes (or five) in their diaper bag will appreciate not having to toss them away when the diaper is in the pail.
Rashes on the bum may be treated with natural bum creams
Natural bum creams are, well, more natural, and that is always a good thing — regardless of the situation. Even the use of coconut or olive oil may be very beneficial. Keep in mind to stay away from zinc and petroleum-based lotions.
Allow them to take a deep breath.
Allowing that tiny tushie to air out is very beneficial to the baby and is one of the most straightforward methods to avoid diaper rash. Place the changing mat on the floor and spend some quality time together in silence. Who wants to be in diapers all of the time? Fresh air may be a child's best buddy, especially when the weather is good.
Do not allow your child to sit in a poopy diaper.
Just remember to change your baby's diaper as soon as you see that they have pooped, even if it seems like an obvious thing to do. Their buttocks may get extremely red if a bowel movement touches their skin while they are sleeping.
Avoid irritants
Using baby goods such as soap, fragranced wipes, detergents, and other similar items may irritate your baby's skin. Many physicians recommend that you clean your baby's bottom with simple warm water, either with or without very little soap, to prevent diaper rash.
They also suggest that you let the skin on your baby's bottom fully dry before changing their diaper. You should also avoid using scented soaps or baby wipes that include alcohol or fragrances since the chemicals in these products may irritate your baby's delicate skin.
Best Cloth Diapers to Avoid Diaper Rash
Diapers have become very fashionable in recent years. Many use gels and other modern technologies to help them remain dry for a more extended period. However, for a tiny proportion of infants, these forward-thinking concepts may be a source of concern.
If you believe that your baby's sensitive skin is caused by the diapers you've selected, there are now several excellent options to consider.
1. Babygoal Baby Cloth Diapers for Girls, Washable Reusable Pocket Nappy
These diapers are reusable and completely machine washable, and when cleaned, they become more absorbent.
Polyester diapers with a waterproof PUL fabric. These cloth diapers are reasonably priced since they are manufactured by one of China's leading baby goods manufacturers, and we always offer the finest quality to our clients! They have created a variety of gorgeous patterns for newborn boys and girls, as well as at least 50 distinct designs for cloth diapers.
Cloth diapers with inserts are less costly and produce less trash than disposable diapers. Additionally, these cloth diapers may be used for many years, saving you at least $1,000 for one kid.
Pros:
Reusable
Very soft material
Highly reputed manufacturer
Less expensive
Leakproof
Cons:
2. ALVABABY Baby Cloth Diapers
Many families select cloth diapers as a cost-cutting measure. While virtually any type of cloth diaper can save you money over time, they may be rather costly upfront. Many families are worried about spending so much money all at once.
It has a TPU outer layer and a microsuede inside layer. The pocket entrance is located just behind the diaper's posterior border. The wings on the diapers are constructed so that they aid in achieving a snug and precise fit, maybe somewhat better than other cloth diapers. The inside layer is very soft on my infant's skin. There is no need to be concerned about a rough material hurting her delicate diaper region. Additionally, many individuals like the outer layer of material, which is waterproof yet still soft and non-plastic. There are many cloth diaper safe rash creams available on market.
According to Alva Baby's website, the outer waterproof material is TPU, while the inside lining is suede. It comes with a microfiber insert, but you can upgrade to bamboo or charcoal bamboo inserts for an additional fee. Pocket diapers are available in plain colors or patterns. The prints add approximately $1-2 to the price of each diaper. Their print collection is constantly expanding, and there are many options!
Pros:
Available in many colors and patterns
It is very cheap
Material is super soft
Cons:
It is not suitable for long-term use.
3. Bambo Nature Eco-Friendly Baby Diapers
Bambo Nature nappies are soft, pleasant, and absorb moisture from even the most delicate skin. The nappies have a super-absorbent core with advanced channel technology that channels water away from the baby's skin and can withstand repeated wettings – even overnight. The handy wetness indicator changes color to indicate when a replacement is required.
Bambo Nature is an eco-friendly diaper with a premium feel. This makes it a top option for parents worried about their child's health and exposure to toxins. This diaper works adequately in absorption and leaking and has remarkable eco-friendly features that set it apart from the competition. Bambo is a healthy, eco-conscious diaper that we recommend to families searching for a baby-friendly cloth diaper.
Pros:
Suitable for baby's health
Very comfy
Recommended by many parents
Cons:
Average for leaks and durability
4. Humble BeBe Cloth Diapers
Cloth diapers are unmatched in terms of affordability. These are the most straightforward methods available and should help you protect both your baby's skin and your wallet. They're made of quality, unbleached cotton and are ideal for chemically sensitive infants. Because they are pre-folded, you can modify them to the perfect fit for your baby, minimizing leaking.
Developed by parents who were dissatisfied with the market's offerings, this brand places a premium on absorbency, which should help keep your baby's bottom dry.
These cloth diapers are composed of luxuriously soft and breathable fabric. It protects your baby's skin from diaper rashes and redness. In comparison to the majority of cloth diapers, it is lower in weight and very absorbent.
The diapers are constructed with several thick layers that absorb urine and runny feces effectively. This should alleviate the agony of getting up at midnight to change diapers.
It is the ideal size for all infants under the age of one. However, for fat children, the diapers may be a bit short for side folding. In such a case, you may insert them. It will make little difference. Additionally, only the tri-fold technique should be used as a regular diaper if you want to use it.
Additionally, these diapers are pre-shrunk. This implies that even after 5-7 washings, it will retain its form effectively, making them more durable than standard cloth diapers.
Pros:
It has many layers for absorption
The material is very soft
It is safe for baby's skin
Cons:
It seems a little bulky than other cloth diapers.
5. OsoCozy Prefolds Bleached Cloth Diaper
When it comes to the most OK Prefolds diapers for infants and toddlers, very few brands can compete with OsoCozy's fabric quality and absorbency.
These diapers are composed of Indian cotton, which is soft on infants' sensitive skin. A unique feature of this material is that it tends to get softer with each wash. Instead of plain white stitches, the top and bottom borders are completed with blue stitches.
Moving on, these diapers are available in two sizes: one for newborns and two for older infants (weighing 15-30 pounds). Although the size 2 is somewhat more extensive than anticipated, you may benefit from the excess fabric by folding it down 3″ in the front or back.
This provides enhanced covering and additional protection against moisture and leakage for up to 12 hours. If you want to trifold and place it on a cover, use size 1.
Because the diapers are very thick and heavy, they are excellent for nighttime usage. You'll be relieved to learn that these diapers can be bleached to remove the stain. Just a tiny tip: use oxygenated bleach instead of chlorine to extend the life of the cloth.
Pros:
Made from the soft and best cotton
It has good absorbent quality
Cons
It takes a lot of time to dry.
Conclusion:
That concludes our search for the most perfect cloth diapers anyone can buy. This article has addressed whatever doubts you may have had before arriving here. Before you decide, keep in mind that not all diapers are made equal.
Before choosing a purchase, ensure that you are acquainted with your baby's peculiarities. Your little child is incapable of speaking for himself. As a parent, you must ascertain his requirements only by observation of his responses.
If you're still unsure which diaper is best for your baby, you must pick OsoCozy Unbleached Prefolds. It is made of a soft cushiony material that is very absorbent, keeping the filth away from your baby's sensitive skin. The prefold is very easy to put on and maintain.
FAQs
How often should I change the cloth diaper?
While it is ideal for changing your baby's diaper as soon as she soils or wets it, you should change your baby's cloth diaper about every two hours throughout the day.
Why are cloth diapers leaking?
If your cloth diapers leak, it may be an easy fit or absorbency problem or a troublesome repelling issue. The diaper should be snug around the waist and legs but not so tight that compression leaks occur.
How to deal when bay has a rash?
If your baby has a cloth diaper rash, change her more often and let her be diaper-free. Use cloth diaper cream and add fleece liners to her diapers to help keep her dry. You may need to swap detergents or wash your cloth diapers more than once.
Reference: