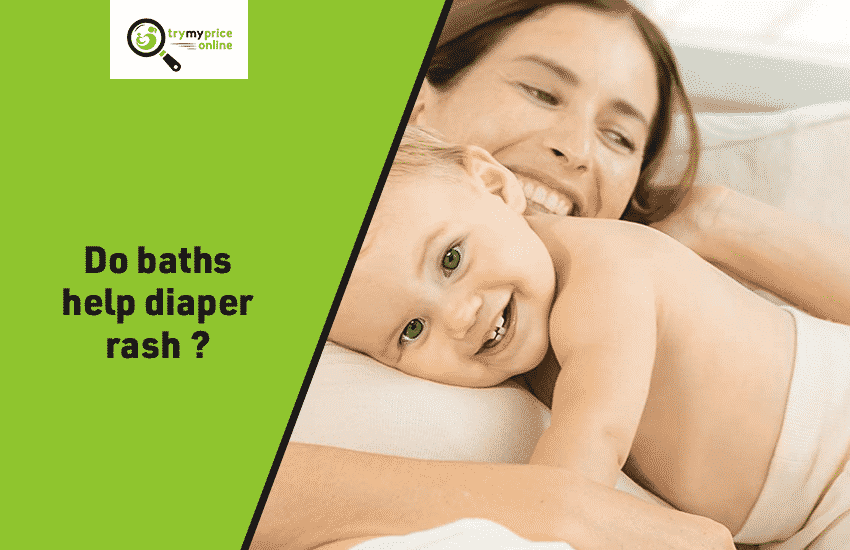 Diaper rash is a painful, red rash that flourishes in warm, humid conditions. The skin may become scaly, rough, or raw as a result of the rash. Diaper rash affects some infants more frequently than others, especially if they have an underlying skin problem such as eczema. Your youngster will most likely be in diapers for two to three years. You can expect at least a few diaper rashes regardless of the type of diaper you use.
They're frequent and rarely hazardous, but with these tips for prevention and treatment, you should be able to handle and conquer even the most irritating diaper rashes. When your newborn is affected by diaper rash, you may get confused and think about many remedies in mind, like, Do baths help diaper rash? We have made a detailed discussion below about the symptoms, causes, and methods to overcome the baby rash problem that will surely help you.
Diaper Rash Symptoms:
Pink, dry skin patches characterize mild rashes.
Areas of red skin appear in severe rashes. The skin of the baby may become raw or even bleed in some locations.
Raw rashes can be highly uncomfortable, while pink rashes are not. This can result in sobbing and a lack of sleep.
Diaper Rash Causes:
Diaper rash may be caused by negligence by parents during diaper routine or due to some health-related issues. It may be commonly seen in babies already suffering from skin-related diseases, and it can go up to a severe condition where you might need to consult with a doctor. A rash is not something that will suddenly appear on your baby's skin; you were maybe making some mistakes while changing diapers and in taking food to your baby. Whatever the reason is, this will leave your baby screaming in pain with a diaper rash.  Following are some of the significant causes of diaper rash:
The drying impact of soaps might produce mild rashes.
Because feces include bacteria, it can be not very pleasant if it is left on the skin. Urine has no germs and does not usually irritate the skin. This rash appears on the scrotum or anywhere else where stool can hide. Prolonged stool contact is a common cause of small ulcers around the anus.
Ammonia can be formed when feces and pee are kept in a diaper for too long. It has the potential to inflict a minor chemical burn. When you change the diaper, the vapors will smell like ammonia. Cloth diapers are more prone to this.
During bouts of diarrhea, rashes just around the anus are typical. Diarrhea stools also include digestive enzymes, which irritate the skin.
Irritated rashes can lead to a subsequent yeast infection. The color of yeast infections is vivid red. They might be honest and teary at times. The edges are angular. Just beyond the border, tiny red bumps or even pimples may appear.
With babies stooling up to 10 times a day or when your baby has diarrhea, it's frequently tough to keep the skin from looking red and inflamed, despite your best efforts.
Foods That Cause Diaper Rash:
This paragraph answers the most asked question by parents whose baby is suffering from a rash, and that is what foods cause diaper rash? or Do baths help diaper rash? The answer is provided in detail, but in general, remember the food you are providing to your baby can indirectly lead to a severe kind of diaper rash if not appropriately chosen.
The frequency and composition of a baby's bowel movements vary when they begin to ingest solid meals. Those new foods can increase the risk of diaper rash, especially in nine months or older babies.
Acidic foods like citrus and tomato-based sauces can irritate a baby's skin, causing a red, painful ring around the anus—and sometimes around the mouth as well. Acidic foods are frequently to blame for exacerbating diaper rash. High-fat and high-sugar foods might also be troublesome.
Citrus Foods: Citrus fruits and drinks are pretty acidic, challenging for a baby's digestive system to handle. Oranges, lemons, limes, grapefruits, and citrus juices of any kind can all be avoided.
Tomatoes and tomato-based products: Tomatoes are another acidic food that can exacerbate diaper rash symptoms. Also, avoid spaghetti sauce, tomato soup, ketchup, and anything else with a tomato base for your baby.
Strawberries: While strawberries have a pleasant taste, their acidity can irritate your baby's digestive tract.
Pineapples and other acidic foods: Just because pineapple is sour doesn't imply Baby should avoid all tropical fruits. Instead of pineapple, try mango or papaya.
Plums and prunes: If a food causes diarrhea in adults, it is likely to produce diarrhea. Diaper rash is almost certain to appear when your child's bowel movements are frequent and runny. If you have diarrhea, stay away from prunes, plums, grapes, and apricots.
Proteins: Some babies are allergic to the protein found in meals such as wheat (oatmeal) and beans.
Milk-based products: Some parents may have a question that, can milk cause diaper rash? The answer to this is simple, milk directly may not cause diaper rash, but the products derived from milk may affect your baby's digestion resulting in a severe rash problem. If your child is having trouble digesting yogurt, try removing other cow-based dairy products from the equation.
Essential Remedies to Overcome Diaper Rash:
Parents can easily overcome diaper rash by some simple remedies involving more attention and other preventive measures. These measures may include some new routine works, or you will have to enhance your care-taking methods for your babies that will eventually result in good skin, avoiding allergies and rashes.
This discussion will also answer the questions like; does oatmeal bath help with diaper rash?  When it comes to diaper rash prevention and treatment, less is more. Avoid using goods with strong scents, such as fabric softeners and dryer sheets. For many newborns, hypoallergenic and fragrance-free products are far less irritating. You can use the following methods to help prevent and treat diaper rash:
When an infant gets a diaper rash, parents and caregivers should be extra careful to change their baby's diapers as soon as possible. When your infant has a rash, leaving them in a damp or soiled diaper might worsen the symptoms.
An infant's skin may be susceptible to a particular product if they have diaper rash frequently. Using a specific brand of diapers or baby wipes, for example, could cause inflammation. The type of laundry detergent used by folks who use cloth diapers could also be causing the rashes. You should avoid harsh chemicals and smells if you have persistent or recurring rashes.
When an infant develops a diaper rash, allowing them to go without a diaper or bottoms for some time during the day can help the area dry out and recover. When an infant has a diaper rash, people should avoid putting them in tight, synthetic, or rubber bottoms. Dressing them in loose, 100 percent cotton bottoms can help keep the inflammation dry and enable the skin to breathe.
Too-tight diapers might exacerbate a diaper rash. Parents and caregivers should ensure that all diapers fit correctly, and those larger sizes are purchased as the infant grows.
Barrier creams and skin-soothing lotions are widely accessible in supermarkets, pharmacies, and online. Parents and carers should seek out zinc oxide creams. They should cover the damaged skin with a thick coating of these lotions and let it dry. We have selected some best creams that will help you overcome your baby's rash in a few days:
Baby wipes, while necessary for keeping the infant's diaper area clean, can exacerbate an existing diaper rash. If your baby has a diaper rash, gently wipe the diaper area with scent-free soap and water before patting it dry. If this is not possible, scent-free, you should use natural wipes available in pharmacies or online instead.
While it is generally healthy to introduce fresh foods to infants, certain acidic meals, such as citrus fruits and tomatoes, can cause their urine and feces to become highly acidic and irritating. Parents and caregivers should start with small amounts of these foods and keep an eye on the baby to see if a new diaper rash appears at the same time. If this is the case, You should eliminate acidic foods from the infant's diet until the rash has healed.
Foods that can help with diaper rash:
When babies first start solid foods, they often try many different items, making it difficult to pinpoint precisely what's causing the unpleasant reaction. Introduce new foods one at a time, then wait three to four days for your baby's digestive system to adjust. She may be sensitive if you see any unpleasant reactions to the diet, such as diaper rash. Consult your doctor about what to do next; if the response is minor, he may recommend reintroducing the meal at a later time. Pasta, bread, rice, whole-grain cereal, and crackers are all excellent choices. These will help prevent diarrhea (which can exacerbate diaper rash) and bulk up your baby's stool.
Many occurrences of diaper rash are caused by skin irritants, such as the smells in soaps and detergents. Even though the producers often pitch them as child-friendly, scented laundry detergents, some infant soaps, lotions, and certain bubble baths are common culprits.
It is critical to keep the infant's diaper area clean and dry, especially if they have a rash, but gentle cleaning is preferred. Scrubbing or rubbing this part of the body dry might aggravate the inflammation and harm the delicate skin.
When a baby's skin is sensitive or broken down, merely being in the bathwater might cause discomfort. So, parents and caretakers must adopt the oatmeal bath for yeast diaper rash. In the bathwater, add an oatmeal powder intended for diaper rashes or skin irritation to help ease the inflammation and make bath time more joyful. According to studies, colloidal oatmeal can help with atopic dermatitis and other inflammatory skin disorders.
You may alleviate diaper rash, pain, and itching by using colloidal oatmeal. Oatmeal bath treatments are available at a variety of drug stores and online. People should follow the product instructions and then pat the infant's skin dry.
Best Oatmeal Products to Help with Diaper Rash
Below are some of the best oatmeal products that we have selected for you:
1. Desitin Maximum Strength Baby Diaper Rash Cream
Description:
Desitin maximum strength diaper rash paste with 40% zinc oxide is a 4.8-ounce tube that treats and prevents diaper rash irritation on contact. It is clinically proven to protect the baby's skin for up to 12 hours; this rich, thick diaper rash cream is designed with 40 percent maximum-level zinc oxide. It quickly forms a protective barrier on the baby's skin to seal dampness and soothe chafed skin, providing excellent diaper rash relief. Its hypoallergenic formula is devoid of parabens, phthalates, dyes, and soap.
Pros
It's also been dermatological, and pediatrician approved.
It's soft enough to use every day.
Cons
The odor is not pleasant.
2. Aquaphor Baby Diaper Rash Paste
Description:
In just one application, Aquaphor Baby Diaper Rash Paste with Shea Butter gives immediate calming relief. Use Diaper Rash Paste on more severe rashes, and every time you might be exposed to damp diapers for an extended period and formulated with 40 percent maximum strength zinc oxide to cure a diaper rash and build a barrier to protect your baby's inflamed skin.
The creamy, non-sticky cream applies lightly and cleans up easily while protecting your baby's skin throughout the night. Free of parabens, fragrances, and talc; Hypoallergenic and Odorless.
Pros
Free of parabens, fragrances, and talc.
Hypoallergenic and Odorless.
Cons
It has a thick consistency which may be problematic while changing a diaper.
3. Baby Wipes, Water Wipes Textured Sensitive Baby Diaper Wipes
Description:
Our fragrance-free baby wipes are made with 99.9% purified water and a drop of fruit and soapberry extracts, just like the original. Water Wipes has received the Seal of Acceptance from the National Eczema Association of America, is recognized by the Vegan Society, and has been dermatologically approved by The Skin Health Alliance. Perfect for changing diapers and cleaning your baby's hands, face, and eyes.
Pros
Skin prone to eczema and allergy sufferers will benefit from this product.
This product is parabens and sulfates-free, making it hypoallergenic.
Cons
Thinner film.
The odor might not be pleasant.
4. Organic Oatmeal Bath Soak Treatment for Sensitive Skin
Description:
Soak the cotton bath pack in water and use it as a washcloth. This solution is simple to use, leaves no mess, and never clogs drains. Yomogi has been used as a successful eczema treatment in Asia for generations. Chlorophyll, tannin, vitamins A, B1, B2, C, and K, and different minerals, have anti-inflammatory and detoxifying qualities.
Pros
It's hypoallergenic, fragrance-free, non-toxic, hypoallergenic, biodegradable, and created in the United States.
Moisturizing and soothing.
Cons
A little bit overpriced.
The baby may not like its smell.
5. Aveeno Baby Soothing Bath Treatment for Relief
Description:
This one-of-a-kind newborn eczema treatment bath blends a particular moisturizer with colloidal oatmeal to help relieve skin irritation and itching. Bath therapy is recommended to reduce itchy skin and make your baby's coat softer and smoother. This fragrance-free, ultra-fine powder dissolves in water to create a milky soothing bath for itchy skin and eczema treatment.
Pros
Pediatricians have recommended the brand.
It's also a soap-free, natural cleanser that's gentle on the eyes and devoid of steroids, paraben, and phthalates, making it perfect for sensitive skin.
Cons
Odorless.
May not provide results immediately.
Conclusion:
We have made a detailed discussion on do baths help diaper rash, causes, symptoms, and methods to treat the diaper rash, which will surely help you face the same problem. We also tried to answer the questions such as what to add to the bath for diaper rash? And other frequently asked questions by parents. You will find complete guidance about diaper rash in this article. Most importantly, this article clears all the doubts about the food routine of babies that can make the rashes worse and result in some severe skin diseases.
FAQs
Is diaper rash contagious, and does it have the potential to spread throughout the body?
The cause of the diaper rash will determine this. A bacterial or fungal infection in your kid might spread to other parts of their body or even to other people. After changing your baby's diaper, make sure to wash your hands with antibacterial soap thoroughly.
Which nappies are best for avoiding rash?
The best diaper is different for each infant. Try on a few other brands until you find one that is a good fit for your child.
When it comes to nappy rash, how long does it take to heal?
Depending on the reason, severity, and therapy, this will vary. A moderate case should clear up in about three days. If your selected treatment approach does not work after 7-10 days, you should see a doctor.
Reference: