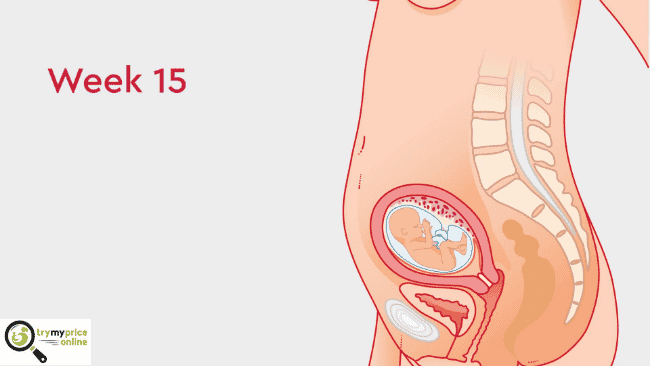 15 weeks pregnant, The typical weight increase during week 15 of pregnancy is roughly 5 pounds. It's quite natural if you acquired a little more or a little less weight. If it's much higher or less, your doctor might want to talk to you about your diet at your next prenatal checkup. Others may or may not notice changes in the shape of your abdomen. The top of your uterus may be four to five inches beneath your belly button. Keep reading to know more about changes in 15 weeks pregnant.
Related: Glucose test pregnancy and its importance
15 weeks pregnant
Thankfully, your first trimester symptoms are fading, and your appetite and energy are returning. 
If your nausea or vomiting persists, try some natural solutions. 
Consult your doctor about treatment options if your nausea or vomiting is severe.
Body aches and tingling feelings in the feet and hands are common during week 15 of pregnancy. 
You'll continue to gain weight, and the skin surrounding your nipples will likely darken. 
Sensitive teeth and gums, as well as nosebleeds, may be caused by hormonal fluctuations. 
At week 15, bloating and growing pains are also frequent.
Headaches are prevalent during pregnancy and may be linked to hormonal changes. 
If Tylenol, drinks, and rest aren't working to ease your headaches, speak with your healthcare provider. 
If you notice any changes in your vision, seek medical attention.
You can download a week by week pregnancy guide from amazon
Related: 16 weeks pregnant your body and your baby development
Visits to the Prenatal Clinic
Certain tests can be performed between weeks 15 and 18 to rule out congenital problems.
Noninvasive blood testing and amniocentesis are examples. 
While this is the most common time for amniocentesis, it can be done at any point following your first trimester.
This is a test that involves extracting some of the amniotic fluid that surrounds a fetus through an injection. 
This can assist ensure that a fetus has the proper number of chromosomes and is free of chromosomal abnormalities including Down's syndrome and trisomy 13 and 18. Amniocentesis.
Related: Pregnancy test calculator week by week
What's going on with your baby?
Your baby's skin is extremely thin, and blood vessels can be seen right through it. 
Externally, your baby's ears are continuing to develop and become more noticeable. 
From the sides of the head, your baby's eyes are traveling towards the nose. 
The baby's bones are starting to ossify, which means the skeleton will be visible on an x-ray. 
On ultrasound images, babies this age have also been spotted sucking their thumbs.
Related: Pregnancy headaches causes and treatment
What should you do at week 15 of your pregnancy?
At your prenatal sessions, your healthcare professional will begin measuring your fundus, or fundal height. 
The distance between the top of your pubic bone and the top of your uterus is measured in centimeters. 
This may be charted to monitor growth in larger clinics where you are not guaranteed to see the same clinician on a regular basis. 
It can also provide information on the baby's position. 
A high fundal height indicates breech presentation, whereas a low fundal height indicates a sideways orientation. 
These can be confirmed with an ultrasound or a pelvic examination.
Related: Protein creatinine ratio pregnancy calculator and its usage
15 weeks pregnant
All in all, Many 15 weeks pregnant women have concerns about sleeping arrangements. It's a good idea to start sleeping on your side. This is the most relaxing and healthy way to sleep. Your uterus puts pressure on the aorta and inferior vena cava, which supply blood to your lower body and the baby, when you sleep on your back. This can also make breathing more difficult later in pregnancy.
References: