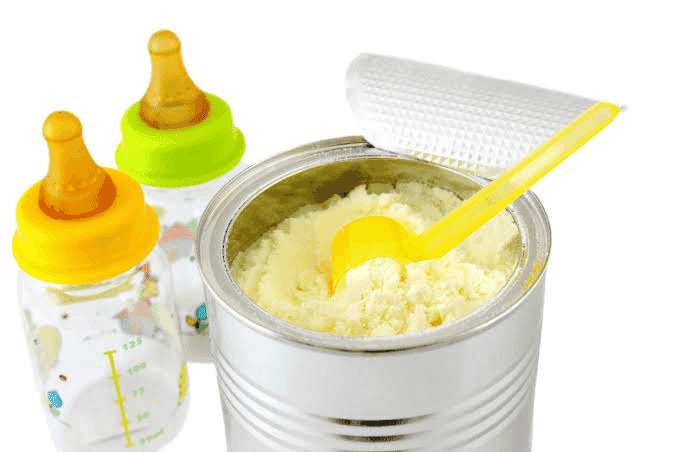 What is the difference between Enfamil Neuropro and Enfamil?
The difference between Enfamil Neuropro and Enfamil might not be discernable by just looking at the name on the formula. Neither is the difference between Enfamil Neuropro and Enfamil distinguishable by the name "Neuropro" in front of one of them. As a matter of fact, they are both formulas from Enfamil, a notable brand. To gleam the difference between Enfamil Neuropro and Enfamil, we have to delve down into the details and the ingredients find in each of them. The special condition each of them may tackle and how unique any of them might be to solving any particular feeding issue a baby might have.
It is pertinent to note that babies are different and the way they react to each formula, especially to the different Enfamil formula varies greatly. Each Enfamil formula and baby's reaction and tolerance is relative.
Now to delve into the difference between Enfamil Neuropro and Enfamil, we must state the uniqueness of each of the two formulas, before highlighting the difference/s between them, if any.

Enfamil Neuropro
Enfamil Neuropro baby formula is a variation of the American infant formula brand Mead Johnson, which is owned by Reckitt Benckiser. It is a breastmilk-inspired baby formula that contains nutrients for brain development and immune support.
This baby formula contains the brain-building Omega 3 DHA, which improves a child's brain for up to five years. It also comes in a variety of shapes and sizes. It can be obtained in powder form – 20.7 oz Tubs, 31 oz Refill Boxes, 17.6g Single Serve Packet Sticks, or liquid form- 2 fl oz, 6 fl oz, 8 fl oz, and 32 fl oz bottles, depending on mother's preference and ease of preparation.
Essential Benefit:
Do you wonder what benefit Enfamil Neuropro might contain? Well, you do have a right to know. And it is the duty of this article to state as a fact, that this formula is recommended as the number 1 formula by doctors, and for this to have been so, it means that there are various benefits that Enfamil Neuropro possesses.
Brain Building: Enfamil Neuropro is reputed to contain beneficial nutrients that aid a child's brain development. One of these essential nutrients is DHA.
Digestion: Baby's digestive systems are not fully developed yet, therefore they need an easy to digest formula, which will also support the development of their digestive tract. The presence of 2'FL-HMO cannot be displaced, which is a similar prebiotic that was found in breastmilk.
Development of Cognitive skills
The presence of MFGM in Enfamil Neuropro formula helps to bridge the cognitive gap that exists between formula-fed and breastfed newborns.
MFGM Presence: It has been clinically demonstrated that this baby formula gives brain-building benefits similar to breast milk since the addition of Milk Fat Globule Membrane (MFGM) seventeen years ago. Because of this remarkable innovation, pediatricians recommend this formula brand the most.
Gut Bladder Growth: It is commonly believed that any ailment in a child begins in the gut. Hence, this baby formula contains prebiotics, which promote the growth of beneficial gut bacteria and function as food for them.
Unparallel Nutrition:
This formula combines easy-to-digest proteins and dual prebiotics that help newborns' immune systems. It's also a non-GMO baby formula that'll keep your baby in good health for the next 12 months.
Enfamil Neuropro Ingredients
Enfamil NeuroPro formula is a milk-based, iron-fortified formula designed to mimic mature breast milk for babies aged 0 to 12 months. This product comprises protein concentrate and is supposed to be an exclusive brand with a GOS and PDX Plus blend that helps with brain development.
Containing two different variant, powder and liquid form the ingredients found in Enfamil Neuropro are, Nonfat milk, lactose, vegetable oil, whey protein concentrate, calcium carbonate, calcium phosphate, folic acid, riboflavin, ascorbic acid, zinc, potassium, ferrous sulfate, taurine, L-carnitine Vitamin B6, Vitamin D3, Vitamin K, Vitamin B 12
It also comprises MFGM components that occur naturally, as well as a triple prebiotic combination that includes 2′-FL Human Milk Oligosaccharide (HMO).
These elements are recognized to play an important role in a baby's immune system.
Enfamil
When your baby is unable to have a bowel movement, it is not pleasant. At least one bowel passage per day is advised for babies, and if your infant goes two days without passing stool, you should be concerned. You should be anxious since newborns cannot communicate that they are battling constipation, thus you must be vigilant as a mother. If your baby struggles to poop on a regular basis, they may require the assistance of a constipation formula. If your child has constipation, Enfamil Reguline is the recommended option.
It contains a prebiotic combination that helps to maintain digestive health by softening stool for easier and more comfortable bowel transit.
Also, it contains choline, which is a complete nutritional package for your child's daily nutrition, as well as DHA for cognitive and brain development.
As said, Enfamil Reguline is somewhat a special formula designed to address a particular feeding issue, in this case, constipation.
Enfamil Reguline Ingredients
Some of the ingredients found in Enfamil Reguline include; Nonfat milk and whey protein concentrate solids (soy), vegetable oil (palm olein, coconut, soy, and high oleic sunflower oils), corn syrup solids, lactose, and polydextrose (less than 2%). thiamin hydrochloride, riboflavin, vitamin B6 hydrochloride, vitamin B12, niacinamide, folic acid, calcium pantothenate, biotin, ascorbic acid, choline chloride, inositol, calcium carbonate, calcium phosphate, magnesium phosphate, ferrous sulfate, zinc sulfate, manganese sulfate, cupric sulfate, to mention but a few.
Therefore, it is concluded that the difference between Enfamil Neuropro and Enfamil are hard to come by, what we can gleam from the above is that, both are essential formula designed by Mead or Enfamil brand, to address two different issues, yet both do not fall short of the standard set by the US. FDA as stipulated that all infant formula, whether general or specialized must contain the necessary requirements needed for a baby to grow and development healthily. That is, the nutrients and vitamins must not be altered for whatever reasons.
IS THERE ANY DIFFERENCE BETWEEN ENFAMIL NEUROPRO AND OTHER ENFAMIL BABY FORMULAS?
One the important things to keep in mind is that Enfamil is the brand name for all Mead Johnson infant formula. Enfamil NeuroPro, Enfamil Gentlease, Enfamil Enspire, and various types of Enfamil infant formula have been developed by this brand. It's difficult to know which baby formula is best for your child, but it's not impossible to figure out.
Babies are unique, and depending on their health problems, allergies, and preferences, a baby formula that is wonderful for Baby A may be undesirable for Baby B. Are you attempting to decide which Enfamil infant formula to buy? Let's see what differences these varieties have, and which is ripe for your baby's unique need.
Enfamil NeuroPro comes in two varieties: Enfanmil NeuroPro Sensitive and Enfamil NeuroPro Gentlease. Both contain the essential levels of brain-building DHA, as well as easy-to-digest protein. They are both accessible in powder form, and provide complete nutrition for an infant's first year of life.
Despite these similar benefits, if your baby is lactose intolerant, it's best to stay with Enfamil NeuroPro Sensitive, which is specifically intended for lactose intolerant newborns and engineered to minimize fussiness, gas, and crying.
Enfamil NeuroPro and Enfamil Enspire appear to have comparable contents, however one major distinction is that Enfamil NeuroPro is known to have more minerals and vitamins, such as Schizochytrium sp. Oil. an oil that is essential for brain development.
So, if you want to boost your brain's health and function, keep in mind that Enfamil NeuroPro contains a vitamin that can help.
A significant distinction between Enfamil NeuroPro and Enfamil Premium Gentlease is the presence of a milk fat globule membrane (MFGM) in NeuroPro, which helps a baby's brain development, thus standing apart from Gentlease and making it a good choice for nursing mothers.
Is it okay to switch from Enfamil Neuropro to Gentlease
Both brands offer the nutrients needed to sustain a child and assist his or her growth and development, therefore you can switch between Enfamil Neuropro and Gentlease.
Enfamil gentlease is a specially formulated and partially-hydrolyzed formula for babies with sensitive stomachs. Enfamil Neuropro is a highly nutritious infant formula that promotes brain development and immunity. It's the lone baby formula that has both DHA and a Triple Prebiotic Immune BlendT, as suggested by experts.
Yes, you can switch from Enfamil Neuropro to Gentlease, but do so gradually until your infant becomes used to the taste and contents of Gentlease. This can be accomplished by gradually increasing the ratio of Enfamil Neuropro to Gentlease until it is safe to feed your infant Gentlease exclusively.
How the switch is done between Enfamil Neuropro to Gentlease
If you're switching formulas on the advice of a doctor. It's fine to cease using the current formula and switch to a new one right away.
Some specialists believe that you can switch your child's formula right away even if there is no intolerance, medical issue, or allergy that would require such an urgent change. They advised you should start with the new formula to see if the baby adjusts or has a negative reaction to it. Especially if the formula is the same but belongs to a different brand. This, however, is not recommended.
If you're switching formulas for other reasons, such as cost or convenience, we recommend easing the baby into it.
You should start by buying a small container of the formula. Then start slowly by combining both formulas first. For example, to help your baby adapt to the new formula, mix three spoons of the old formula with one spoon of the new formula and gradually increase the ratio until your baby is depose to taking the new formula.
Angela also recommended that you introduce the new formula to your kid gradually, every 1-2 days. If your kid drinks 4 oz of formula, she says you can utilize the approaches listed below.
1 oz new formula, 3 oz current formula
1 oz new formula, 2 oz current formula
3 oz new formula, 1 oz current formula
4 oz of the new formula
Following the switch, keep an eye on your baby's reaction to the food. Weigh your baby at home or at the clinic on a regular basis to evaluate if the formula is causing your child to gain enough weight. Most babies double their birth weight by the fifth month, but you should consult your doctor about what constitutes a healthy development for your child.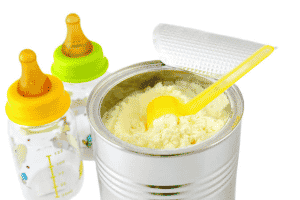 Issues to expect when you make the switch from Enfamil Neuropro and Gentlease
A common adverse effect is stomach upset. Because you changed your baby's formula, he or she may experience some gastrointestinal discomfort. Dr. Gian Musarra of St. Louis Children's Hospital writes that newborns who are accustomed to one brand may need to shift their digestive systems to a new one.
If the formula contains more iron, switching formulas may induce bowel changes, such changes may occur in the color of your child's poop becoming green. Your baby's health would not be affected by the switch. Additionally, formulas such as hydrolyzed-protein formulas for infants with milk allergies, can also result in more frequent stool passage.
Diarrhea: Your kid should not develop diarrhea as a result of a formula change; the worst symptom would be a minor change in bowel movement. If you switch from one type of formula to another that your baby can't take, your baby may get diarrhea. If your baby has a milk allergy, switching from hypoallergenic to milk-based formula, for example, could cause diarrhea.
Allergic reactions: There's a risk your baby will respond to the new formula in an unpleasant way. Hives or skin rashes, bloody stool or vomit, and abdominal discomfort are all possible symptoms that may surface.
If you observe blood in your baby's stool or vomit, take him or her to the nearest emergency room right away. This is an indication of a serious allergic reaction that requires medical.
What is the difference between Enfamil Sensitive and Enfamil Gentlease?
The major difference between Enfamil Sensitive and Enfamil Gentlease is that Enfamil Sensitive is made for babies with lactose sensitivity. Although the difference between the two Enfamil formula goes beyond this stated difference. Enfamil Gentlease is made with the intention of helping babies to escape from fussiness and to reduce gas and crying in babies after feeding.
The unique thing about these two formulas is that they have easy to digest protein for baby's digestive system peculiarities.
They contain DHA, a brain building nutrient previously found in Breast milk.
With the presence of Vitamin C, D and E and selenium, they bought have in abundance minerals required to support your baby's immune system.
Enfamil Sensitive is only available in powder form, while Enfamil Gentlease is both in liquid and powder form.
Another main difference between them is that Enfamil Sensitive contains minimal lactose – sake for the babies that are lactose sensitive, while Enfamil Gentlease contains about 20% more of lactose, a good source of carbohydrate.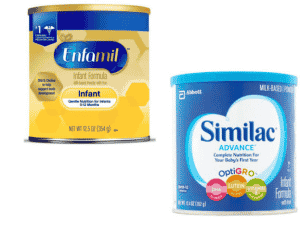 Conclusion
We were able to see how Enfamil NeuroPro affects newborns and their overall development in a variety of ways. It is still up to the parents to decide which is best for their children. Before starting your child on a new formula or switching formulas, see your pediatrician and evaluate the infant's preferences, allergies, and medical concerns. Also, we hope that this article has provided sufficient information to nursing mothers about the difference between Enfamil Neuropro and Enfamil, and they are now in the know of the benefits and uniqueness of each of Enfamil Neuropro and Enfamil.
Mother's Reviews
I tried out formula feeding for the first-time using Enfamil NeuroPro. And I must say, I have had no regrets. My baby gulped down the first bottle happily, and frankly speaking he has had no adverse reactions to the formula. He is rarely burps or feel constipated when he takes it.
From a nursing mother whose baby has always been fussy after taking baby formulas
I have two daughters, and for the oldest, I used Enfanmil Enspire. I recently had my second daughter; I decided to try another variant of the Enfamil baby formula products. I bought Enfanmil NeuroPro three months ago, and feeding of my child has never been so simple and stress free. Enfamil NeuroPro is the best! It suits my baby girl, no digestion problems, and my baby wakes up happy and boisterous after every meal.
Also, this is the feedback of a single father who made Enfamil NeuroPro a choice for his kids
Frequently asked Question
Do I Need to Give My Formula-Fed Baby Vitamins?
No. Commercial iron-fortified infant formulas contain all of the nutrition your baby requires. Vitamin D supplements are required for babies who drink less than 1 quart (1 liter) of formula each day.
Does My Baby Need Fluoride Supplements?
Fluoride supplements are not required for babies under the age of six months. When your infant is 6 months to 3 years old, your doctor may suggest fluoride supplements, but only if fluoride is not present in your drinking water.
Outbound links
Nutrition for brain building & immune support inspired by breastmilk
Advanced Nutrition to Fuel Their Possibilities.
Enfamil Sensitive vs. Enfamil Gentlease Formulas
Enfamil Gentlease vs Neuropro Compared
uick answer : what is the difference between-neuropro and regular enfamil