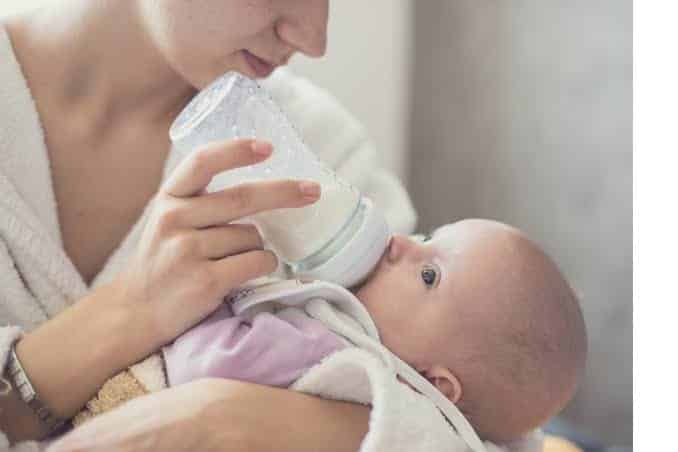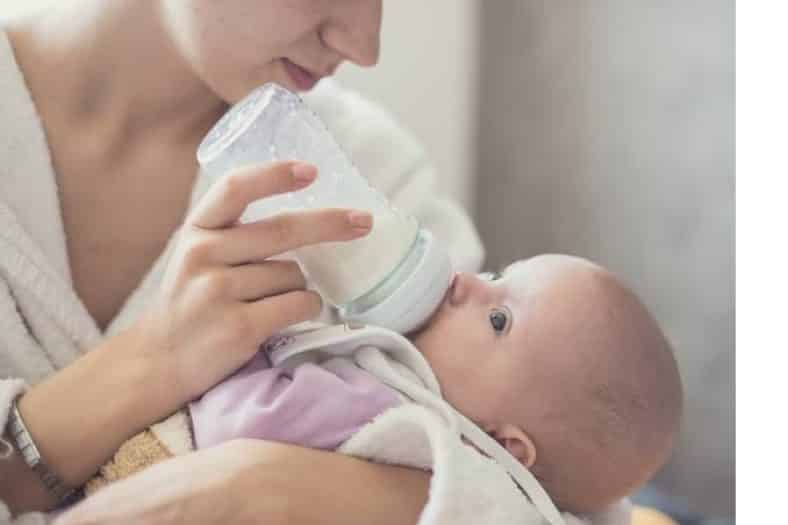 Which Enfamil formula is closest to breastmilk?
What Enfamil formula is closest to breastmilk has always been at the center of every question and discussion amongst nursing mothers. To address this question, this article seeks to break things down by examining the best Enfamil formula that fit the description perfectly.
It should be noted that human breast milk changes naturally, and it sometimes prove very difficult to replicate it in formula. Though some brands stand out in taste than others, you should not be afraid to taste the formula yourself before feeding it to your baby. Infants are inclined to accept formulas that taste good and sweet, since breast milk taste sweet. But you should be observant of sugar content.
You should be prepared for trial and error when it comes to selecting a formula close to breast milk, because other infants might accept a formula and be cool with it, while it is rejected totally by your baby. The key point is to not be disappointed. Below, the following Enfamil formula closest to breast milk will be examined, starting from the top closest to the least close. Do note that there is generally nothing as the Top to least close, since these formulas are modelled after breast milk. The rating is based absolutely on a baby's tolerance.
Enfamil Enspire Formula with MFGM & Lactoferrin
Though this is very pricey, however it is one of the best formulas on the market, as it is one of the formulas that shares close similarity to human milk, in particular when it comes to nutrients
Enfamil Enspire being one of Enfamil formula closest to breastmilk, contains Lactoferrin, a very essential nutrient in colostrum. They both are important to support a baby's intestinal and immune system development.
Also, it includes MFGM (Milk Fat Globule Membrane) a key ingredient for cognitive development in babies.
Apart from these two key nutrients, Enfamil Enspire contains other nutrients such as Omega 3 docosahexaenoic acid (DHA).
Where you have been on the lookout for a close substitute to breast milk, Enfamil Enspire is strongly recommended for your trial.
Enfamil A2 Premium Infant Formula
Made from A2 milk, this Enfamil formula is reputed to be better for digestive health.  Thus, if your baby has a very sensitive tummy, you should consider a switch to this formula, since it could be the right choice for your baby
There have been testimonials by mothers that this formula has done wonders for relieving their baby's gas passage and fussiness. Therefore, if your baby requires the need for a special formula, you should choose this for feeding your baby.
What more? It is very easy to mix and has a good taste, hence, breastfed babies would likely be quick to consume it.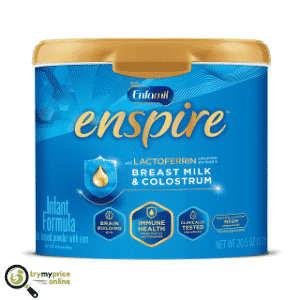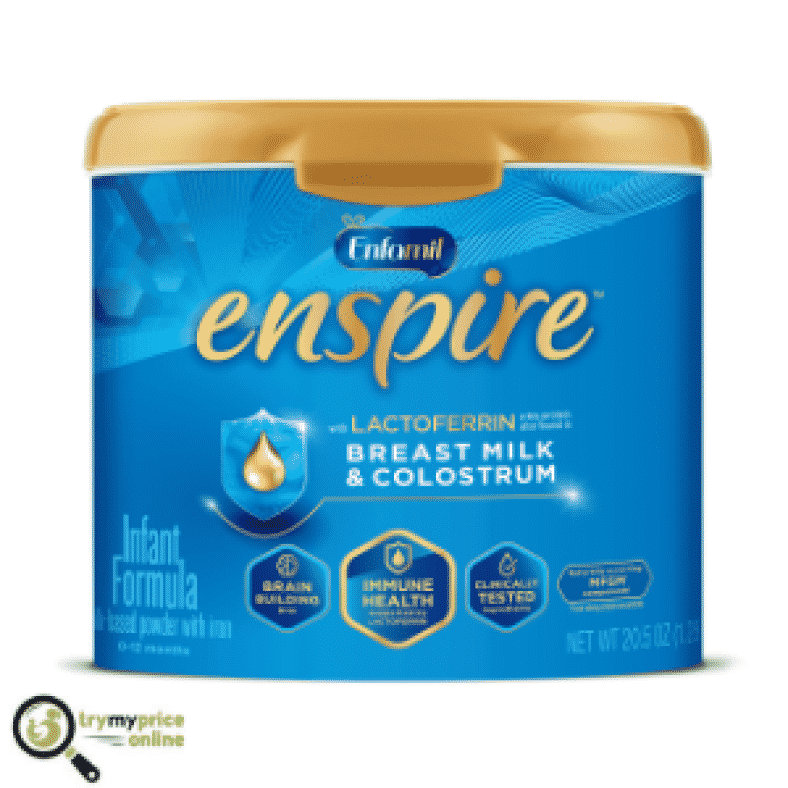 Enfamil Neuropro Infant Formula
This is another formula that has MFGM in it. MFGM is the nutrient normally found in human milk and very good for the development of cognitive skills in infants. It is noteworthy that the is formula is very pricey.
A 2019 study shows that the presence of MFGM in formula is not only good for cognitive development, but it also protects babies from infections. Many mothers have in the past expressed their reservations for formulas, noting that babies who are fed formula as against those who are breastfed are easily susceptible to infection.
However, the inclusion of MFGM has bridged the gap and ensure safety for babies that are formula-fed.
Enfamil Neuropro infant formula is free from GMO and has essential nutrients DHA, Vitamin D3 and Taurine. If your baby has sensitive digestive  system, you can try out other Enfamil the Gentle ease formulas.
Is Neuropro Formula Better?
There are different responsibilities that come with motherhood.
From catering for newborns, to shopping for baby formulas in the grocery stores, and with baby formula is good to supplement with breastfeeding, or whether to go all out in using baby formula for your infant.
It is all right to be overwhelmed when you go shopping for your baby formula, as there are different brands such as Similac, Enfamil, amongst others. This often leave mothers confused of which brand to choose from.
If you've been thrown between the confusion of deciding which formula to choose from. You don't have to worry, as this section would put you out of your misery.
This article will examine in details the various similarities between various baby formulas, the differences between them and give reasons why Neuropro formula is better.
Enfamil Neuropro
Being an infant formula made by the American brand Mead – Johnson, a Reckitt Subsidiary, Enfamil Neuropro baby formula provides nutrients for building the brain of infants and support immune system development.
It contains Omega 3 DHA which support brain building benefits for a child up to age 5. This comes in various forms and sizes and could be purchased in liquid form – 2 fl oz, 6 fl oz, 8 fl oz, and 32 fl oz bottles depending. On your preference or powder form – 20.7 oz Tubs, 31. Oz Refill Boxes, 17.6g single serve Packet Sticks.
Benefits
First, Enfamil Neuropro is recommended by Pediatrician as the number #1 infant formula. This is so because of the following reasons;
Brain Building Nutrition: For cognitive development in babies, it contains DHA which is highly recommended by experts.
MFGM Presence: With the inclusion of a Milk Fat Globule Membrane Seventeen years ago, which is a nutrient similar to breast milk, it is highly recommended by Pediatrician as the best formula for brain building. A very great innovation in the formula industry.
Complete Nutrition: It contains easy to digest protein and dual probiotics which is necessary for immunity in babies. It is GMO free and provides required nutrients to for babies through 12 months.
Growth of friendly gut bacteria: Diseases in infants often begin in the gut. And as a result of the fact that this formula contains probiotics, it champions the growth of friendly gut bacteria, which as food for the gut bacteria in infants.
SNAP Eligible: It has been recommended for purchase by the Supplemental Nutrition Assistance Program (SNAP.)
Aids Digestion: Digestive issues are put to a minimum and baby's digestive system are improved with the presence of probiotics 2'FL-HMO similar to that found in breast milk.
Cognitive Development: MFGM presence in Enfamil Neuropro helps to bridge the gap between babies that are formula fed to those who are breast-fed.
Is Enfamil Neuropro Gentleease good for Newborns?
Enfamil Neuropro formula has received high recommendation by Pediatricians as the number #1 formula brand, and for this and other nutritional reasons, Enfamil Neuropro gentleease is good for Newborns.
It is easily digestible and does not cause constant fussiness or burping by babies after meal. Recent research has also stated that it is the best choice for cognitive development, since it has MFGM.
And Enfamil Neuropro contains the necessary vitamins, minerals, and proteins, all of which contribute to a child's immune support. MFGM which was formerly found in breast milk makes this formula suitable and good for newborns.
How to use Neuropro
Step number 1 – Put water in your baby's bottle
Step number 2 – Use the level scoop in can to measure the required amount of Enfamil Neuropro in the bottle.
Step number 3 – shake the mixture for about 10 seconds
You're advised to make this meal depending on the portion you have in mind. But be sure you're not adding too much water or little formula, so as not to ration the nutrients your baby gets from each meal.
How is Enfamil Neuropro Different from other Baby Formulas?
For the sake of time, this discussion would begin by stating that, a formula has been exclusively chosen to compare how Enfamil Neuropro if different from other Baby Formulas. The choice formula is Similac, one of the top two biggest formula brands.
Similac Advance is a milk-based, iron-fortified formula. And it contains DHA (docosahexaenoic acid) which is an omega 3 fat acid, Vitamin E and Lutein, which all contribute to and provide support for neuron development in infants. Palm olein is omitted in the formulation of this formula, as a result of trying to improve calcium absorption.
Key ingredients of Similac Advance include a non-fat milk, whey protein concentrate, Soy oil, Coconut oil, Lactose and Galactoligosaccharides (prebiotics.)
In contrast, Enfamil Neuropro is a milk-based and iron-fortified formula used for infants with the 0-12 months age range. Its key ingredients are, Non-fat milk, vegetable oil (palm olein, coconut soy, and high oleic sunflower oils), whey protein-lipid concentrate, lactose and whey protein concentrate.
You are advised as mothers not to shop for baby formulas without an Indepth research.
A key factor to consider is the Active Ingredients in these formulas.
Regarding the ingredients of these baby formulas, they both contain same ingredients except for palm olein, and clinical studies has shown that this substance is present naturally in breast milk. Also, it has not side effect on baby's development.
Thus, for babies that do not have access to breastfeeding, you are advised to purchase Enfamil Neuropro, because it contains palm olein which is a direct substitute to that found in breast milk, which is essential for a child's growth.
Additionally, Enfamil Neuropro is different from Similac Advance for it places emphasis on the brain and eye-boosting fatty acids.
The World Health Organization has stipulated that infant formula ought to have between .3% and .5% DHA for the brain development of babies.
For the record, Enfamil Neuropro goes weigh over the stipulated at .32%.
Diverse opinions by clinicians' rates Enfamil Neuropro above Similac for the very fact that it contains MFGM (Milk Fat Globule Membrane, a nutrient which is present in human milk fat, and this has made it a great substitute to breast milk.
Deliene P. Musielak, MD, a pediatrician at St. Louis, states that "A study in the journal of pediatrics found that the consumption of formula that contains bovine MFGM and bovine lactoferrin improves babies' language, cognitive and motor development."
In addition, she states that Enfamil Neuropro has a higher DHA and arachidonic acid (ARA), an omega-6 fatty acid, and altogether, they contribute greatly to babies' eyes and brains development.
With the brief examination of the differences and similarities between Enfamil Neuropro and Similac Advance, a sample of other baby formulas, you are advised to buy Enfamil Neuropro for the fact that it contains MFGM, which is very close to breast milk.
Related: Is Similac Sensitive lactose-free
What can I do if my baby won't drink formula?
Have you been caught in the struggle of finding the formula your baby would drink? Perhaps, it is not the case that your baby won't drink formula. Here below an overview of the reasons why your baby would not drink formula is examined.
The water used in its preparation is not warm as it should be. Making sure that the formula is warm is essential to whether your baby would drink it or not. Note that your body has a temperature of – 98.6 degrees Fahrenheit when you breastfeed, therefore, you should warm your formula or heat the bottle in a portable bottle warmer and see if your baby would drink it. Kindly avoid heating in a microwave as it does not distribute heat evenly.
Your baby might not want to feed from the bottle when you as the mother is holding him or her. Some babies might decide to refuse drinking formula when their mother is holding them, by pointing to the breast. However, this does not happen when they are being fed by other people. Thus, you might want to consider having another individual hold and help you feed your baby with formula.
Your baby is allergic to the brand of formula you're feeding it with. Consider it necessary that you might have to try different formulas out before your baby can have a formula they like to drink. Some babies might reject a particular formula because they are allergic to a particular ingredient in the formula composition.
Your baby has been introduced to solid food, that he or she cannot take formula as a result of being too full. When your baby has already been introduced to solid food, they might have been full before you attempt to give them formula, and therefore will not drink the formula. Hence, ensure you time when and how to feed your baby formula or solid food.
Baby dislikes bottle or bottle nipple. Additionally, you should consider checking the bottle for any defect. A block in the flow of the bottle nipple may be a reason your baby is won't drink formula. It might be that the formula is coming out too slow. Also, your baby might not like that particular bottle, so you should try to use another brand.
Your baby is distracted during feeding. If your baby is already a cartoon addict, feeding them when the cartoon is on might be the wrong idea. The cartoon will distract them from accepting any formula or food from you.
You should try ready to feed formula instead of the powder formula. It could be that your baby does not like powder formula. As stated earlier, getting a formula that your baby prefers to drink might be hard. Where your baby rejects a formula and it is the powder form, you should change it to ready-made formula. You might be surprised your baby would accept it from you.
Waiting for when your baby is too hungry before feeding it formula might be a reason your baby won't drink formula. Your baby cannot tell you when he or she is hungry, except by sign. Hence, you are advised to always be prepared that your baby might be hungry in the next few minutes after feeding it not too long ago.
Related: Bottle washer baby brezza product review
Mother's Reviews
She took to it quite easily and loves it
Reviewed in the United States on June 5, 2018
Style: 20.5oz Powder Tub
My baby was exclusively breastfed for two months until I went back to work. I supplemented until I left for military duty for almost one month when she was four months old. It is pricey but well worth it. Prebiotics and probiotics – yes. Immune system support – yes. No GMO – yes. No artificial sweetner – yes. Supports brain development – yes. My baby has never had a fever and she is nearing seven months old. She took to it quite easily and loves it. No real gas issues and is poops regularly. Highly recommend to anybody. Expensive but like I said, worth it. We just find other places to cut money from.
Related: Similac neosure vs similac advance difference between them
Expensive but worth it
Reviewed in the United States on December 11, 2020
Style: 20.5oz Powder Tub
My little one likes this formula. I like how it does not have high fructose corn syrup in the ingredients.
I really read the ingredients. She has been on this since birth and is now 6 months. No stomach issues. Very little spit up.
It doesn't leave her gassy. I believe it's a better quality formula.
It is expensive I will say that. It helps that enfamil sends coupons in the mail. $10 off really helps. I bought this formula for an awesome amazon deal. I was extremely happy I bought 3.
The packaging is nice but I don't buy something based on that.
I wasn't able to breastfeed my baby and this was a good alternative for us. It mixes well. Each container has been fresh and no issues.
It comes in a sealed bag in the sealed container.
Easy directions on how to mix (ounces of nursery water to scoops of formula). I use nursery water to mix.
No issues warming formula. My daughter likes hers warm. No constipation with this formula.
When she was a baby she was every other day. Now at six months she's everyday or twice with baby food.
I really wish it wasn't so expensive to get high quality formula, but it is what it is.
You can also contact enfamil and have them send you coupons. There are a lot of formula groups on facebook.
Lots of coupon trading. Again, if your a mom that couldn't breastfeed this was a great formula. They also have the gentle version.
I never had to use that. I'm happy with formula and will continue to buy
Works well for exclusively breastfed baby
Reviewed in the United States on October 14, 2017
Style: 20.5oz Powder Tub
After having to go back on antidepressants, I was so sad that I couldn't breastfeed my son anymore. So I got to googling and saw this brand of formula. I love it, and my son drinks it well after being exclusively breastfed. It's a bit pricy, but you get what you pay for.
Related: Can you mix similac pro advance and pro sensitive Is it ok to do
Failure to thrive….. now THRIVING because of this formula.
Reviewed in the United States on August 18, 2016
Style: 20.5oz Powder Tub
Ive been meaning to write this review for a while now.
After a very difficult, but not very long, pregnancy, my son was born premature at 30 weeks at 3lbs 7 oz.
After feeling betrayed by my body with being able to incubate him to term, I was ABSOLUTELY DETERMINED to nurse him.
For the first three months, managed to nurse exclusively, but once he made it out of NICU, and I went back to back, nursing became more and more difficult. I couldn't keep up, and my son wasn't growing.
The suggestion from the pediatrician came that it was time to start supplementing.
One bottle became two, became three, and my supply dwindled more and more.
Unfortunately, he still was not growing.
The problem was he was spitting up about 75% of everything he would drink.
We were having to limit him to 3-4oz bottles, and he was holding down maybe half of that.
We changed his outfit 4+ times a day, and never were more than a few feet away from a burp cloth. His doctors though it was reflux, and gave him medication to take 4x a day, but it didn't help. He simply was not gaining weight like he should have been.
Yellow, Purple, Nutramagin, the preemie formula, nothing was "sticking".
Review continued below
Then we wandered through Publix, and saw this on the shelf.
My husband and I debated back and forth, because it was almost twice the price of the others, but ultimately we decided it was worth a shot right?
Took him home, gave him a bottle, and waited. No spit up. Fluke right?
Next bottle………. No spit up.
Next……. bigger bottle. No spit up.
Literally instantaneously, he was holding his bottles down.
Every once in a while, after a 5-6oz bottle, he'd burp and spit up some, but generally speaking, he wasn't PUKING like he had been.
And he started gaining weight.
My 7 month old who had still been wearing 0-3 month old clothes, had a major growth spurt, and jumped to the top end of 3-6 month old clothes. He was doing amazing!!!
So we said, great maybe he's outgrown this! And we switched back to the yellow one.
His first bottle, he threw up the entire thing. His second bottle, he threw up the entire thing.
He never got a third bottle. I still have a practically full can of yellow Enfamil sitting on top of my microwave because I can't bring myself to give it to him.
We've been using this formula for 7 weeks now. He's gained TWO POUNDS, and is up to 6-9 month old clothes. It is so expensive, and WIC doesn't cover it, so we struggle to keep up with the cost, but to see my son not crying, or puking for the first time in his life, is a miracle.
His 10 month old check up was last week. For the first time in his life, he is on the charts. He is 1% for his age now.
Thank you Enfamil.
A GOD-SENT FORMULA!
Reviewed in the United States on May 15, 2018
Style: 20.5oz Powder Tub
I can't say enough about this formula. I exclusively breastfed for 8 months and tried to transition my baby with Enfamil prosobee (which I used with my second child).
Needless to say, I was put into a predicament when my baby developed his 2 bottom teeth, haha. I've heard that once your baby has had breast milk, that's like the Cadillac of all milk. Who wants to go to a pinto when you've had the Cadillac?
So I ended up throwing away the prosobee and going with this jewel of a formula (suggested by a daycare worker).
I cannot get this formula from our Walmart Supercenter so I decided to take a chance and order this formula from Amazon.
THANK THE LORD I DID! I transitioned my baby slowly and in no time we were completely off breast milk and drinking Enfamil Enspire.
This is an expensive brand but with it being the "closest to breast milk" I am HOOKED! Not to mention the baby!! This formula has a lot of the properties that's in breast milk and is a Heaven-sent formula.
I am so glad I took a chance on this amazing formula.
I had to let all you moms know out there that are having to think of supplementing/transitioning from the breast that this is GOD-SEND! Don't hesitate to buy! You won't be sorry!!
Good stuff
Reviewed in the United States on February 2, 2019
Style: 20.5oz Powder Tub
Tried similac gentle something when she came home since the hospital provided it.
Did a ton of research on formulas and was worried the baby wouldn't like it sins either she was used to similac.
I wasn't happy with similac, since she wouldn't have a bowel movement for 2 days and when she was on breast milk, she was doing that more than once a day.
Switched to this and her poop looked more like breast milk and she went every day! Seems like a ridiculous thing to be happy about, but when she dropped a duece, we dropped a beat and danced in celebration.
Related: DOES ENFAMIL GENTLEASE TASTE DIFFERENT THAN ENFAMIL REGULINE
Outbound: