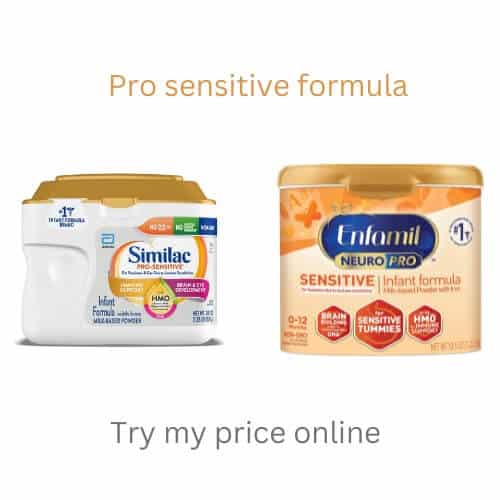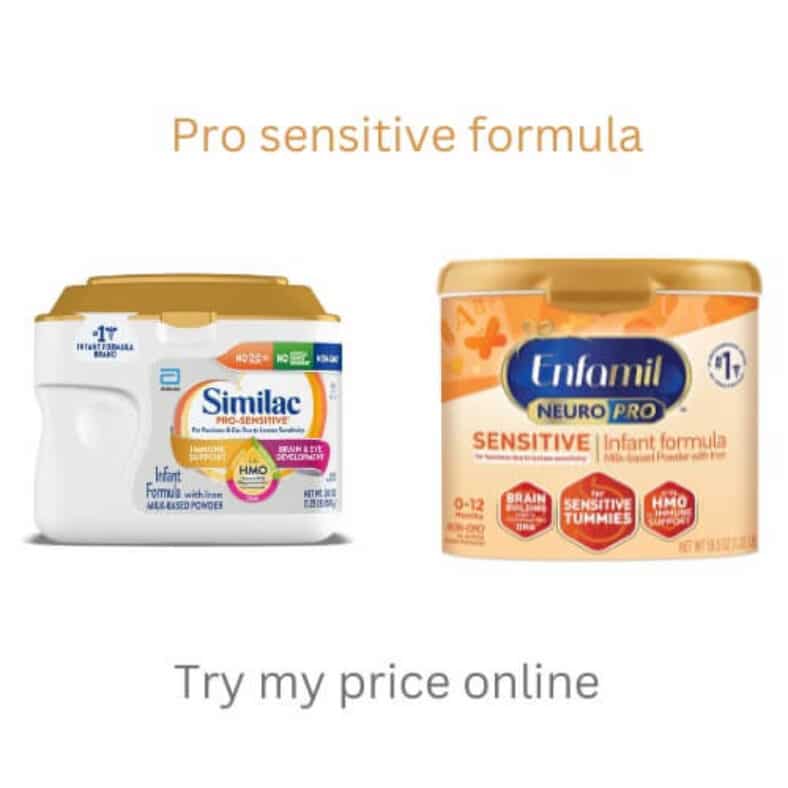 In this article, we will make you understand all that you should know about Pro sensitive formula for infants. This formula is available between the two leading brands, Similac and Enfamil. Both have continued to sell their products across the United States and beyond. So what should you expect from this write-up? We will examine Similac Pro Sensitive formula and Enfamil Neuropro sensitive in detail, their ingredients, the advantages, and disadvantages. Similarly, we will explore whether you can switch from Similac pro sensitive formula to Enfamil Neuropro sensitive. In addition, we shall consider the difference between Similac pro sensitive formula and Enfamil Neuropro sensitive. Every other related query will be answered in the preceding paragraphs.  
What are pro sensitive formulas? 
Pro sensitive formulas are baby infant formulas developed to address feeding issues with babies that have sensitive tummies. This formula was made for babies that are lactose intolerant. Any such fussiness or gassing they encounter because of feeding on lactose-made formula is eliminated with Pro sensitive formulas. The two leading brands of formula manufacturers in the United States both have this tummy-sensitive formula in their large stores of infant formulas. Similac pro sensitive formula is the formula designed by Similac for sensitive tummies, while Enfamil Neuro pro sensitive is the blend of the same formula designed by Enfamil to address lactose insensitivity. These formulas will now be considered in the following paragraphs.  
What is Similac Pro Sensitive formula? 
Similac Pro Sensitiv stands out as the top formula designed to manage fussiness or gas in your baby when the infant is lactose intolerant. It has a unique component called "2′-FL human milk oligosaccharide," which is a source of prebiotics similar to those found in breast milk. a booster for your baby's immune system as it develops. Similac Pro Sensitive likewise consists of several components that aid in the development of your baby's eyes, cognitive skills, and brain tissue. These components include DHA, lutein, and vitamin E.  
The pros and cons of Similac Pro Sensitive 
The pros and cons of Similac Pro Sensitive are listed below.  
Pros  
It has added calcium, which helps to support healthy bones. 

 

It has prebiotics that is naturally present in breast milk for the growth of a strong digestive tract. 

 

It is a gluten-free formulation. 

 

Similac Pro Sensitive does not contain palm oil. 

 

It is approved as safe for your infant as a non-GMO product. 

 
Cons  
When prepared, it frequently foams up, especially when you shake it to smooth it down in the feeding bottle. 

 

This formula is more expensive than Similac Sensitive. 

 

Galactosemic children should not consume it. 

 
What ingredients are present in Similac Pro Sensitive? 
Ingredients 
Corn syrup, milk protein isolate, sugar, soy oil, coconut oil, high oleic safflower oil, and Less than 2% of the following ingredients are present: C. cohnii oil, M. alpina oil, 2′- Fucosyllactose, Ascorbic Acid, Choline Chloride, Choline Bitartrate, Taurine, m-Inositol, Vitamin A Palmitate, Copper Sulfate, Thiamine Chloride Hydrochloride, Riboflavin, Pyridoxine Hydrochloride, Folic Acid, Manganese, Sulfate, Potassium Iodide, Fructooligosaccharides, Beta-Carotene, Lutein, Lycopene, Calcium Phosphate, Potassium Citrate, Magnesium Phosphate, Biotin, Sodium Selenate, Vitamin D3, Vitamin B12, Potassium Hydroxide, and Nucleotides (Adenosine 5′-Monophosphate, L-Carnitine, Mixed Tocopherols, Niacinamide, d-Alpha-Tocopheryl Acetate, Calcium Pantothenate, Ascorbyl Palmitate, Ferrous Sulfate, Zinc Sulfate, Calcium Carbonate, Cytidine 5′-Monophosphate, Magnesium Chloride, Disodium Uridine 5′-Monophosphate, and Disodium Guanosine 5′-Monophosphate are two examples.  
What is Enfamil Neuropro sensitive formula? 
Enfamil Neuropro Sensitive formula is a variant of Enfamil for babies with sensitive tummies. And the formula is made by Mead Johnson, a Reckitt subsidiary. Enfamil neuro pro sensitive formula, as the name suggests, is designed for infants with sensitive tummies. One of the healthiest Enfamils for newborns is this one. A baby needs a formula that is easy to digest and gentle on their stomach because their digestive system is still developing. Enfamil Neuropro Sensitive can help with this. Its combination of immune-supporting vitamins, brain-building DHA, and easily digestible protein makes it one of Enfamil's best for newborns.  
This infant food contains Omega 3 DHA, which supports long-term brain development for a child up to age 5. Additionally, it is available in a variety of shapes and sizes. Depending on your preferences, you can get it in liquid form in 2 fl oz, 6 fl oz, 8 fl oz, and 32 fl oz bottles or in powder form in 20.7 oz tubs, 31 oz refill boxes, and 17.6g single serve packet sticks.  
Pros and Cons of Enfamil Neuropro sensitive 
The pros of Enfamil Neuropro sensitive according to Enfamil are:  
It has Easy-to-digest proteins which were created for a baby with sensitive tummies 

 

It has MFGM and Omega-3 DHA in the natural form which is highly recommended by experts. 

 

It contains selenium for immunity, as well as vitamins C and E. 

 
Cons  
The presence of palm oil in the Enfamil Neuropro may cause constipation 

 

It is an inorganic formula. 

 

 
What ingredients are present in Enfamil Neuropro Sensitive? 
Ingredients 
Corn Syrup Solids, Vegetable Oil (Palm Olein, Coconut, Soy, And High Oleic Sunflower Oils), Riboflavin, Thiamin Hydrochloride, Biotin, Vitamin B12, Vitamin E Acetate, Vitamin B6 Hydrochloride, Milk Protein Isolate, Whey Protein-Lipid Concentrate (Milk)¶, And Less Than 2%: Mortierella Alpina Oil#, Schizochytrium Sp. Oil**, Potassium Citrate, Calcium Phosphate, Sodium Chloride, Magnesium Phosphate, Potassium Chloride, Cupric Sulfate, Manganese Sulfate, Potassium Iodide, Sodium Selenite, Soy Lecithin, Choline Chloride, Calcium Carbonate, Ferrous Sulfate, Zinc Sulfate, Inositol, Ascorbic Acid, Niacinamide, Calcium Pantothenate, Vitamin D3, Folic Acid, Vitamin K1, Vitamin A Palmitate, Taurine, L-Carnitine.  
Can I switch from similac pro sensitive formula to Enfamil Neuropro sensitive? 
Infant formulas are made from almost the same source and ingredients, only that some contain a blend of particular vitamins, minerals, and nutrients than others. Similarly, what each formula made might address might be completely different from the other. When you consider the question if you can switch from Similac pro sensitive formula to Enfamil Neuropro sensitive, the first thing we will like to point out, as has been explained above, they are formulas of two leading brands of Infant formula in the United States. Enfamil Neuropro sensitive and Simila pro sensitive formula are designed to function in the same way. They are both made for babies that have sensitive tummies or lactose intolerance.  
Thus, you can switch from Similac pro sensitive formula to Enfamil Neuropro sensitive. But take note to ensure that your baby does not react to the switch. Ensure the switch is gradual and not rushed. In addition, consult your doctor before the switch, speaking to why you want to make the switch between different brands of infant formula. Your pediatrician will thence be able to advise you accordingly.  
Difference between Similac pro sensitive and Enfamil Neuropro sensitive 
Though there are so many similarities between Similac pro sensitive formula and Enfamil Neuropro sensitive, there exists a difference between them. The difference between Similac pro sensitive formula and Enfamil Neuropro sensitive will be considered from the angle of why each of them is better. Read below for the details.  
Differences Why Enfamil Neuropro Infant Formula Is Better 
For sensitive stomachs, this recipe contains a blend of proteins that are simple to digest. Compared to the Similac formula, it is a little cheaper. Similac Pro Sensitive costs $29.99 for a 20.1 oz tub ($1.49 per oz), while it costs $28.49 for a 19.9 oz can ($1.43 per oz). There is no added sugar in it.  
Differences Why Similac Pro Sensitive Formula is Better 
This formula contains 2′-FL HMO, an immune-stimulating prebiotic that is present in considerable quantities in breast milk. It has lutein, which helps with vision. It contains nucleotides, which are crucial for the body's metabolism. Nucleotides can be found in every cell in the body. This formulation is also designed to treat mild spitting up. It doesn't contain palm olein oil, which can reduce your baby's stomach's ability to absorb calcium. It has been approved as being non-GMO and free of synthetic growth hormones. It is fully lactose-free, in contrast to the Enfamil formula, which uses digested lactose proteins.  
Mother's reviews on Similac Pro Sensitive and Enfamil Neuropro sensitive. 
Reviews on Similac Pro Sensitive formula 
SamSam from Arlington, Texas
Excellent For Newborns!  
"Recently added an additional member to our family, and I will say this product is an excellent source of nutrition if one doesn't produce much breast milk. Our baby enjoys the bottle with no spit-up. This is what was recommended at the hospital we were at, and could not be happier."   
ElleG from Maryland.  
It's been great, but I may have a bad batch.  
"I've fed my daughter the Similac Pro series since birth. The only switches I've made was from Pro Advance to Pro Sensitive formula, because she was very fussy and gassy. She's still a bit gassy, but the level of fussiness has gone down tremendously. I've also switched from the liquid to the powder formula, and she's been taking it well so far.  
My daughter is now 6 months, and for the past few days, she's been very fussy (she's generally a giggly baby) and has been spitting up a lot (she doesn't spit up much in general). I'm thinking that this batch I bought may be bad, but I bought a few of them, and it would be a waste to just throw them in the trash.  
I'm wondering also if it may be time to switch to the Total Comfort series.  
Bottom line is, I'll still recommend this to other mothers, just with a warning to not buy a lot at a time, as a situation like mine might pop up." 
Reviews on Enfamil Neuropro sensitive 
VF Hodges 
NO MORE CRYING & FUSSING! 
Reviewed in the United States on January 21, 2021 
"How I wish we could've found this sooner since our baby suffered for over a month with daily gas and straining not to mention crying & squirming at every feeding because of the stomach cramps- this was all on Gentlease!! 
The first 2-3 weeks of his life we managed with giving him gas drops with every feeding but as he got older (and eating more) the cramping, spit up, & struggling (and crying) got worse. 
We temporarily switched to Similac Alimentum (hypoallergenic formula) but like all the reviews say IT SMELLS AWFUL- and the spit up smell will not come out of clothes!! We noticed an improvement so we realized it was the lactose that he was sensitive to. 
Then by week 8 we found Enfamil Sensitive and gave it a try. It's been 4 weeks and he's been eating so well that he hardly even has spit up!!! That is….until today! Why? Because I decided to mix in "a little" Gentlease powder into the batch so that I can slowly use it since we have so much. Terrible idea! He even threw up projectile style! So now we've confirmed his tummy is very sensitive to lactose! 
A SIDE NOTE: we've also implemented Gerber Probiotics to help (last 2 wks) and they seem to really help w/him pooping easily w/no straining
Good luck parents!!!" 
Kay Elle 
Difference happened quickly 
Reviewed in the United States on June 24, 2021 
"I definitely can't comment on the flavor of this because I'm not the one drinking it. The smell is terrible but that's all formulas & I wish I was able to provide milk another way. With all that to the side, it made my baby feel way better than where he was coming from. I realized with my motherly instinct that he has a Lactose Intolerance although pediatricians kept denying it. His eczema continued to get worse, his upset stomach from gas was never ending. It wasn't all bad but it wasn't all great either. Switching to this formula after doing so much research, was the best decision I've ever made with his body. The difference is night & day. Everything is clear, gas and uneasy stomach is gone & he is able to flourish without the nagging feeling in my stomach telling me what I KNOW." 
External Links
Similac Pro-Sensitive Vs. Enfamil Gentlease: Similac Sensitive, Enfamil Neuropro Gentlease Reviews – Which Formula Should I Choose For My Baby? – Motherhood Community 
enfamil neuropro sensitive formula – powder-tub-19-5-oz-tub
baby formula pro-sensitive – powder – 34-9oz-can-3pack