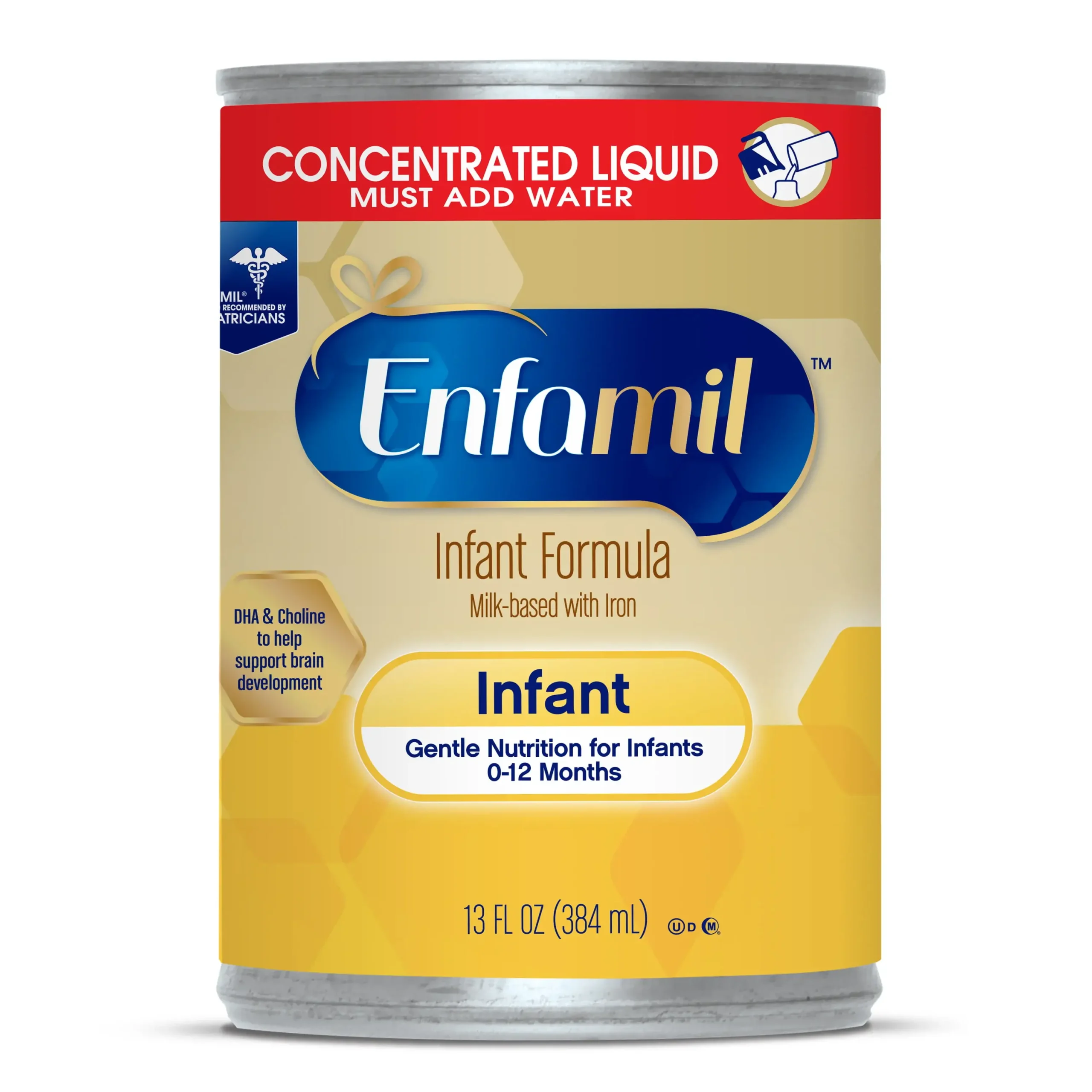 When you shop for infant formula, especially Enfamil newborn formula, have you ever stopped to ask yourself questions about the type of formula you want to go for? Has such a question as 'what is Enfamil newborn formula' ever crossed your mind? When it does, do you get the right answers to it? Or do you leave it blank and unanswered? In this article, we are going to discuss what Enfamil newborn formula is, and all other related details so you can have a good grasp of Enfamil formula newborn. Let us get down to business. 
What is Enfamil newborn formula? 
According to Enfamil.com, Enfamil newborn formula is the perfect formula designed specifically to cater for infants' development through their first 12 months. Since newborn babies need to have early brain development, Enfamil newborn formula is reputed to contain rich brain-nourishing nutrients like Omega-3 DHA and Choline. Babies need to be protected from diseases and infections, and the Enfamil newborn formula provides two blend probiotics to ensure strong defenses against attacks from diseases and infections. 
Enfamil newborn formula has stood out as the best among other infant formulas, and it has continued to maintain the top spot as the most recommended infant formula by pediatricians worldwide. What more? This formula can help you plan your baby's feeding ahead.  
On the serving pack of the Enfamil newborn formula, it comes in powder as well as concentrated form. For the powder, there are can sizes such as 12.5 oz, 29.4 oz, and 21.1 oz on the market. The concentrated form is packaged in a 13 fl oz size. If you are the type that prefers buying bulk formula, you can buy the Enfamil newborn Formula Powder in 3 options form. There is the 6-case option, the 4 cases, and the 12-case option. These are all good for the price. However, we care about your baby's health so we advise that when you buy in bulk, examine the expiration date to be certain you are not buying and storing formulas that will expire before your baby is able to use them. 
Enfamil formula Ingredients
Buying the Enfamil formula is one thing but knowing what it contains is a prime factor. Under this subheading, we will talk about all the ingredients found in Enfamil newborn formula. 
Ingredients:
Enfamil newborn formula comes packed with vitamins, minerals, and other nutrients. They are revealed below. 
Minerals 
Phosphorus 43 mg 
Magnesium 8 mg 
Iron 1.8 mg 
Zinc 1 mg 
Manganese 15 mcg 
Copper 75 mcg 
Iodine 15 mcg 
Selenium 2.8 mcg
Chloride 63 mg 
Sodium 27 mg
Calcium 78 mg
Potassium 108 mgg
Vitamins 
A 300 IU 
D 60 IU 
E 2 IU 
K 9 mcg 
THIAMIN (B1) 80 mcg 
BIOTIN 3 mcg
C (ASCORBIC ACID) 12 mg 
CHOLINE 24 mg 
INOSITOL 6 mg 
FOLIC ACID (FOLACIN) 16 mcg
PANTOTHENIC ACID  500 mcg 
NIACIN 1000 mcg
B12 0.3 mcg
B6 60 mcg
Nutrients || Normal Dilution; per 100 Calories (5 fl oz)
Protein 2 g 
Fat 5.3 g 
Carbohydrate 11.3 g 
Water 133 g 
Linoleic Acid 800 mg 
Ingredients include:
Ascorbic Acid, Niacinamide, Vitamin E Acetate, Lactose, Nonfat Milk, Vegetable Oil (Palm Olein, Coconut, Soy, And High Oleic Sunflower Oils), Whey Protein Concentrate, And Less Than 2%: Galactooligosaccharides*, Polydextrose*, Mortierella Alpina Oil†, Crypthecodinium Cohnii Oil‡, Calcium Carbonate, Potassium Citrate, Ferrous Sulfate, Potassium Chloride, Magnesium Oxide, Sodium Chloride, Zinc Sulfate, Cupric Sulfate, Manganese Sulfate, Potassium Iodide, Sodium Selenite, Soy Lecithin, Choline Chloride, Ascorbic Acid, , Calcium Pantothenate, Vitamin A Palmitate, Vitamin B12, Vitamin D3, Riboflavin, Thiamin Hydrochloride, Vitamin B6 Hydrochloride, Folic Acid, Vitamin K1, Biotin, Inositol. 
Is Enfamil good for newborn baby? 
Mothers are always skeptical when it comes to choosing the right formula for their newborn babies. So is Enfamil formula good for the baby? Yes, Enfamil newborn formula is good for newborn babies. It is packed with some nutrients, vitamins, and minerals to ensure that your baby gets quality nutritional balance as they grow. 
Amongst the reasons why Enfamil is reputed to be good for a newborn baby is because it is packed with rich brain-building nutrients such as the Cholie and Omega-3 DHA. These ingredients will help your child develop brain function, cognitive development, and many more.  
Forbes reviewing Enfamil newborn formula for newborn babies applauded the initiative of Enfamil for having a broad range of infant formula that caters for babies' every need. No matter the feeding issue your infant might be facing, Enfamil has a specific formula that can address the issue. But not just to address the issue for a while, but to address the issue completely so your newborn baby will never experience such feeding issues again. All that is needed from you as a mother is to identify the issue your baby is having, go to a store that sells Enfamil newborn formula, read the specifics for that formula to know which one is perfect to address your baby's issue, pay for it and use it for the relief of your baby. 
Based on the Forbes review, here are the advantages and disadvantages of Enfamil. 
Advantages
It is a formula that is readily available in every store or marketplace you visit.

 

The various options you can pick from to address any feeding issue your newborn baby experiences are another advantage.

 

Enfamil is cost-effective to choose for feeding your newborn baby when compared with other infant formulas.

 
Disadvantages
The strong odor might be a turn-off if you are sensitive to the Enfamil infant formula smell.

 

Sometimes it just might not be the best option for your baby despite the quality and reputation.

 
We are of the firm belief that since the advantages outweigh the disadvantages, Enfamil is good for your newborn baby. 
Is Enfamil safe for newborn? 
Healthline provided us with the quality assurance that the Enfamil newborn formula has received from the Food and Drug Administration. And it confirms that Enfamil is safe for a newborn. As an agency, the FDA continually ensures that all infant formula produced is of quality standards and that they meet the infant's nutritional requirements. This has been the spirit and the Infant Formula Act of 1980 is a law that is still alive to protect all infants and give them the best luxury that infant formulas can perform. Therefore, you are advised to use Enfamil newborn formula for your baby as it is one of the safest on the market. 
How much Enfamil formula do I give my newborn
It gets confusing most times about the portion of the formula to give your newborn, or to put it correctly how much Enfamil formula is right to give your newborn. This answer depends upon the availability of breast milk. If you are not feeding your baby with breast milk, then the right portion to give your newborn baby is one to two ounces every 3 to 4 hours.
You may need to increase the frequency and the amount of formula if your baby is really hungry. On average, infant feeds a lot when they have just been given birth to. Some might feed close to 8 or 14 times a day. While there are exceptions. However, the measurement given above is the amount of Enfamil newborn formula you are to give your baby every 2 to 3 hours, as much as they want it. You should put it at the back of your mind that baby's stomach will expand as they grow. Hence, they will consume more infant formula as the day goes by. 
Center for Diseases Control and Prevention further gives details to how much you can feed your baby from weeks to months and years. This is highlighted below. 
First few weeks and Months
Babies will sleep more as they age and this might affect how frequently they feed. As a fact, their feeding period will be longer due to sleeping. For the avoidance of doubt, you will have to wake your baby up to feed. This you can do by attempting to change your baby's diapers, stroking their back, and a lot more. Kindly do not go screaming at them to wake us, please! 
6 to 12 months old
As they age and grow in weight, infants will require solid food and more formula to quench hunger. You therefore must feed your baby 5 to 6 times daily. But they might gradually start doing away with infant formula as you introduce solid food to them.  
Can Enfamil formula be refrigerated? 
Yes, you can refrigerate your Enfamil infant formula, but there is a caveat to it. You should naturally not mix infant formulas in a large amount that babies are unable to finish or reserve to waste. Only make the portion your baby may consume at a go. Except you are preparing the formula for your baby's eventual hunger or the baby refuses to eat when you prepare it. Then you can go ahead to refrigerate Enfamil newborn formula. One ground rule to refrigerating Enfamil newborn Formula, as well as other infant formulas, is that they should not stay more than two days in the refrigerator
Can infant formula be reheated? 
Flowing from the above, we have come to one of the most critical issues in infant formula preparation and preservation. Today's Parents are like a watchdog, always looking out for the safety of our infants in what they consume. And they throw their weight in line with Enfamil Manufacturers to reject and condemn reheating infant formula. Reheating does more harm to the formula than you would have ever thought. According to studies, it increases bacteria in the product. Since infants do not necessarily need hot formula, there is no point in heating infant formula. If you must heat it, the baby should consume it almost immediately. 
You are advised to dispose of any leftover infant formula rather than storing them to reheat for your baby's feeding in due course. 
Is Enfamil baby formula on recall?
As of the time of writing this piece, Enfamil baby formula is not on recall. If there have been any of such moves, the FDA would have communicated this round. Therefore, Enfamil baby formula is safe to use and they do not pose any threat to your baby or yourself as a mother. 
Enfamil Infant formula preparation guidelines
 There are guides on how Enfamil newborn formula can be prepared. This guide should be followed to ensure a seamless preparation. It also speaks on the portion to give your infant, the hygiene procedures, and the way you can dilute the formula and storage. Directions recommend speaking to your doctor about the type of water you can use to prepare your Enfamil newborn Formula, whether the water should be cool, lukewarm, or hot. And other ways on keeping your baby's feeding bottles and utensils sterilized from diseases and bacteria. Once done, follow the steps below to prepare the Enfamil Infant formula;  
Wash and rinse your hands over a running tap to get germs off your hands. 

 

Measure the right amount of water into the cup. 

 

Pour the powder Enfamil newborn formula into the cup of water.

 

Get the cap to cover the bottle and shake till consistent

 
Concentrated Enfamil newborn formula does not need to be prepared as it is already in a processed format. 
Who makes Enfamil baby formula?
 Infant meal which gave rise to the brand Enfamil (a pun), is a product and a formula feeding manufactured by Mead Johnson, a subsidiary of Reckitt, an American brand) 
How to use Enfamil formula for newborn
 When you use Enfamil formula for your newborn, take care to wash your hands with clean water and soap. This is important to keep germs from getting into the food you are about to prepare for your baby. Once you have done that, get your baby's feeding bottle out from where it has been kept. If it has not been kept sterilized, you are advised to boil water and pour warm water over the feeding kits and let them rest for some 5 minutes. Thereafter, measure the formula powder into the bottle, add water and shake thoroughly. Feed your baby when the formula is cool enough to be taken by a baby. 
Reviews of mothers about Enfamil formula newborn
 Under this subheading, we are bringing you honest reviews about what mothers are saying about Enfamil formula newborn so you can learn and if possible, decide when you will be buying Enfamil formula newborn for your baby. 
Janet from Florida 
Great 
"My son never has a problem with this formula we tried other and he would have stomach problems." 
Molly4kidz from Oklahoma 
Great product! 
"I have four kids and three of my four kids took this formula! It hasn't failed us!" 
Smiles from Summerville, SC 
"Started my baby on this and it has been wonderful. He's had no issues with digestion. The powder is easy to take with you on the go. I definitely recommend this to other parents out there as well" 
TXLex 
Life saver 
"I started using formula when my baby was about 3 weeks old because I haven't been able to produce enough. It has saved my life and sanity knowing that my baby is fed and happy. This product also blends really well in water. My baby has taken to it well and I have not seen any problems. She is now 6weeks old." 
Jhorton12 
Durham, NC 
Only formula I trust 
"I have had 3 children and attempted breastfeeding with all of them. When our journey's ended, I trusted this formula to provide proper nutrition for my babies and it did just that! My babies have never had any issues and they are happy and healthy! Would definitely recommend!" 
Hope from Idaho 
Absolutely amazing! 
"I was the momma that wanted to breastfeed but wasn't able to for very long when I had to start supplementing with formula I was extremely upset about how many formulas had the first ingredient as corn syrup. Even adults don't digest corn products so why would I give my infant corn. This formula was a shining star and it worked so well for my baby. Thank you, Enfamil, ❤️" 
Eve95 from San José California 
Great experience 
"I brought Enfamil milk since my first baby now I have 3 and is been amazing I like all the products that they have and it helps me a lot, am so thankful with the enfamil company that cares about our baby joy and beautiful experience
#enfamilbaby" 
Conclusion
In summary, this article has discussed what is Enfamil newborn formula and other front-burner questions related to the Enfamil infant formula. The key ingredients, nutrients and vitamins were highlighted and the essential ones were made mention in the article. Furthermore, the write-up talked about the reviews of mothers who have bought Enfamil newborn formula and used it for their baby. It is our recommendation that you also explore the option of adding Enfamil infant formula to your newborn's diet. 
References
Enfamil – Wikipedia
Enfamil infant formula powder -can-29-4-oz can  
Formula feeding – how much – how often.
Baby formula lawsuit – enfamil lawsuit