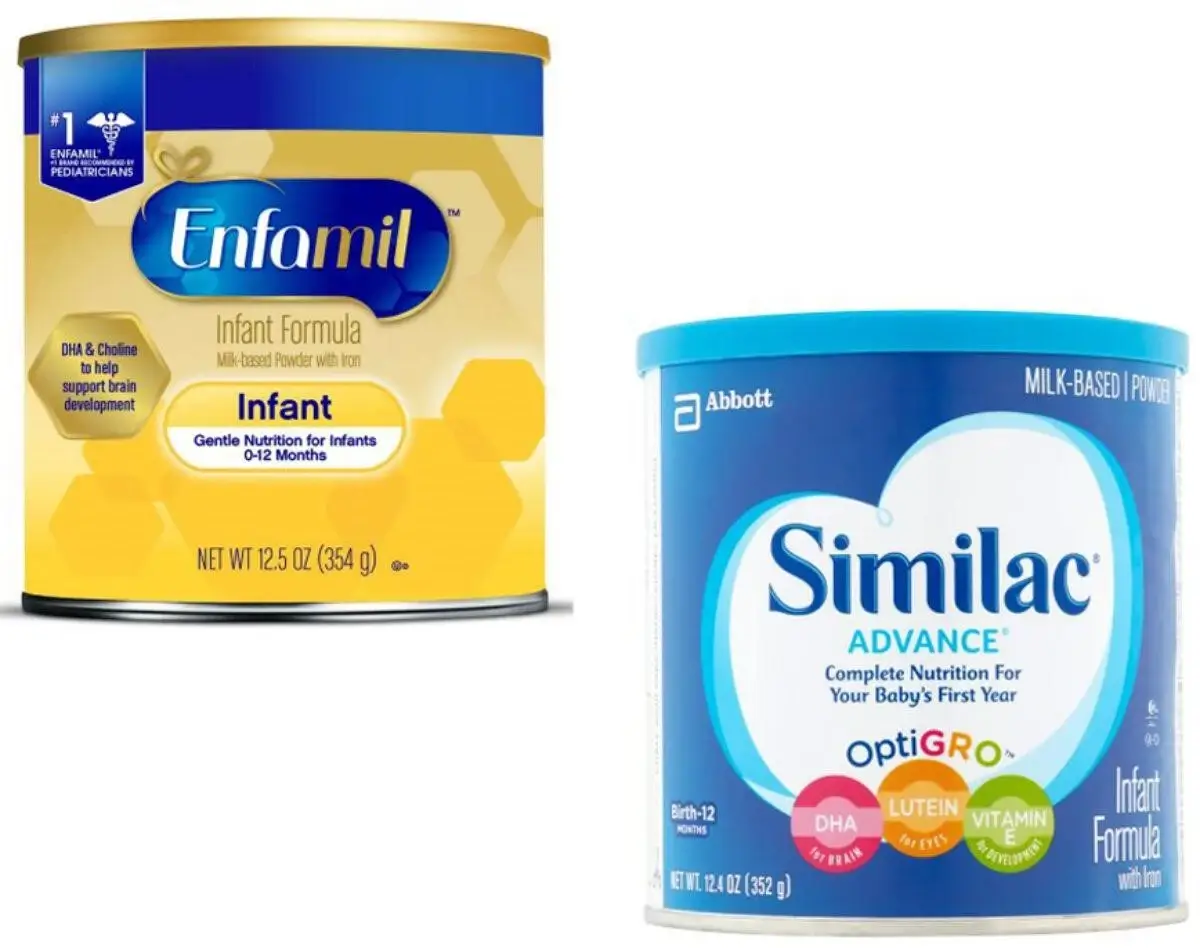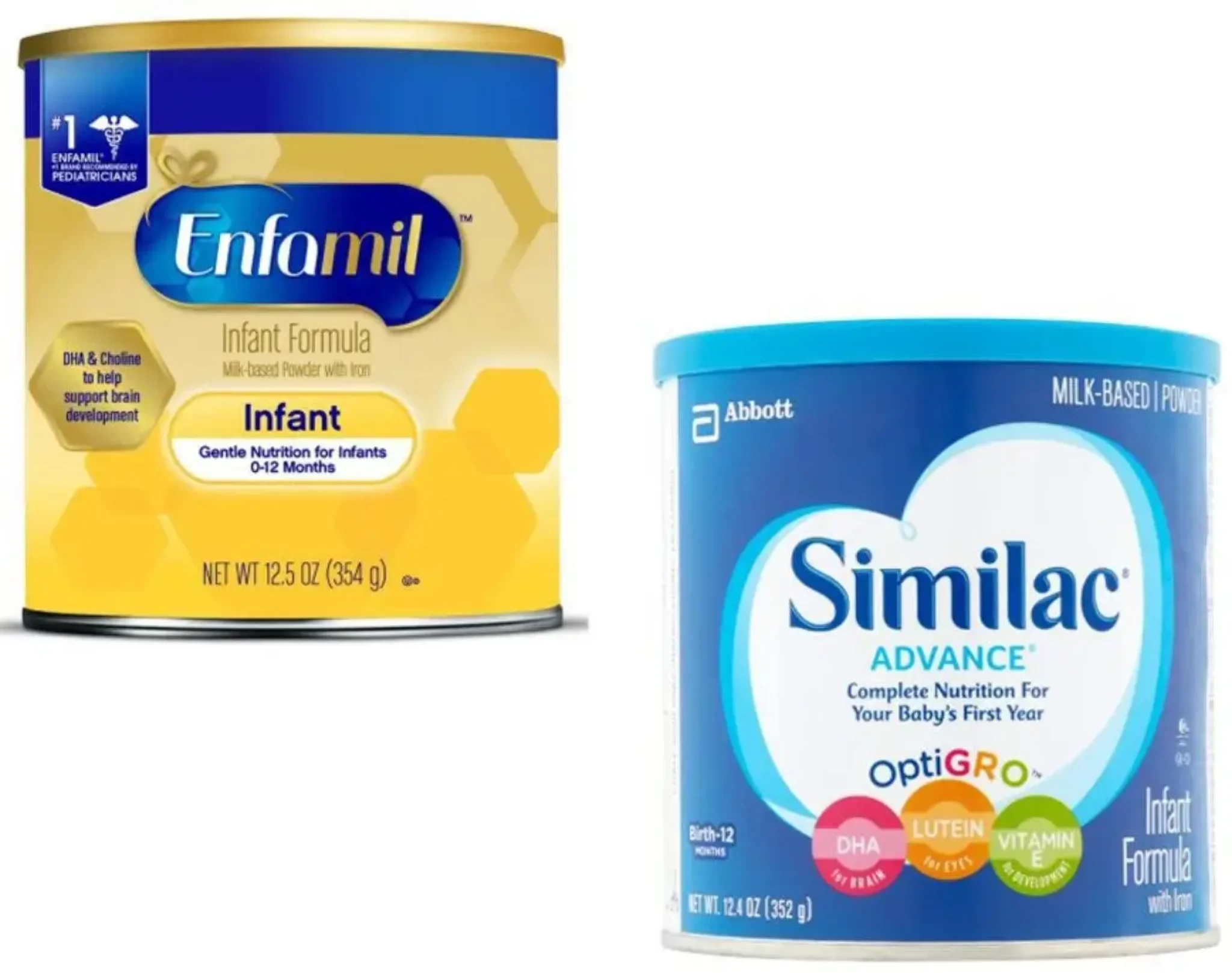 The difference between Similac and Enfamil formula is often perplexing when it comes to mothers' choice in choosing the right formula for their babies. In this article, we will reveal all the details about the differences between Similac and Enfamil formulas. First, we will start by examining each formula in its own right. 
Then we will delve into the ingredients of each formula. Furthermore, the article will talk about which formula is cheap and whether a particular one of the formulas that are better than the other. Finally, we will discuss in brief reviews of mothers on the difference between Similac and Enfamil formula. Without further ado, let us get right to business. 
What is Similac formula? 
 Similac is a blend of infant formula manufactured under the brand name Similac, which literarily stands "for similar to lactation" that is 'Simi' and 'lac.' The formula first made its debut in the year 1920s. It has undergone some reformulation over the years and then a concentration form too; all attributed to the year 1951. Similac has stood the test of time. It has been selling its product across all channels, promoting and strategizing how to redefine the formula market. And with good strategic policy towards marketing its product and providing quality over the years, Similac is now sold in about 96 countries of the world. 
Similac Ingredients
According to Similac. abbot, the ingredients that the Similac formula is made of are; 
Skimmed milk, lactose (milk), vegetable oils (high oleic sunflower oil, coconut oil, soy oil), whey protein concentrate (milk), fructooligosaccharides (FOS), potassium hydroxide, ferrous sulphate, zinc sulphate, calcium chloride, tricalcium phosphate, copper sulphate, manganese sulphate, sodium selenate, potassium iodide), arachidonic acid (AA) from M. alpina oil, phylloquinone, d-biotin, vitamin D3, cyanocobalamin), choline chloride, myo-inositol, taurine, L-tryptophan, choline bitartrate, antioxidant: ascorbyl palmitate, nucleotides (cytidine 5'-monophosphate, disodium uridine 5'-monophosphate, adenosine 5'-monophosphate, disodium guanosine 5'-monophosphate), antioxidant: mixed tocopherols, L-carnitine, vitamins (ascorbic acid, vitamin E, niacinamide, calcium d-pantothenate, vitamin A palmitate, thiamine hydrochloride, pyridoxine hydrochloride, riboflavin, folic acid,  
docosahexaenoic acid (DHA) from C. cohnii oil, 2 ́-fucosyllactose (2 ́-FL) (oligosaccharide) (milk), emulsifier: soy lecithin, minerals (potassium citrate, calcium carbonate, sodium chloride, magnesium chloride. 
The Similac infant formula is reputed to be safe for consumption by vegetarians. 
How to prepare Similac
Wash your hands clean and sterilise all the utensils for feeding the baby. 

 

Boil about 1 litre of fresh tap water and let it cool for about 20 minutes. Avoid using water that was boiled before and kept down for use.

 

Pour the boiled water into your baby's sterilized feeding bottle.

 

Pour the properly measured infant formula powder into the bottle. Ensure you level each scoop with clean dry knife, and do not measure in a scoop directly into the bottle.

 

Enclose the bottle with its cap and shake till the powder is dissolved evenly in water.

 

Check for the right temperature before you feed your baby. The feeding temperature for baby is lukewarm. If the bottle still feels hot. Then you need to cool the formula under cold water. When the temperature is lukewarm, feed the formula to your baby immediately.

 
What is Enfamil? 
How do you like a formula that the name is exactly what it claims to sell? Enfamil, which comes from a genius combination of 'Infant' and 'meal' put together to give you Enfamil is a blend of infant formula brands located in the United States. Mead Johnson is the maker of Enfamil, a Reckitt Subsidiary. 
At first, the packaging of Enfamil was crested with Beatrix Potter's Peter Rabbit, but changed to the duck signature on all its packaging in 2012. Enfamil is the brand name that Mea Johnson sells their baby formulas. 
Historically, Enfamil came on the market on October 5, 1959, when it only sold as a formula low in protein to imitate mother's milk. But the company has been in existence right before 1959. Specifically, it was a corporation founded in 1905 in New Jersey and later relocated to Indiana in 1915. At first, Enfamil R was the company's first product, designed to duplicate the same nutrition found in human milk. Afterward, the company expanded its product to have several variations. 
Enfamil Ingredients
Enfamil.com highlighted the major ingredients found in its formula below; 
Nonfat Milk, Lactose, Vegetable Oil (Palm Olein, Coconut, Soy, And High Oleic Sunflower Oils), Whey Protein Concentrate, And Less Than 2%: Galactooligosaccharides*, Polydextrose*, Mortierella Alpina Oil†, Crypthecodinium cohnii Oil‡, Calcium Carbonate, Potassium Citrate, Ferrous Sulfate, Choline Chloride, Ascorbic Acid, Niacinamide, Calcium Pantothenate, Vitamin A Palmitate, Vitamin B12, Vitamin D3, Riboflavin, Thiamin Hydrochloride, Vitamin B6 Hydrochloride, Potassium Chloride, Magnesium Oxide, Sodium Chloride, Zinc Sulfate, Cupric Sulfate, Manganese Sulfate, Disodium Guanosine 5'-monophosphate), Taurine, L-carnitine, Potassium Iodide, Sodium Selenite, Soy Lecithin, Folic Acid, Vitamin K1, Biotin, Inositol, Vitamin E Acetate, Nucleotides (Cytidine 5'-monophosphate, Disodium Uridine 5'-monophosphate, Adenosine 5'-monophosphate. 
Prebiotic  
Arachidonic Acid (Ara)  
Docosahexaenoic Acid (Dha)  
How to prepare Enfamil
Wash your hands over clean running water with soap.

 

Boil desired amount of water to lukewarm.

 

Sterilized the baby's feeding equipment.

 

Pour the lukewarm water into the baby's feeding bottle.

 

Measure the right scoop of Enfamil formula and pour it into the bottle.

 

Cover the bottle with the cap and shake the formula until smooth.

 

Store in a refrigerator or feed immediately to your baby.

 
What is the difference between Similac and Enfamil formula?
Now we turn to the crux of the topic, what is the difference between Similac and Enfamil formula? First, note that both formula are rightly set-up, as the leading brands of infant formula in the United States. They have established, and earned their reputation. Also, they have ensured that their products address any issue infants may have when feeding. While we can talk about all similarities between these two brands of infant formula, we will leave it for the preceding subheading. Let us focus on the differences between Similac and Enfamil formula. 
Differences 
Whereas Similac is packed with rich ingredients, Enfamil contains more natural ingredients than Similac.

 

In terms of the cost of each formula, Enfamil is costlier than Similac.

 

Similac contains a certain amount of sugar, but Enfamil has less sugar in its formula compared to Similac.

 

Whereas Similac is a good source of copper, it also has thiamin, vitamin D biotin, riboflavin, and niacin than Enfamil at high level.

 

When we examine the number of baby formula products on offer by this giant brand of infant formula manufacturers, we will see that Similac has about 20 products on the market than Enfamil's 15.

 

Enfamil is richer in folic acid, inositol, choline, and pantothenic acid when compared with Similac.

 

Another major

difference between Similac and Enfamil formula

is that Enfamil has iodine, zinc, phosphorus, selenium, and magnesium in an amount higher than Similac formula. Furthermore, in terms of vitamins in the two formulas under comparison, Enfamil tips Similac in Vitamins E, B12, K, and Vitamin C.

 
What are the similarities between Similac and Enfamil formula?
The most important similarity between Similac and Enfamil formula is that they are both certified safe by the FDA.

 

Similac and Enfamil understand the need to satisfy their consumers, so they have programs for their loyal consumers. These are the Similac StringMoms Rewards and the Enfamil Family: Beginner's Program.

 

Another main similarity between Similac and Enfamil formula is the different variety of products on offer in the market.

 

Finally, both formulas have a non-GMO option of the sensitive formula.

 
What baby formula is better: Similac or Enfamil?
There is often a comparison of what infant baby formula is better between Similac or Enfamil. But this question arises because both formulas are leading brands when it comes to baby formula in the US and the world. And their reputation has continued to sour in the baby formula market. Yes, you will always expect that one formula might tip the other when it comes to baby formula feeding. Here is the truth. Both Similac and Enfamil are certified safe by the Food and Drugs Administration. An agency that ensures that all baby formula produced in the United States meets the standards set out by the Infant Formula Act. 
Although, there may be a slight difference between them when it comes to composition, ingredients, amount, and level of nutrients in each distinct formula. But both formulas are good and rich in all that your baby needs to grow and develop from Infancy right to up to 2 years of age.  
When it comes to issues that your baby might develop from feeding on formula compared to breast milk, both Similac and Enfamil have a product to tackle any of that problem. Constipation, Stooling, Gas, Spit-up, etc. They both have a product on the market to cater for your baby's needs. 
Therefore, which formula is better between Similac or Enfamil may be based on your baby's tolerance and acceptance of either product. Overall, they are both reputed great infant formula brands. 
Is it ok to switch between Similac and Enfamil?
 Yes, a time may come when your baby needs a change of formula, and then you want to know whether it is ok to switch between Similac and Enfamil. Naturally, you are able to switch between Similac and Enfamil or the other way around. However, you must follow a step-by-step guide to make the switch without disrupting your baby's feeding balance or digestive system. Below is the step-by-step guide to switching between Similac and Enfamil formula. 
Step 1: Introduce the formula you want to switch to gradually. 
According to Babylicious.com, you should start the switch by gradually introducing the new formula into your baby's current formula. Thus if your baby is currently feeding on Similac or Enfamil, you should introduce bit by bit of either of the formula you are switching to in every feeding until you can make the switch. You can start by measuring in a quarter scoop, then later half, and then gradually increase it till you can make a switch with ease. 
As a tip, avoid switching almost instantly, as it might disrupt your baby's digestive system and cause other issues. 
When you notice any intolerance to the taste by your baby, increase a higher ratio of the current formula and try decreasing it at a later time till your baby gets used to the new formula. 
Step 2: Follow the package instructions for both formula. 
It is expedient when you make a switch between Similac and Enfamil to read the instructions on both packages to measure the right quantity of scoop for your baby. You want to ensure your baby is getting the required nutrient in every measured scoop and that the mixing is done in such a way that will prevent your baby from constipation or dehydration. 
Overall, it is recommended that you contact your baby's doctor before you switch between Similac and Enfamil, so you can get the best advice available. 
Similac Vs Enfamil: Which Is The Best Baby Formula?
It seems so simple, and easy even – but today there are so many choices when it comes to a #formula that it can be overwhelming ...
Reviews.
Mother's reviews on Similac.
Vixx H. wrote after using Similac for her baby: 
Baby loves this and is thriving! 
"My new grandson had been having problems feeding on his previous milk, so my daughter-in-law had been advised to change his food, which she did but he really didn't like it and was refusing his bottles. However, when I saw this on Amazon I thought we'd got nothing to lose by trying it and I'm so glad we did. He absolutely guzzles his bottles down now and is a happy contented baby. He'd previously suffered with the trapped wind too but since changing to this formula that has improved too." 
Mother's reviews on Enfamil.
Mua. Kimm wrote after purchasing Enfamil: 
Used since day one! 
"This was the formula they provided me with after delivery (neuropro) than switched over to the regular can and haven't had any issues since my daughter was born, also one of the top formulas my daughters pediatrician recommends!" 
Conclusion 
In summary, this article examines the difference between Similac and Enfamil formula, explaining each formula and what ingredients each contain. It would have been out of place if the similarities were not discussed. Hopefully, you will make the giant stride by purchasing any of the leading formulas below. 
External Links 
Enfamil vs. Similac: Which Baby Formula Is Better?
Product Comparison: Enfamil vs. Similac
Enfamil or Similac: Which Formula Is Best for My Baby?
Enfamil vs. Similac: Which is the Best Baby Formula?
The Difference Between Similac and Enfamil
Difference Between Similac and Enfamil
Enfamil vs Similac – Which Formula is Best For your Baby in 2022?
Enfamil vs Similac: Which is Better?
Enfamil® Infant Formula Powder – 29.4 oz Can
Switching From Similac To Enfamil: What You Need To Know

Last update was on: September 28, 2023 3:24 pm