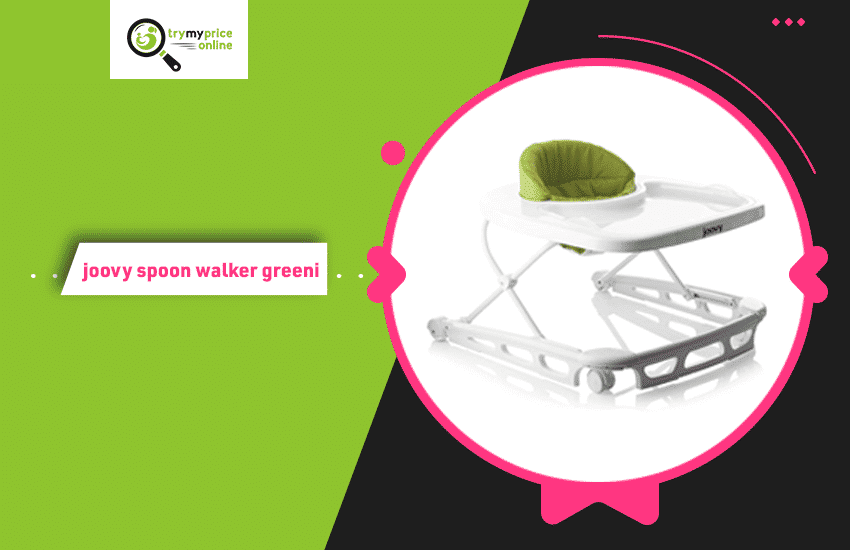 As your baby grows, you will find that there are more decisions to make that concern them. One of them will be deciding to get a baby walker. And like always, we are here to help you with making that decision. 
First, we will introduce the world of baby walkers to you. Second, we will give you a review of the best baby walkers out there. And last but not least, we will let you decide the best one for you and your little one. Ready for the new experience? 
You already know from the article title that our main product will be Joovy Spoon Walker greenie. But not to worry, we will discuss other products as well and we'll mention the process of choosing one yourself.
In this article:
What is a baby walker?
It seems that time has blown by, now that your baby is trying to walk, right? Rushing through the milestones of your baby rolling over, crawling, and taking their first step. And now, they are beginning to completely walk. 
Baby walkers are one the best tools that will help your child develop their motor skills. It can be fun and as well as educational and can help with developing other senses being colorful as they are. 
Baby walkers have safety considerations that we will discuss later for your own peace of mind. And of course to ensure that you choose the best baby walker. 
Types of baby walkers
Sit-in walker:

this type of walker consists of a steel or a plastic frame. This frame has a seat inside it or a fabric with leg holes on it. You put the baby's legs in the whole so that they can stand on their own feet. 
Push walkers:

they are also known as sit-to-stand walkers. It consists of an interactive panel like a toy station and a bar that the baby can hold on to. They can push the walker and maintain their balance while walking around the house.
Convertible walker:

this type is a mix of the previous two. It is a sit-in walker that can be flipped and converted into a push walker. The activity center in it can be attached and removed.
The Joovy Spoon Walker that we will discuss is a sit-in walker.
Time to start the baby walker
What is important when you measure the development of your baby is the fact that every baby is unique. What your baby might do within the first year, other babies do in their second and vice versa. 
Babies usually start walking and needing a baby walker within 6 months to 3 years. With most babies being in the range of 9 to 12 months. 
But you will be able to see signs that your baby will start walking. Like your baby being able to stand up on their own, or using furniture around them for standing and movement support. In this case, a push walker might be beneficial for your baby and it can support their walking practice. And don't forget, a doctor's visit never hurts anyone.
Safety concerns?
You always hear that baby walkers are not considered safe. And as a parent that might freak you out and prevent you from getting a baby walker for your little one. But we are here today to clear the air about this issue.
The baby walkers can be hazardous if you don't watch out for certain things. Just like any other product out there. The real threat when it comes to baby walkers is that babies can go places while in them. They don't have the common sense to not wander where they should not go. 
The real threat when it comes to baby walkers is the stairs. If you use baby stair gates you should be on the safe side. What you might want to consider also is not leaving your baby somewhere where they can hurt themselves. Like around a pool or in the kitchen with the stove on.
But with all that being said, the best way to decide what is good for a baby is by talking to your pediatrician. They will be able to help you more and let you know the latest updates that are associated with baby walkers.
How to choose a baby walker 
When you get to the phase of choosing a baby walker, you'll find a lot of options to choose from. There are many shapes and colors to consider. That is why we added greenie in our title 'Joovy Spoon Walker greenie'. Anyways, to decide the best baby walker, here are things that you might want to consider:
How mobile is your baby?

There are a few kinds of baby walkers. Some are suitable for babies who are at the beginning of their mobility phase. Such as just pulling themselves up or starting to sit up. Others are for babies who are already at the walking stage. As they can move fast and be more fun for the walking experience.

The type of floor at your house matters!

You need to choose a material and weight for your baby walker that will go well with your flooring. Some can go better with carpet and others can be great with tiles. And if you have a mix of those, just pick what will work better with most types.

Do you go out a lot?

If you go out of the house a lot or stay in many places, you might want to consider a foldable baby walker. Some of the walkers are large and bulky so you would want to keep them in one place.

Should you buy a new baby walker?

Some parents want to use older baby walkers or hand downs if they are a year or so older. If you are opting for this, you will need to check for broken parts and safety concerns. Even check if the walker has been recalled for some reason. But it is always better to buy a new one to avoid broken parts or safety issues. 

Extra safety concerns.

Make sure that you are buying a baby walker that meets the safety regulations of your country. It should have a safety warning label and/ or a safety guide. Making sure your baby is safe is no joke.

Other features.

When you choose a baby walker, you might want to make sure that it has no sharp edges. Or one with wheel locks and seat belts. Also being made from non-toxic materials or paints is a must. And extra features like music and colorful walkers might be more fun and educational for your baby. 
Now that we have told you how to choose the best baby walker, we are going to discuss the star product of the article Joovy Spoon Walker greenie.
Joovy Spoon Walker greenie
The Joovy Spoon Walker greenie is one of the best baby walkers out there and it is highly recommended by parents who have used baby walkers. We choose it for the high praise that it got and we will give an overview of it. 
We will start with the name Joovy Spoon Walker greenie. The reason it is called Spoon Walker is that it is a walker that can be used as a high chair. The Joovy Spoon Walker greenie has a U shape that combines both walker and a high chair. 
As a parent, you will love it for being durable, highly functional, and easy to clean. It is also foldable so it would make it easy for you to transport it and store it. As for your baby, they will love it for being comfortable and fun.
The Joovy Spoon Walker greenie offers an extra-large tray. At meal or snack time, you can use it as a tabletop. It is large enough to set multiple food items on it. Better yet, you can remove it completely to clean it or just put it in the dishwasher. After mealtime is over, you can use the tray as a place to hold your baby's toys. 
As your baby grows and masters walking, the Joovy Spoon Walker greenie will help your baby gain confidence in their walking. It will build their leg strengths and give them stability, mobility, and safety. 
Joovy Spoon Walker greenie overview
Joovy Spoon Walker greenie has an ultra-stylish design. The frame has a high gloss white finish with a colored seat. It is not just Joovy Spoon Walker greenie, there is also Joovy Spoon Walker blueberry, charcoal, jade, purple and red. The seat is also padded and plush and highly comfortable. 
The Joovy Spoon Walker height adjustment is no issue here. Your baby should be able to use it for a long time while he is growing. The Joovy Spoon Walker height adjustment comes in three different levels. You should be able to adjust it by sliding the red tab found under the tray.
The walker has four wheels, two fixed back wheels, and two moving front ones. This design offers higher stability and balance. And not to worry if the wheels broke, you will be able to find Joovy Walker wheel replacement. Those Joovy Spoon wheel replacements are cheap and easy to install, they just need to be snapped in.
The walker is foldable, as we mentioned, as well as being relatively light. Which makes it easier to store and can fit in the car for moving between different places.
Joovy Spoon Walker greenie pros
Safety:

the frame of the walker is steel reinforced as well as having a wide base. And that will prevent the walker from falling or tripping your baby if they are hyperactive.

The Joovy Spoon Walker greenie also has non-slip rubber stair pads with a tip-proof base. This will ensure complete stability and excellent traction. So that you can be assured that your baby is safe as long as they are in the walker.

The design also has a clever aspect of preventing your baby's fingers from getting caught up. Whether it is inside the walker itself or between the walker and something else, Should they hit a wall or something along their way.

The company promises materials that are BPA, PVC, flame-retardant, and Phthalate-free. So if your baby decides to chew on any body part of the walker, they will be safe from any toxins.

Durability:

as we have mentioned, the Joovy Spoon Walker greenie has steel reinforced steel. And that makes it built to last for a long time. Plus the seat covers are very flexible and durable.

Comfortable:

the seat of the Joovy Spoon Walker greenie is very comfortable. It is padded and plush with the extra feature of having a seatback. The seatback is high and offers extra support.

Height adjustment:

the height adjustment offers your baby stability in many positions. With three height options your baby can use the seat when they are standing or seated. Or even as they grow up, you will be able to adjust the walker for them to be in the correct position. The position should be with the baby's feet on the floor, while their knees are slightly bent. So you can raise the walker's height as they grow to fit that position.

Easy to clean:

this feature is always a plus, especially for busy parents. As said before, you can insert the tray into the dishwasher. And as for the base of the Joovy Spoon Walker greenie, you will find it just as easy to clean. 

Easy assembly:

the walker comes pretty much assembled. There are just a few steps for you to do. You just need to snap the front wheels, put in the seat insert, and voila! You have yourself a walker. 

Foldable:

This feature is great for parents who travel a lot or move places frequently. Or even if you want to take the walker to the playground with you. The walker folds to become flat so that it is easy to store and transport.

Warranty:

the Joovy company promises you a two-year warranty on the walker. So you can rest assured that if anything happens to it, you will be able to fix it. Even though the sturdy build of the walker wouldn't need that much maintenance.

Certified:

The Joovy Spoon Walker greenie has a certified seal. This seal means that it meets or exceeds all the standards of compliance and safety issued by the government. However, you need to keep an eye on your baby at all times when they are in the walker. Preventing them from being near dangerous places like the stairs. 

Multi-colored:

this feature is actually for your baby's benefit. You can choose Joovy Spoon Walker blueberry or any other color that your baby likes. That would probably make your baby love the walker and enjoy it even more.
Joovy Spoon Walker greenie cons
Wheels:

your baby might find it hard to turn the walker at first. This is because the wheels can be a little stiff.

Seat covers:

at first, changing the seat covers after removing them can be a little difficult. But once you have done it a couple of times, you will get the hang of it.
Joovy Spoon Walker reviews
What is important in our overview is to discuss the Joovy Spoon Walker reviews given by parents. This will help you to see what actual users think of the product for a more honest opinion about it.
Overall, the feedback about the walker is amazing. The main praised features are quality, stability, -and of course- safety. 
Parents also love how easy it is to maneuver and move from one place to another. Its nice appearance is also another quality that they love.
The large tray was very helpful as well. As parents mentioned that they just stock it with things their babies love to keep them occupied so that they can get on with their chores while making sure that the baby is safe. 
What is not so impressive about the Joovy Spoon Walker greenie is that it doesn't move very well on heavy carpets as it does with thin carpets and hardwood floors.
Joovy Spoon Walker minimum age
The Joovy Spoon Walker minimum age is usually between 4 and 5 months. But you will need to check other signs that your baby shows. They need to be at least able to set down on their own. You can also ask your pediatrician about when to start using a baby walker.
Take away 
The Joovy Spoon Walker greenie will keep your baby safe and entertained while they are eating or playing and learning to walk.
This piece can be used as a walker, high chair, and a small playground. So that will save you money buying other products and will save you space at your home. 
The safety and stability it also offers are things you should consider as well. 
Sources