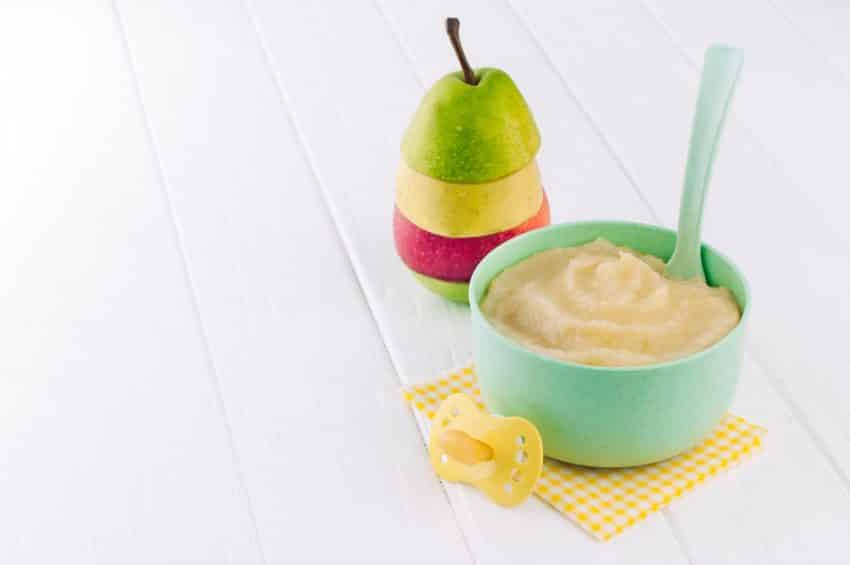 If your baby is getting old enough for you to consider adding actual food to their diet, then this article may be of interest to you. The easiest way for your baby to accept our normal food is if it's in the form of puree, and the answer to pureed food is homemade baby food pouches. 
In this article:
This homemade baby food is a great option for you to add vegetables, fruits, and even whole grain foods for your loved little ones, helping you in monitoring and controlling their diet in a squeezable and mess-free way with the great option of having many flavors available. 
The homemade baby food pouches have really secured their place in the parenting world as a nutritious and balanced way to introduce solid food to your babies. 
So, let us go ahead and mention how to make homemade baby food pouches and some of the homemade baby food squeeze pouch recipes, and much more.
Baby food pouches vs homemade
A question that all parents ask themselves regards almost everything that they introduce to their baby's life is: Industrial or homemade? And the homemade baby food pouches are no different. Therefore, to answer the question of baby food pouches vs homemade, we will tell you a little bit about each one and the decision then can be yours. 
Store baby food pouches
While the baby food pouches found at the supermarket are ready to use and easier to get and will definitely come in handy in time of emergencies, but, you will most certainly need to put a lot of thought when you are buying one for your baby -which is not the case with homemade baby food squeeze pouch.
First of all, you need to know that just like every other store-ready food, labels here can be misleading.
If you are getting a vegetable pouch for your baby to introduce a new taste, you will most probably find different ingredients like fruits or even additional coloring or added sugar, which is sadly the case with most pre-packaged baby food pouches.
What this might do to your child is getting them used to the sweet taste and in turn refusing vegetables later on as your baby's choice of food depends on early life exposure to different flavors in the first few months, especially that breast milk is sweet. 
As for the added sugar, you will need to ask your doctor about the allowed amount of sugar (probably from 4-6 g) and look for the amount in the ingredient list, just to make sure you are not giving your child too much sugar in their diet. Also, you will need to check if there are unneeded substances like colors of gelatin. You can also look for pouches containing vegetables only and ones with more fibers as well.
A decent ready-bought pouch can provide your baby with vitamins, minerals, and nutrients if you can get it. It's not an easy task for sure, but it's definitely doable.
Homemade baby food pouches
The great thing about a homemade baby food squeeze pouch is that you can make them from scratch, which offers you complete control of what you add and withhold from your baby's. This can be really convenient if your baby has a certain allergy, or if they prefer certain food to others, or even if you want to add an element that is necessary for your baby but they refuse it, in this case, you can cover it up with something you know your baby will like.
Homemade baby food pouches are quick, easy, and cheap. And as we mentioned before, one of the important things about making your own homemade baby food pouches is that you will be introducing the real taste of vegetables and foods to your baby which will help them with developing their taste buds and will make them prone to liking the greens and healthier food as they grow up. 
BEABA Cookbook: Baby's First Foods with Babycook
Homemade baby food pouches recipes 
Homemade baby food squeeze pouch recipes are countless, so you can bring out your creative side to play and help you with how to make homemade baby food pouches and it can really be a fun experience for both you and your hungry little ones.
Of course, there are some basics that all homemade baby food pouches recipes share, and the most important one here is that they all need to have a pureed texture.
And a little tip for you to that requested texture and prevent lumps is to invest in a nice hand blender, it will save you a lot of time and get the job done fast and easily. Also, buying a reusable baby food pouch will come in handy if you are planning on making homemade baby food pouches all the time. 
For the food to pass through the spout of the pouch, you will need foods with a smooth consistency, such as:
Applesauce.

Pureed (fruits, vegetables, meats, soups).

Smoothies.

Yogurt.
Step by step recipes
First, make sure that you wash all the ingredients you are using in the homemade baby food pouches well. Second, chop everything into little pieces for easy blending. If you are planning to boil the ingredients then add the water with it to prevent losing any nutrients, and if steaming, do it until they can be mashed by a fork and add a little water with it.
Some of the recipes are: 
Apple Flax Yogurt:
Half Apple Puree.

Half plain whole milk yogurt.

½ teaspoon ground flaxseeds.
Pear Coconut Puree:
3-5 ounces Pear Puree.

2 tablespoon coconut cream.
Pear Yogurt:
Half Pear Puree.

Half Plain whole milk yogurt.

½ teaspoon hemp seeds.
Red Lentil Coconut Soup:
3-5 ounces just warm soup.
Sweet Potato Tomato Soup:
3-5 ounces just warm soup.
Spinach-Pea Puree with applesauce:
3-5 ounces of half Spinach-Pea.

Half Applesauce.
Broccoli, Spinach, and Cauliflower Puree:
1 pound frozen organic broccoli.

1 pound frozen organic spinach.

2 pounds frozen organic cauliflower.

At least 16 ounces of water – more for a thinner puree.
Zucchini, Apple, and Carrot Puree:
1 pound organic zucchini.

½ pound organic carrot.

2 organic Fuji apples.

12 ounces water.
Pea Puree:
2 bags of organic frozen peas (about 2 lbs).

8 ounces water.
Plain fruit or vegetable puree:
3-5 ounces of the main ingredient.

1-3 ounces of water, breastmilk, or formula.
You should refrain from adding any additional sugar or salt or unnatural ingredients to the homemade baby food pouches you prepare for your baby's meals. It's also recommended that you introduce vegetables and fruits alternately at the beginning to develop taste and then you can add whole grain food and eventually you can add meats and fish.
After your baby gets a taste of everything, you can use your imagination to mix and match for them and create new flavors with ingredients you know your baby would like. It would also be really helpful to ask your doctor for ingredient recommendations. 
Baby Brezza Small Baby Food Maker Set – Cooker and Blender Baby Food for Pouches – Make Organic Food for babies – Includes 3 Pouches and 3 Funnels
Reusable baby food pouches
Reusable baby food pouches are baby food pouches for homemade food and an alternative to single-use pouches. With it, you can get the benefit of clean feeding, the baby using it on their own if you are too busy to set and feed them, having different shapes that your baby can enjoy, and the benefit of knowing what is in there exactly. 
They are easy to use, just squeeze and then suck -for the baby of course-, and usually, the homemade baby food pouches are built with a spout at one end for the sucking part and a zipped opening at the other end to fill the pouch. Sure, they require a little more work, but they offer the benefit of saving money and getting healthier food in your baby's belly.
It's recommended that you buy one of the BPA-free homemade baby food pouches for easy cleaning and more preferably a dishwasher-safe one. 
What's really insightful about baby food pouches for homemade food is that they are environment friendly as the single-use pouches are not made from recyclable material and with the amount of food the baby consumes a day, single-use pouches will be an added burden to the environment, but using a reusable pouch -especially a BPA free one- would most certainly be better.
Additionally, the squeeze and suck design makes it easy for the baby to eat on their own which helps in many situations, the baby just puts the spout in their mouth and mimics the rhythm they used when they were breastfeeding.
Another great feature about those homemade baby food pouches is that you can carry them with you everywhere, and the small size also helps with taking a few ones if you need, providing an on-the-go option if you need to go out without worrying about what to feed your baby. A miniature version of the lunch box for us adults.  
The drawback here though is the fact if you use the pouches for too long the baby can have a problem with their feeding skills development, as the pouches rely on suction with babies already know how to do so the babies can't tolerate lumps or finger foods later on and might get stuck in the suction phase.
So, a doctor visit might be in order here to determine how many times you can use the homemade baby food pouches without creating an issue for your baby.
A rather good solution for the issue though is squeezing the food onto a spoon and then feeding it to the baby for them to know new eating techniques.  
How to choose one of the reusable homemade baby food pouches depends on many features. Such as: 
Size:

get a size that matches the amount of what your baby eats at one sitting or a little larger in case you need a bit more.

Material:

it's always better to get BPA and PVC-free pouches for your baby's safety.

Shape:

it will be easier for you to clean a pouch if it has round corners rather than sharp angled food that can store remnants of food in it.
Plastic Reusable Baby Food Storage Pouch – It's Clear, Washable, Freezable, Refillable, Resealable, with Double-Leak Proof Zipper. Great for Kids & DIY Homemade Organic Puree – 6 oz
Homemade baby food pouches station
An easy way to fill your homemade baby food storage pouches is by using one of the homemade baby food pouches stations. Simple enough, right? 
One of the most famous stations known to parenthood is the Infantino squeeze station. So let's go through how this machine works.
Infantino squeeze station
The Infantino squeeze station is a machine that allows you to store the pureed food that you prepared for your baby into multiple pouches brought along with the device to create homemade baby food storage pouches. The machine is priced under 20 dollars which is a convenient and low price.
The machine comes with 10 single-use pouches, but the upside here is that you buy an extra 50 pouches whenever you need them. The pouches are transparent so that it's easier for you to check what type of food is in it and to see if the food is not molded if it has been stored for too long. The Infantino company included a chart and a magnet to keep track of the storing dates which are advised to be less than 3 weeks. The homemade baby food pouches can contain up to 4 ounces of the baby's pureed food.
The station's design is really well crafted. It's easy to dismantle and clean with no sharp edges for residue food to be stuck. You can wash the machine with soap and warm water or put it on the top shelf of your dishwasher.
Just make sure that you wash the machine before the first use and then after every use. Although it says that the machine is supposed to be dishwasher safe, the reviews say that you should try it at your own risk as the plastic pieces end up damaged in the dishwasher.
But on the upside, the station is BPA, PVC, and phthalate-free. The corners of the plastic are surrounded with soft rubber for an easy grip and a no-skid base as well. 
The station user instructions are really easy to follow. All you need to do is:
Sliding the pouch firmly into place.

Make sure that the filling tube screw is attached to the spout.

Pour the already prepared puree into the filling tubes.

Use the included press to push food into the pouch.

Remove the pouch from the station after unscrewing the tube.

Screw the cap on the couch. 
And voila! You have homemade baby food pouches ready to use. Another tip here is that you need to make sure that the puree you are adding has no chucks at all as they might get stuck in the nozzle and give you a hard time. So just make sure you're putting the blender to good use before adding the puree to the machine.
Infantino Squeeze Station: It's a Pouch Filling Station suitable for babies' semi-Solid Food, It's Dishwasher Safe & BPA Free to use for Homemade Baby Food
Common questions
Can you freeze homemade baby food pouches?
Yes. you can definitely freeze your baby food pouches. They can last in the freezer for up to 6 months but they might use some of the nutrients in them after 3 months. A good way to store them is in packages enough for a single meal to prevent refreezing. And once it's out of the freezer you can use it within 48 hours or else, throw it away.
How long do homemade baby food pouches last?   
One of the most asked questions when it comes to baby's food is, how long do homemade baby food pouches last? Well, that depends on its state and where it's kept.
If it is in the freezer as mentioned before, you have up to 6 months and 3 months for better results. If you decide to put it in the fridge, that will give you up to 48 hours as a maximum. But, if you just leave it at room temperature, then the clock is ticking, as you will have about 2 hours only and just one hour for a warmer atmosphere.
Take away
The homemade baby food pouches are a good choice for many reasons, such as:
They are easy, quick, and can be useful for fast meals when you are busy or out of the home.

Their ingredients can be controlled and that will help with giving your baby the needed nutrients without any industrial additions. 

You can use them to introduce new flavors for your child by mixing new foods together.

The pouches are cheap and have the option of being reusable. 

The reusable pouches are environment-friendly. 

You can make a large amount and store it for up 6 months if you need. 

Their squeeze and suck design helps with self-feeding for the baby.
The major fault in those homemade baby food pouches though, is that the continuous use can cause feeding development issues for the babies, so it has to be used carefully. Always consult your pediatrician.
References :