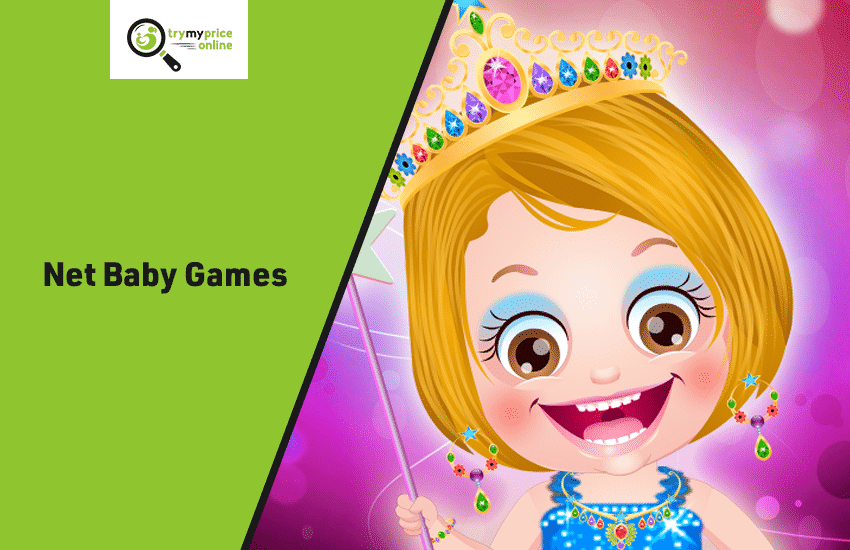 Today, when the world is stuck due to COVID 19, outdoor activities have also been restricted. Children are taking online classes, and in their spare time, they love to play games on androids. Fortunately, we have many net baby games available on the internet that are entertaining and good for learning too. But being a parent, it is your responsibility to keep an eye on the screen timing of your child. Also, child below 3 years of age is too young to expose to screens. So constantly give a time slot to your child in which they are allowed to stick to screens.
Let's have a look at our picked fun baby games online for free. So without any further ado, let's move directly toward the net baby games.
Best Net Baby Games
Below are all the baby games your child would love to play.
New Born Baby Care Games
The first category is newborn baby care games. All the mentioned below games are free to download, and you can easily download them from Google App store.
New Baby Story
This game is free to download and will be your child's favorite game. The game is based on the 6 phases of a girl's life. When a baby girl is born, and your child has to assist parents in taking care of the newborn.
Secondly, your child will celebrate the first birthday of this baby girl and make a birthday cake for her. Thirdly, your child will help the baby girl go to school by making her wear a uniform, prepare her bag and comb her hair.
Further, she will go to high school. Fifth, your well-nurtured baby doll is all grown and will get her first job in a bakery, and your child will help her make the finest cakes. The last phase is of her wedding day; your child will help her get ready.
Pros
Fun game kids love to play.
Best for girls age 4-10.
Appropriate content for little girls.
It's a family game; you can join your daughter, and we bet you will love it.
Free to download
Cons
Baby Boss_Care, Dress up and Play
Baby Boss is among most loved characters around the globe among kids. This baby boss game is another free downloadable game your child would be among his favorite baby games. The naughty baby boss wants your child to take care of him. Your little one can dress him up in some fun outfits.
Also, your child can feed baby boss some yummy food. This baby boss has his tantrums to throw and your child would love to bear them. He splits food, throw things, create mess and much more.
Your child would love playing around with baby boss and take selfies with him. The game has some amazing features your child would love.
Pros
Appropriate for kids aged 4-10.
No inappropriate content that can embarrass you while sitting with your child.
It is a fun interactive game.
Free to download
Cons
Locked features and levels.
Baby Sitter First Day Mania_Baby Care Crazy Time
If your child loves babysitting games, this will be their ultimate favorite among all the baby games. They will get a chance to babysit twins, toddlers, and newborns.
Moreover, your child can bake cookies, give a bubble bath, feed snacks, and play around with these adorable babies.
The art and craft feature of the game is also fun. Your child can tell fairytales to kids, make them learn ABCs, make them wear fancy dresses, and clean up the nursery. Hence, this game has much to offer to your kid.
From cleaning diapers to making pictures and painting, this game has a lot to offer to your kids. Download it today from your Android app store for free and let your child enjoy it.
Pros
Fun interactive game.
Best for kids aged 4-10
Free to download
Cons
Sweet Baby Girl Beauty Salon 3_hairs. Nails & Spa
Salon games are kid's favorite. This game allows them to do haircuts, apply nail colors, and give facial treatments to celebrity characters. The first thing they have to do is select a celebrity and create their look.
Your child can give them manicures, pedicures and do crazy hair and makeup. Above all, it's free, and your child can play it as long as she wants.
To get extra points, you have to watch videos. Your child can play it every day, earn rewards, and unlock new levels. So, download it and let us know if your child enjoyed it or it was not his/her piece of cake.
Pros
Will engage your child for as long as you want.
Free to download
Cons
Graphics could be better.
Baby Hazel New Born Baby 2
Baby Hazel games are popular among kid's worldwide. This particular game is based on the Hazel and her newborn baby brother. She wants you to assist her in setting a bed for her newly born brother and shop toys for him. Also, you can apply Hazel's mom's makeup on Hazel, make her hair, and take her to a picnic.
Your child can choose dresses for Hazel and her baby brother and enjoy meals with them. The game also lets you enjoy features like taking Hazel and her baby brother to the park, go shopping, change accessories, and introduce baby brother to Hazel's friends. It is a super fun newborn baby care game your child would love to play.
Pros
Super fun and interactive game.
Your child would have so much to do in the game that he/she won't get bored quickly.
Free to download
Cons
Baby Girl Games Dress up
If your little one loves dressing up dolls and you are tired of making or spending on clothes for her, these games are a life saver for you. Bingo! They are free to download, and your child would love to play with them. Let's have a look at some of the easy-to-play games for kids.
Baby care and Dress up
This baby care and baby girl games dress up will be your child's favorite. Besides getting entertained, your child will learn to act responsibly.
Your little one will take care of a virtual baby by feeding her, giving her treats, and making her fall asleep. The game is easy to play, and kids love to operate it independently.
Pros 
Fun and interactive game.
Easy to use.
Best for child aged 3-8.
Free to download.
Cons
Baby Pony Sisters – Virtual Pet Care, Horse Nanny & Dress Up Game for Girls
Kids love to play pony games, and unicorns are the love of their life. This game allows your child to take care of four ponies. Change their accessories and outfits.
Also, they can unbox exiting plush toys for their ponies. Besides dressing up ponies, your child can also decorate their rooms in a fun way.
Pros
Your little girls will love this game.
Fun and interactive game.
Easy to use.
Free to download
Cons
The free version has a lot of ads.
Baby Simulator Game Online
Simulator games are appropriate for grown-up kids. Adults who are into gaming also enjoy these simulator games. They are a good time pass, and the games' challenges improve the decision-making power among kids and adults. So, here are some best baby simulator games online that are best for kids and adults.
Cat Sim Online_Play with Cats
The Cat Sim allows you to explore the world of 3D. You get a chance to raise a cat family. The fun part is that you can select the gender, clothes, fur color, and name of your cat's family.
You have to earn coins to unlock the cat breed. Also,You have to battle against your enemies and go through some catfights. You grownup kids would love to play this online game as they can make friends while playing it online and get a chance to socialize with kids of the same interest.
Pros
Best for your cat lover grownups.
Multi-player online game.
Fun and interactive game.
Free to download.
Cons
Horse Paradise_My Dream Ranch
If you are a horse lover, this game is for you. You will get a chance to breed your horse, including some magical horses like unicorns and Pegasus.
Moreover, the game will introduce you to a magical 3D world where you can chat with your online friends and be part of intense racing games.
Begin with raising a horse, and teach them basic tactics to jump, trot, gallop, and canter. Be part of this adventurous world by simply downloading this amazing game.
Pros
Best for horse lovers.
Best graphics.
30 Horse breeds to select from.
Various Upgrades.
Play along with friends.
Free to download
Cons
It should have an option to control the horse using joystick.
Virtual Families 2: Our Dream House
Life simulation games are always a fun to play. This game is easy to learn and super fun to play. You can have your own home, family, and amazing situations to cope up with.
Once you start playing it, you cannot keep your hands away from it. Build your house from scratch. You can renovate and expand it. Moreover, you can shape the characters the way you want them to. It is fun to have a virtual family with a lovely pet and unexpected situations to deal with.
Pros 
You can praise and scold family members to mold their personality the way you like.
The characters of the family will grow, age and may die.
You get limited amount of money to manage your expenses, which let player list his/her priorities.
Excellent Quality.
Free to download
Cons
First Words Baby Net Games
If you are homeschooling your child, or you want your child to spend his/her extra time in some quality learning, below are some super-efficient apps to download on your androids for your kids. The basic version of these apps is free but you have to pay to unlock the advanced levels. If your child is learning through these apps, they are worth spending on. So without dragging let's move straight toward these apps.
My First Words Lite
This app is best for kids aged 2-7. Your child has to arrange the alphabet in the correct order to form a word. Upon spelling correctly, the app will pronounce the word, and relevant animation will appear on the screen.
The application has basically 10 words, and you have to purchase to unlock more words.
Pros 
Effective learning app for kids.
Cons
You have to make a purchase to unlock more words.
Word Market 2
This is an upgraded version of Word Market with some additional sets of puzzles. All your child has to do is swipe over the alphabet to add it to a plate to name a fruit. It is best for kids who love word puzzles or crossword games.
Download it today and let your child sharpen his/her mind.
Pros
Brain game to make kids sharp.
Specially designed for cell phones and tablets.
Cons
The user has to spend coins to get a hint if stuck.
Benefits of Net Baby Games
There are plenty of net baby games available in the App Store of your androids. Some of them are just good to kill time, whereas others are good for making your child learn something along with entertainment. Here we have included games that can be beneficial for your kids in both ways. Below are some of the noticeable benefits your child will be getting unknowingly while playing these games.
Taking Responsibility
Newborn baby care games make your child act responsibly. They will love to take responsibility for little chores like feeding babies, making them learn eating manners, helping them in bathing, and much more.
Being Creative
Playing dress-up and styling games will enhance the aesthetic sense of your child. They will be matching the outfits with accessories and playing with colors. There will be moments to amaze you when you see your child making perfect matchings and color contrasts.
Entertainment with Learning
Entertainment with learning is a win-win situation for both parents and children as exposing your child to screens is a challenging job. You have to keep a constant eye on what your child is watching. So it is best to review the content yourself after downloading it and then hand it over to your kid.
New Baby Story - Girls Games
in stock
as of September 25, 2023 2:05 am
Features
The baby girl is born. Her parents love their newborn baby so much. Would you like to help the parents take care of their new baby?
She's going to have her first birthday. The whole family is planning a grand party for her. Please make a birthday cake for her. She will love it.
She is going to school! Help her put on the school uniform, comb her hair and take school bag with her. Oh, bad news! Please take her to see the dentist. She ate too much sweets causing tooth decay.
Time flies. She's in her high school now. She joins baseball club, learns make up and becomes a beautiful lady!
The girl gets her fist job in a bakery shop! Please help her make delicious cakes!
Baby Boss - Care, Dress Up and Play
in stock
as of September 25, 2023 2:05 am
Features
Naughty Baby Boss needs YOU to keep him happy!
Dress your baby up in crazy outfits that fit his bad-boy style!
Feed your baby yummy food, but make sure he doesn't throw it at you!
Sweet Baby Girl Beauty Salon 3 - Hair, Nails & Spa
in stock
as of September 25, 2023 2:05 am
Features
Play the cutest beauty makeover games for girls!
Style 4 sweet baby girls: Alice, Emma, Katie & Emily!
Create a pop star, hipster, princess & emo look!
Do a superstar makeup & color nails for pop star Alice!
Give a facial spa & comb hipster Emma's hair!
Baby Hazel Newborn Baby 2
as of September 25, 2023 2:05 am
Features
Assist Baby Hazel to set up a crib for her newborn brother and put him to sleep
Enjoy applying mom's make up and accessories on Baby Hazel
Have fun bathing Matt along with Hazel
Enjoy a day-out shopping with Baby Hazel and buy new toys and good-looking outfits for Matt
Go on a picnic with Baby Hazel and family and introduce Matt to her friends
Baby Care & Dress Up - Play, Love and Have Fun with Babies
in stock
as of September 25, 2023 2:05 am
Features
Dress, Feed & Bathe your Baby - Have a Tea Party & Put your Baby to Bed!
Play Mommy & Care for Adorable Babies, Hundreds of Outfits & Loads of Fun!
Kids will Learn Responsibility - Don't Let the Babies Cry!
The Best Mommy's Helper Game Ever - Care, Bathe, Feed & play with Babies!
Baby Pony Sisters - Virtual Pet Care, Horse Nanny & Dress Up Game for Girls
in stock
as of September 25, 2023 2:05 am
Features
Play the cutest virtual pet care & pony games for girls & boys!
Take care of four cute baby ponies: Britney, Molly, Rosie & their unicorn sister Rainbow!
Feed and bathe the pony sisters!
Change smelly diapers & potty train the baby ponies!
Sing the horse babies to sleep when they are tired!
Cat Sim Online: Play with Cats
in stock
as of September 25, 2023 2:05 am
Features
Raise a family: raise a family by having new kittens and continue the family legacy
Become pregnant: help the mom the give birth
Super customization: customize each cat by name, gender, fur color, clothes and more!
Online multiplayer games: play with friends in online RPG games and share the glory as you defeat enemies
Clans & Online Leaderboards: adventure in clans with other online players and battle in the Clan Wars
Horse Paradise - My Dream Ranch
in stock
as of September 25, 2023 2:05 am
Features
Free Online Multiplayer
Breed over 40 Horses including Mustangs, Friesians and Clydesdales
Play as Magical horses such as a Pegasus and Unicorn
A Beautiful 3D World filled with lush forests, beaches and mysterious caves
Meet Friends and Chat
Virtual Families 2: Our Dream House
in stock
as of September 25, 2023 2:05 am
Features
Real-time game play, like all LDW games.
Fully trainable people: shape and adapt their personalities through praising and scolding!
Dynamic illness system. Play Doctor!
Customize your dream house and shop from tons of items or pets in the store.
Random Events, Collectibles and Trophies
My First Words Lite
in stock
as of September 25, 2023 2:05 am
Features
Fun game that teaches words and spelling
Sounds and animations
10 words appropriate for ages 2 to 7
Word Market 2
in stock
as of September 25, 2023 2:05 am
Features
discover new words
easy to play
hundreds of puzzles to solve for you and your friends
excellent word game to keep your brain sharp
made for phones and tablets
Final Verdict
This was all from us on best net baby games. There are many apps and online games available on the internet to educate your child along with entertainment. Some of the bests are mentioned above. Share your favorites with us, and let us know if this listing was helpful for you to select the age-appropriate game for your kid. Also, certain games contain inappropriate content for specific ages, so we suggest you give every content a thorough look before handing over android to your little one. We are signing off with this little parental advice and will get back with another informative article for your kid. Good Luck.
FAQS
Which is the best net baby game?
Any game that your kid enjoys playing and is getting to learn something out of it is best. Also, the content should be appropriate according to
their age.
Do net baby games aid in child personality development?
Yes, these net baby games allow your child to act responsibly.