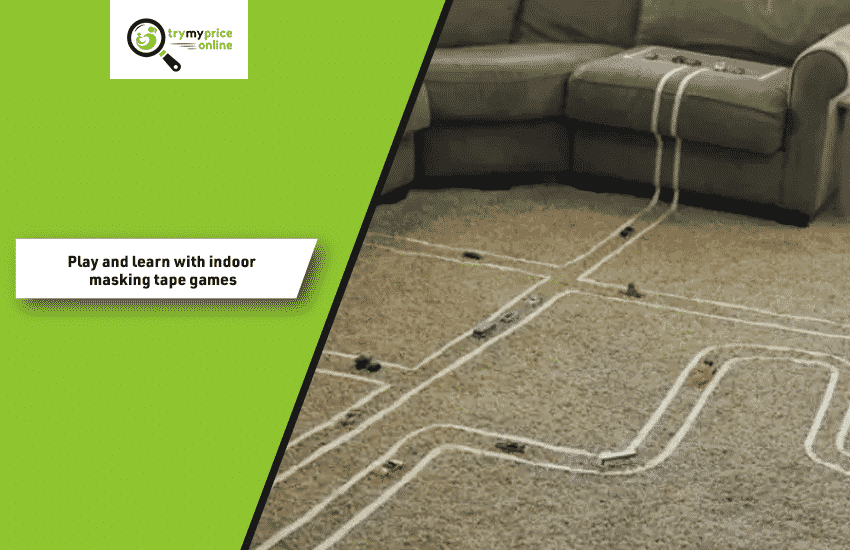 Kids stuck in due to any reason are just like trying to keep an explosive material shut in the container. They cannot always sit. Being a parent, you have to look after them and end their boredom, make them engage, learn new things with their experiences and your assistance. Oh! Parenting is a challenging and tedious job. Moreover, it is 24 hours/ 7 days job without any leaves! But watching your preschooler and toddler engage, laughing, giggling, and enjoying masking tape games, will let you forget everything. It will be a great relief for you.
Be engaged with your child so they can hit every milestone at the right time and in the proper manner. Let us explore the best indoor masking tape games and their benefits for your adorable sweetheart. We will share some of the best masking tapes for your toddlers and preschoolers.
Best Masking Tapes Indoor Masking Tape Games
MT, washi masking tape for kids.
There are plenty of fun games to play with tape that you can conduct with your little one, maybe one of them involves space and moons, and if that is the case, then this Washi masking tape by MT is the one you need.
This high-quality black Washi tape comes in a beautiful jet-black base color, and there are yellow moons drawn all over it. It's perfect for a removing tape game as it can be applied and discarded easily.
This Washi paper won't leave marks on your walls, flooring, or any other surface you are sticking it on to for any of your masking tape activities.
Pros.
Great quality.
Easy to discard.
Beautiful design.
Cons.
The sticker quality can improve.
MT MT01KIDO5Z mt kids Washi paper masking tape
Little princesses have big imaginations, so why back off and use a plain white masking tape when you can use this one with little heart motifs on it?
The first thing that I found attractive and catchy for kids to engage with was the bold design, pastel hearts, and light off-white background. This piece is perfect for tape activities for preschoolers where they are supposed to write on the tape.
You can even double layer the tape for a better and bolder design as it's semi-transparent. Don't worry; even two layers will come off quickly and won't damage your walls or flooring.
You can also use this tape for other purposes, such as tape art for toddlers, due to the design and ease of tearing, applying, and removing various surfaces.
Pros
Easy to use.
Pretty design.
Semi-transparent.
Best quality.
Cons
Colored Masking Tape kids craft set | 6 pack1
If you are looking for plain colored masking tapes for various tape activities for toddlers without any specific design them this set is an absolute steal.
This multi-colored masking tape set is ideal for you if you have a dozen toddlers or maybe you run a school or any institution that involves kids. The bundle has many brights distinctive colors such as neons and bright shades.
Any sort of kid game with tape can be carried out with this tape, especially the more fun and physical ones like the sticky spider web game.
Pros
Bright neon colors.
Whole bundle.
Many multiple uses.
Great price for the whole set.
Cons.
Not ideal for a single toddler or two.
MT Washi Masking tape, set of 10,
This easy-to-peel and apply washi masking tape by MT is yet one more fantastic product by them. We can say MT is the king of manufacturing tapes, which are perfect for removing tape games.
The first best thing about this product is the beautiful colors that come in this set of 10. All the colors are light pastels, and they are also bright and attractive, so you know your child will be hooked on the games because of the tape.
Not just that, the colors are also perfect for preschooler kids as the light colors make it easy to write on. So now your kids can play and learn quickly.
The tape being a masking one, is easy to peel off of any surface no matter the type, be it wooden, stone, marble, or tiles. It will come off quickly without any damage to them. Hence, indoor masking tape games were never more accessible.
Pros.
Bright beautiful colors.
Easy to apply and remove.
Great Price.
Won't damage any surface.
Cons
MT Washi masking tape, set of 20,.
Keeping in mind about our earlier product, there should be a bright set available for single or double toddlers too, right? Well, this bright set of 29 masking takes by MT is ideal for your household.
The best aspect of these tapes is the quality; they are best for any rough and tough game like a spider web game with tape.
The second best thing about the product is the bright and beautiful range of colors, perfect for any tape game for any gender and mood.
The colors range from a darker range to some beautiful and light pastels so that you have a perfect range to choose from.
Pros.
Good quality.
Great range of colors.
Exciting colors.
Cons.
Benefits of a Peeling Tape for a toddler
Did you hear about fine motor skills development in your toddlers and preschoolers? Indeed, you heard this term several times, but how important it is, you hardly know about it. The involvement of engaging small muscles to do deliberate movements is fine motor skills. The child must have coordination between the fine movements of the fingers and hands in coordination with their eyes. You have to go through several practice sessions to refine your skill.
Therefore, it is essential for your child to develop fine motor skills with indoor masking tape games. A child cannot sit for practice sessions, so engaging him in such activity is a meaningful exercise with a purpose. You will experience the difference in the holding power of your kids. They will perform the daily activities with scissors, pencils, and shoes tying in a more efficient manner.
Pincer grasp
Your baby can master it as a milestone from 9 to 10 months old. The masking tape activities let your child use his index finger and thumb in coordination with the brain. It becomes possible when your child's muscles work collectively to help the toddler to pick anything. Once the kid hits this milestone, they can explore an entirely new world ahead. Note down the further things your child can do if they indulge in removing tape in-game:
Proper holding of pencils and crayons with three fingertip pinch
Feed themselves
Carry eating utensils
Playing with blocks and toys
Proper operation of zippers and buttons
Proper usage of scissors
Gross Motor Skills
Not to forget, the eye-hand coordination and balancing of the preschoolers and toddlers hold immense importance in gross motor skills. Children learn the art of dynamic balancing and coordination that will help save them from accidents and perform efficiently.
Being parents, you know how vital gross motor skills are. Every kid develops it at different stages, even at the same age. Young kids with less gross motor skills face difficulties in daily life activities like throwing, jumping, and running. So, tape activities for toddlers are a perfect idea for developing gross motor skills from an early age.
Playing games like hopscotch requires jumping, and hopping needs a lot of skill. Do you know which one?? Is it coordination, gross motor skills, and balancing? Practice these skills through hopscotch. You need a Painter's tape to help you in setting up the game. In addition, your little master can practice his numbers as well. Feel free to enjoy indoor masking tape games play in your playground, sidewalks, and hallways, wherever you wish to.
Social development in preschoolers and toddlers is an important milestone that helps them mingle and socialize with peers and fellows. Generally, they play and babble alone. But playing indoor masking tape games lets them experience new things.
They play with other children and learn different emotions like self-control, patience, cooperation, helping others, and confidence. Moreover, their bumpy ride of success and failure let them try again and again till they accomplish the tasks of removing tapes in games. They get the opportunity to learn for their turns or play turn by turn.
Preschoolers love to learn about the working of things. It is best possible through play and learning when they will experience solving problems, experimenting, learning, creating, and thinking every time. Preschoolers and Toddlers remain indulged in masking tape activities and learn interactively without force and pressure. Fun learning lets them assimilate and retain the knowledge for a longer time.
Nonetheless, sticking games let them be engaged for a long time without creating a fuss or messing things up. Their learning never stops in this manner. You can keep on repeating words and phrases in the peeling tape activity for toddlers and preschoolers. They will start learning new words and concepts. Undoubtedly, you will develop a stronger bond with your kid than ever.
What Factors To Consider For Buying Sticky Tape?
Safety
Whenever parents plan to buy anything for kids, particularly preschoolers and toddlers, one thing haunts their mind; is it safe? Safety is their priority for kids. It urges the parents to look after the sticky tapes with the best adhesive yet highly safe. Avoid the tape for toddlers and preschoolers that are toxic, with preservative chemicals and synthetic dyes.
After all, when we talk about kids, they take things to their mouths or hands in mouth, so no chemicals or toxic material should get inside them. Therefore, look after high-end painters tape toddler activities. You will find it relatively safe and secure to do your work and household chores even if you begin and leave the peeling tape activity for toddlers on their own for a while.
Cleaning
Every kid's stuff has to be easy to clean. Else it will make your life terrible. But, when kids learn and play, you cannot confine them to cleaning. They are just ready to explore and enjoy. Even you will not like compromising their excitement and enjoyment.
Look for fun games to play with duct tape anywhere and anytime. You will lose the fear of no time to clean and where the toddler should begin the indoor masking tape games. The adhesive must be easy to clean by just wiping it off.
Affordable
Every kid's stuff has to be easy to clean. Else it will make your life terrible. But, when kids learn and play, you cannot confine them to cleaning. They are just ready to explore and enjoy. Even you will not like compromising their excitement and enjoyment.
Water-Resistant
When the little munchkin gets ready to play fun games with tape, there is a high risk of spilling milk, juice, drink, or water on the masking tape. Do you know what is next? It might be floating on the floor. So, no worries, and let the preschoolers and toddlers learn and enjoy without any discomfort.
Furthermore, continuous peeling and removing the tape during activities and games will not affect the adhesiveness of the tape. The masking tape floor games will remain intact for a longer time.
Interactive Ways of tape activities for toddlers and preschoolers
Keeping your kids engaged with the masking tape activities is a beautiful blessing to calm down and engage your restless soul. Children will love doing the following actions with masking tapes even if they got VTech Touch and Learn Activity Desk and Little tikes cozy coupe in their toy baskets.
 Walk and Balance on The Line
Draw a snowflake pattern on the ground. Let your child walk and balance. Undoubtedly, his coordination skills must be at their best as well. It is perfect for letting your kids remain active and engage indoors. They will act like the transverse, the highest point of the world. Add some more spice to their game. Introduce a number and tell them to stand on the tape with one foot and put the next foot on the called number. Do it once they pass the previous level.
 Maze
Set up a maze with the masking tape on the floor for the kids. It will let them think it over to get out of the maze. Spike up their thinking skills and let them explore to find the way on their own. No matter if they feel low or annoyed. Buck them up. Prepare 2 to three mazes so they can experience different challenging positions at various levels.
Tape-Resist Painting
Painting is always fun for the kids. It doubles when you let the little angel paint the way he wishes to do. Let him become a Leonardo Da Vinci and develop his masterpiece by sticking tapes in between to form different shapes and patterns. Introduce abstract art because it can be boring for a kid to keep on playing one monotonous game.
FAQs.
Will this sort of masking tape hold in water?
Nope, the adhesive is not strong enough for a water bond, but it will work perfectly on any other solid surface.
Will masking tape peel off nicely without any marks?
Yes! Masking tape is known for peeling without any issue without leaving any marks on any surface, so don't worry.
Is it easy for kids to use without scissors?
Yes! That's the best part. You can tear off any masking tape just with your hands without any use of scissors, and you can trust your children around it completely.
What sort of pen or pencil works on it?
It has a consistency of paper so you or your children can use whatever they please on it and it will work perfectly.
What width masking tape should be used for spider web game?
If you want to make it quick and simple, then use the average width, but if you're going to go adventurous, maybe try different narrow colors or look so pretty and more fun to play with.
Final Words
If you are looking for high-end masking tapes for your indoor masking tape games, you landed at the right article.
This read will help you get all the validation ad information you need on why it is essential for your kids to be indulged in indoor motor games and what sort of tapes should be used.
You will also be presented with a range of high-quality masking tape to pick your favorite from. So wait no more and order now because a load of fun, bonding and, learning awaits you and your children!
References:
Helping Your Child with Socialization (childdevelopmentinfo.com)