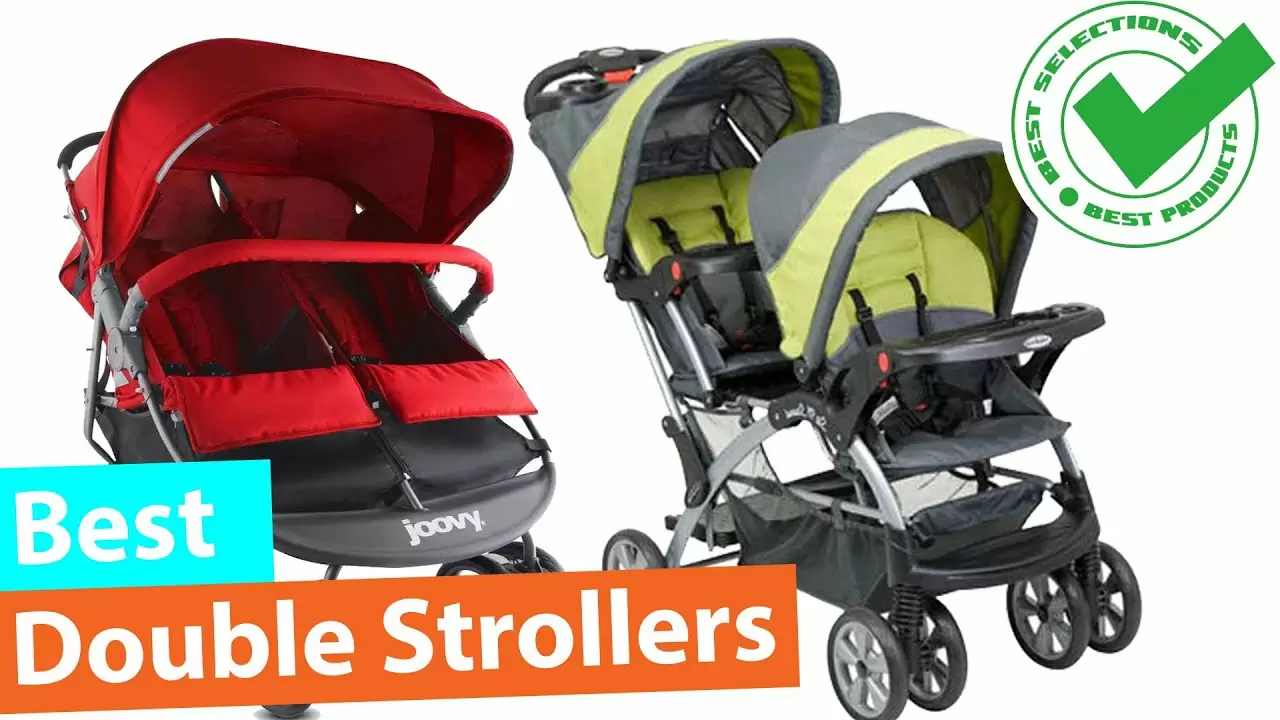 Happiness comes in pairs, so what is better than having a child that fills your house with laughter and happiness accompanied by another sibling to make things even more festive. Expecting twins or even a new baby with a toddler around the house can feel overwhelming as those little demons can be hard to keep up with. This is especially true when you want to maintain your sanity and take the kids out for a walk or even some shopping in the mall. But you don't have to worry about that when one of the best double strollers gets you covered.
---
Why Do You Need a Double Stroller?
Double strollers are available in many shapes and sizes to make it easy for you to walk around with your little family comfortably. The right double stroller can seem hard to find amongst all the options available nowadays, but here is what you should consider before buying your new stroller.
A double stroller is supposed to make your life easier allowing you to walk with your kids while running daily errands or through a nice walk in the park. For that, you need a double stroller that is made of lightweight material so it would be easy to push around, and yet it has to carry both your children securely.
After some meticulous research and hearing out parents' reviews, our team has assembled a list of the 5 best double strollers available in the market. So let's share them with you explaining the reasons why they made it to the list of the best.
---
Quick Overview of Best Double Strollers of 2020
| Double Stroller | Stroller Type | Weight Limit | Check Price |
| --- | --- | --- | --- |
| Baby Jogger City Mini GT 2 Double Stroller | Side by side | 65 pounds | Check Price |
| Graco Ready to Grow LX Double Stroller | Tandem or inline | 50 pounds | Check Price |
| Britax B-Agile Double Stroller | Side by side | 50 pounds | Check Price |
| Joovy Caboose Ultralight Graphite Stroller | Line to line | 45 pounds | Check Price |
| Baby Trend Sit N Stand Double Stroller | Inline | 40 pounds | Check Price |
---
Types of Double Strollers
In general, there are three types of double strollers, They are:
Side-by-side strollers
In-line strollers
Convertible or modular strollers
This type of stroller has side by side identical seats. Side by side strollers are versatile, very easier to maneuver than inline strollers. These strollers are designed for same-age children, so they are perfect for twins. Side by side strollers allows child to sit and ride next to each other. This stroller is generally shallower than tandem or inline strollers so it offers more control and better access than any other stroller.
Tandem or Inline strollers
Inline strollers designed as one seat in front of the other one, where the seat lies behind each other and side by side strollers where the kids sit next to each other. Tandem or inline strollers have stadium seating which allows one child to sit in the higher back seat for better viewing. One seat may recline more than another or offer more legroom, a cup holder, or the ability for an infant car seat to attach. These strollers are usually bigger, so it is difficult to turn or maneuver.
Convertible or modular strollers
Convertible or modular strollers are used as a single stroller or converted into a double stroller by adding on a second seat. Some can even handle a third, older child who can sit on a bench or stand on a platform. The workhouse of the bunch, this stroller style is a great upfront investment that can grow with your family.
---
Last update was on: April 11, 2021 3:56 pm
Best Double Strollers Reviews of 2020 
Let's dive in to the discussion of the best double strollers for your family. 
1

Baby Jogger City Mini GT 2 Double Stroller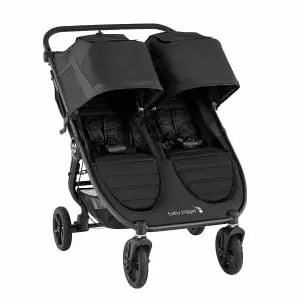 This double stroller is a side by side model that is highly recommended by parents. Side by side models are generally great as your babies e joy sitting next to each other. This model is specifically great as its seats are padded for extreme comfort for your little ones. The back of the seats reclines all the way to the back, and each seat reclines independently. In this new GT 2 model, the legs are also can be adjusted so that that you can lift it up or down to fit your child's mood. Also, the stroller easily folds with a one-hand move making it easy to tuck away when done with your walk.
The new GT 2 stroller has brakes on all 4 wheels so that they can securely hold the stroller in place. This stroller is easy to push around all different types of grounds and will ensure a comfortable trip anywhere from a park to the mall. It also has new modified canopies that offer maximum protection against wind and rain and has a little mesh window so you can take a look to make sure your kids are safe and happy. Last but not least, the stroller comes in many shapes and colors to suit all tastes.
Check Pricing and Availability
PROS:
Great brakes on all wheels
Highly protective canopy
Comfortable seats that fully recline for naps
Easy to push around even with heavier weights
One-hand fold
CONS:
Little storage area under the seats
Heavier than competitors
---
Last update was on: April 8, 2021 7:26 am
2

Graco Ready to Grow LX Double Stroller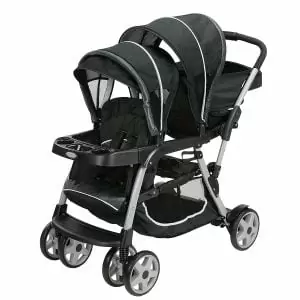 This double stroller is a tandem or inline type where both seats lie in front of each other. This model is better in narrow alleys and elevators where side by side strollers are hard to maneuver with.
The Garco ready to grow model is perfect for a toddler and a newborn as it comes with a bench, platform in the back and a front seat. However, the double stroller can work perfectly with twins as it can easily accommodate two car seats. What makes this stroller so popular among parents is that it comes with a huge storage space for all the baby's bags and toys, and also it has trays for both the kid's seat and for the parents as well.
This stroller has a strong brake system that works on both front wheels to securely stop the stroller. Also, each chair has its own canopy to protect your child from the sunlight and can fully recline for a nap.
The stroller can be folded one-handedly as well so you don't have to worry about tucking it away. And the rear seat can be removed later as your toddler grows so the stroller is fully adjustable according to your family's needs.
Check Pricing and Availability
PROS:
One-handed folding
Lightweight model
Adjustable back seat
Strong double wheel brakes
CONS:
Accepts Graco car seats only
---
3

Britax B-Agile Double Stroller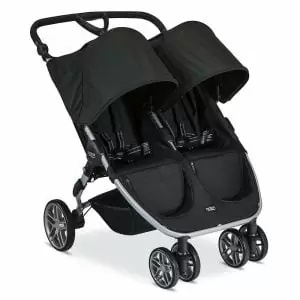 This is another fixed side by side model that is extremely loved by parents. It is made of lightweight aluminum and is easy to carry around and store. The wheels of this stroller are great making it very easy to push around and maneuver. The push arm of the stroller can be adjusted to variable heights to fit different lengths.
The seats offer a comfortable ride for your little passengers and are each equipped with their own canopy and a little window so you can check on them. There is plenty of storage space in this stroller that will fit whatever you will need to carry around during your trip.
The brake system of this double stroller is connected to both rear wheels securing your kids on all stops. This stroller also folds down one-handedly and it even stays in place on its own when folded so you never have to worry about it crashing on the floor. It is provided with a tow to pull it up and down for easier storage in the car.
Check Pricing and Availability
PROS:
Plenty of storage space
Easy to push around and store
Strong chassis
Quick secure fold
CONS:
On the higher end of price
Not all car seats fit
---
Last update was on: April 8, 2021 7:26 am
4

Joovy Caboose Ultralight Graphite Stroller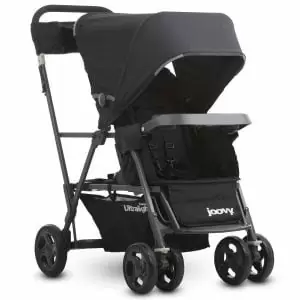 Now, this is a line to line stroller and as the name suggests is the lightest in the market proving that not all double strollers have to be heavy to be great. This model is most suitable for a toddler and a baby as it comes with a front seat and a backbench that fits children starting 6 months. The front seat doesn't fully recline, but it reclines near flat for a decent nap. Also if you are having twins, there is no need to worry as a separate back seat can be bought and attached to the stroller. The canopy of this stroller does not extend all the way down therefore providing only medium protection from the sun for your child. Another important point is that this stroller needs 3 steps to fold and you will need both hands for the job. Despite being the lightest model out there weighing only 23 pounds, the stroller folds into a large size and might not fit in all car trunks.
Check Pricing and Availability
PROS:
Ultralight weight
Easy to push around
Rear seat can be attached
---
Last update was on: April 11, 2021 9:33 pm
5

Baby Trend Sit N Stand Double Stroller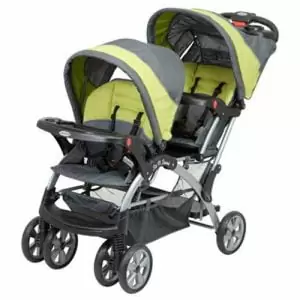 Baby Trend Double Sit & Stand Stroller is durable aluminum framed Baby Trend stroller is ideal for families with infants, toddlers or even twins. This is one of the best double infant strollers. This double stroller is compatible with many car seats the rear seat is removable to allow older children to ride on the platform if they choose. This versatile double stroller can be used in many different ways for a variety of different aged children.
The seat covers are made with breathable and durable nylon and polyester fabrics, which is removable and easy cleaning. Baby Trend Sit N Stand Double Stroller seats feature its own child tray. Each tray features cup holders and space for toys and snacks. These trays also swing away to allow you to more easily get your children in and out of the double stroller. There is also a parent tray with two cupholders and a closed storage compartment for your convenience.
The best double infant stroller is also an amazing choice if you have kids of different ages. You can actually convert this double stroller to be very similar to the Graco Roomfor2 Click Connect Stand and Ride Stroller. In the Sit N Stand mode, the back stroller seat is actually a padded bench where an older child can sit. It also features a standing platform where an older child can stand and hold on to the handlebars during the ride.
Check Pricing and Availability
PROS:
Best versatile double stroller for 40 pounds children.
Narrow design.
Removable/Swing-away child tray with cup holder, Covered parent tray with 2-cup holders.
It can be folded just with one hand.
Rear seat converts stroller to traditional Sit N Stand.
Canopies protect your child by blocking dangerous UV rays.
Its storage basket gives extra space.
Compatible with various infant car seats.
CONS:
Heavy
Too many moving parts
Bulky
---
Last update was on: April 8, 2021 7:26 am
What to Consider Before Choosing The Right Double Strollers?
There are a lot of stroller manufacturer out there, offering their best features to their customers to make things easy. Here are some of the factors to consider before choosing the right double strollers for your twin & infant + toddler.
Safety
Enough storage space
Cost
Size
Cover
Height & weight
Warranty.
You may also interested: Find the best lightweight strollers from our top picks!
Final Thoughts!
Now that we have it all summed up, all you need for the perfect trip with your little ones is one click away. So just make that decision and invest in one of these best double strollers.