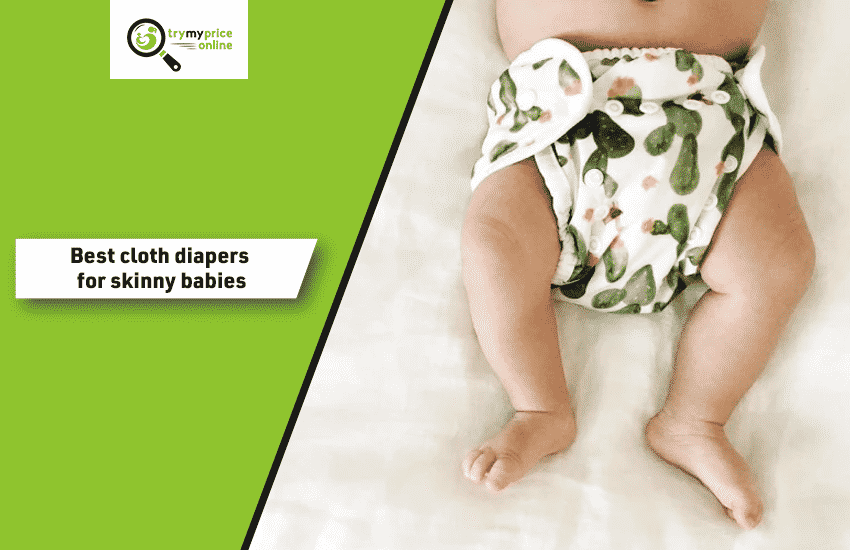 It always seems like the most fundamental questions are the most difficult to ask for taking care of your babies and toddlers. Many guardians and caretakers are often hesitant to ask, 'what are the best cloth diapers?'
The best thing about diapering your baby is that you do not need an all-or-nothing lifestyle.
Many families use a combination of cloth diapers and disposables.
With a plethora of cloth diaper information available on the Internet, some of it good, some of it wrong, we thought it best to start simply. In this article, we'll be covering the components of a cloth diaper, how cloth diapering systems work, and how common elements of sizing work, which will help to answer many frequently asked questions about cloth diapers like 'what are the best cloth diapers for skinny babies?'
It is a personal choice to diaper your infant, and there are no definite health benefits to one method over another. Some parents, for example, are adamant about using disposable diapers from the start. Other parents, on the other hand, are persuaded that cloth diapers are the only option, especially when considering how long disposable diapers take to decompose in a landfill.
Regardless of your feelings or reasoning, it's critical to make an informed decision if you're considering cloth diapers for your infant or want to move from disposables to cloth diapers. Here's a closer look at cloth diapers and all you need to know about them.
Components of a Cloth Diaper:
A cloth diaper, regardless of brand or style, is a reusable, washable diaper made up of two parts: absorbency and waterproofing. These two parts may look very different, depending on the style of diaper you choose. Still, in a fundamental sense, every diapering system will need a way to hold liquids and solids (absorbency) and a way to prevent leaks (waterproofing). Each brand and style will accomplish these two goals differently, but the components will be almost identical: an absorbent cloth fiber and a waterproofing material. Cloth Diapers are made up of 2-3 main components.
The outer cover, also known as the shell, is a water-resistant layer that prevents your baby's clothing from being wet or dirty. PUL, or polyurethane laminate, is a plastic-like substance that is commonly used for this. Wool or fleece can also be used to make coverings.
The inner absorbent layer — this absorbent core can be made of microfiber, hemp, cotton, bamboo, and possibly a few other materials that I'm overlooking. This is the component that has the delightful duty of, shall we say, absorbing your child's *ahem* output.
Finally, some diapers feature a layer that sits on top of the absorbent layer, making them feel drier against the baby's skin. He has snaps that can be adjusted.  This later can be suede cloth or fleece and helps to wick moisture away from the baby's bum, so they don't feel like they're wearing a wet diaper.
Are Cloth Nappies Better?
Depending on your washing and drying regimen, climate, and season, you'll need between 20 and 24 nappies to get started with cloth nappies.
Before investing in a huge quantity of one type, it's a good idea to sample a few different ones. This can be accomplished by simply purchasing a single nappy in the styles that you want. You've decided to purchase a sample pack from a company.
Using a nappy library to borrow a trial pack – nappy companies, as well as some community organizations and councils, offer this service.
Inquire with friends or family if they have any nappies you could try.
Disposable nappies:
A plastic exterior layer, a layer of super-absorbent chemicals, and an inner lining are standard features of disposable nappies. Disposable nappies are simple to put on and take off. They are available in various packet sizes and are suitable for a wide range of ages and weights. If you believe you'll use disposable diapers, try a few different types to see which one best suits your baby's needs and your budget. A newborn may require up to 12 nappies per day, while a toddler may require 6-8 nappies each day.
Cost, time, convenience, and performance of nappies are compared:
If you're unsure about which type of nappy to use, consider the following factors.
Convenience
When you're out and about, disposable nappies may be more convenient than cloth nappies. When you're at home, you might use cloth nappies and disposables when you're out.
Costs 
With cloth nappies, washing and drying costs depend on:
Whether you use warm, hot, or cold water?
Which type of detergent do you use?
Whether you use a clothes dryer?
You'll need to buy another pack or two if you buy sized reusable nappies instead of one-size-fits-all. However, if you can use your reusable nappies on more than one child, you'll save money.
If you use disposable diapers, you'll have to buy them regularly. Calculate how many disposable nappies are in a packet and how many you use every day
to determine how much money you spend on disposables or to compare different brands.
One set of cloth or reusable diapers, washed in cool water and dried on the line, costs about half as much as disposables.  For Example, Baby city cloth diaper price of 10 pieces Adjustable Reusable Baby Washable Cloth Diaper Nappies with ten pieces of cotton Inserts (2 Layers) is about $55.65.
Time
Cloth nappies take time and work to wash and dry. However, depending on the number of cloth nappies you have, you may only be able to wash them every other day. Used cloth nappies can be stored in a sealed bucket until you have enough for a load. You might also think about hiring a nappy-washing service. If you can easily get it where you live, this is a practical and environmentally-friendly choice. However, it will increase your expenses.
Awkward performance
Some nappies leak less and require fewer changes. Cloth nappies, for example, will need to be changed more frequently than extremely absorbent disposable nappies. During the day, you might use cloth nappies and disposables at night.
Which Is More Environment Friendly, Cloth Or Disposable Diaper?
Both disposable and cloth nappies have a direct impact on the environment.
Disposable nappies
Every year, disposable nappies add hundreds of thousands of tonnes to landfills all over the world. Disposable nappies are also made with a lot of water and energy, which adds to their environmental effect.
You can reduce the environmental impacts of disposable diapers by flushing excrement rather than throwing it away.
Cloth nappies
have the most significant environmental impact during their use. Rinsing, washing, and drying cloth nappies
 necessitate the use of detergents, water, and energy.
Avoid flushing nappy liners, especially if they are labeled as flushable
To limit the environmental effect of cloth nappies.
Using phosphate-free, biodegradable detergents.
You are purchasing many nappies to be able to wait for a whole load of laundry without running out of clean nappies.
Instead of using a clothes dryer
Hang nappies to dry.
A fabric softener is not used.
Using a front-loading washing machine instead of a top-loading one, which uses less water.
They're being used on a second child.
How to Clean Cloth Diapers ?
One thing that confuses the mother with cloth diapers is that can I wash cloth diapers with baby clothes?
When the cloth diaper becomes filthy, immediately rinse it under warm water. This may not be necessary if your infant is not yet consuming solids, especially if you are breastfeeding. Flush solid waste in the toilet if your newborn or youngster is eating solids.
Discard dirty diapers in a cloth diaper bag or a diaper pail with a liner. Disposable liners can be thrown away or flushed in the toilet if the package specifies that they are flushable.
Most cloth diaper companies recommend washing diapers every two to three days. As a result, odors and ammonia build-up in the diapers are reduced.
Keep in mind that once a stench has become embedded in the fabric, it might be challenging to remove. With each load, you'll also need to wash the wet bag or pail liner. Simply follow the instructions supplied by the diaper companies. It's also a good idea to wash the diapers separately from the rest of the baby's clothing.
To avoid skin irritation, use a lot of detergents and run an extra rinse to make sure that all detergent is washed off the diapers. Keep it simple and leave out any additives, such as fabric softener. Disinfectants can be added to the wash, but they should be used sparingly and only when absolutely necessary.
Health issues related to nappies:
Nappy rash can occur in some newborns. Changing your baby's nappy on a regular basis is the greatest approach to avoid nappy rash.
If your baby gets nappy rash, using high-quality disposable nappies may help, as disposable nappies are often better at keeping newborns' bottoms dry.
What are the most absorbent cloth diapers inserts?
Now, as the composition of a cloth diaper is understood, you should know that some baby cloth diapers with inserts are also available. But, the question arises, 'What are the most absorbent cloth diapers inserts?'
You might want to get some of the ultra-absorbent inserts for inserts, especially if you want the diaper to last all night. The following are the best cloth diaper inserts:
Best Bottom Microfiber Insert
Amp 3 Layer Hemp Insert
Buttons Hemp/Cotton Doubler
How Do You Get A Good Cloth Diaper To Fit?
It's critical to have a properly fitting cloth diaper, especially if you want to avoid leaks. But how can you know what's right when it comes to cloth diaper fit? Because every baby is different and there are so many different types of cloth diapers to choose from, the fit might be unpredictable. With that stated, there are a few characteristics that will ensure a decent cloth diaper fit every time.
Pick up the legs of the baby after putting the diaper on and look at how it hugs their bottom to assess the fit. Is it cramped? Are there any "gaps" between your baby's leg and the diaper that you can see? Is it sliding down your baby's body as he or she moves? If this is the case, tighten the tabs around your baby's waist or adjust the rise on your one-size cloth diapers to get the best fit on the legs; with bum Genius or Flip, tighten the tabs around the waist or adjust the rise setting on your one-size cloth diapers to get the best fit on the legs. A decent rule of thumb is to have your diaper snug enough to prevent moisture from escaping but loose enough to slide a finger through.
Remember that a properly fitted cloth diaper will always be snug around your baby's legs and waist. It's perfectly fine if it's tight enough to leave red markings on your baby's skin during typical wear. Consider this: after wearing socks with shoes for a few hours, you will see red markings on your skin when you remove the socks. Cloth diapers can be compared in this way. Red marks are inevitable and should not be a reason for concern.
The 10 Best Cloth Diapers:
We have found some of the best brands of cloth diapers after detailed research according to various aspects such as their affordability, availability, and fitting according to age group, etc.
Best Affordable: ALVABABY Cloth Diapers
The well-priced set includes six diapers and 12 inserts, which parents believe to be a wonderful bargain. While they aren't the greatest cloth diapers on the market, they are highly recommended, and for many people, the value exceeds the drawbacks. These pocket diapers, which are recommended for babies weighing 6 to 33 pounds, require an insert, offering parents some choice in terms of absorbency level by utilizing larger or double inserts. These cloth diapers will provide a secure fit for babies thanks to the 3×3 snaps, which allow for a lot of fit adjustments. They also have a wide range of the best cloth swim diapers for babies.
Best Overall: Bambino Mio
Parents adore these diapers for a variety of reasons, including the adorable patterns, adjustable sizing, and very absorbent design. The easy-to-adjust buckles and hooks ensure a secure fit for babies weighing 8 to 35 pounds. Moisture is kept away from the infant with the ultra-absorbent core and stay-dry inner layer.
When it's time to wash it, a thick insert is removed and replaced after it's been cleaned and dried. The only issue for parents is that adjusting the insert correctly after washing might be challenging.
Best All-in-One: bumGenius Freetime
These all-in-one diapers are very similar in style to disposable diapers and are quite straightforward to use, especially for cloth diaper newbies. There are no inserts to worry with, and resizing is a breeze thanks to the simple click system, which fits babies from 7 to 35 pounds. They're easy to clean, dry quickly, and come in lots of cute colors and prints.
Best for Newborns: Thirsties Newborn All in One
These all-in-one diapers were created with a new baby's demands and size in mind (and tired, new parents). There's a snap closing option with an umbilical cord snap-down mechanism to lower the waistline for babies, and it's easy to use and trim fitting.
These diapers are best for children weighing 5 to 14 pounds. They have a limited lifespan usage, but because babies require frequent diaper changes, they're a good investment in cloth diapering.
Best Organic: Oso Cozy Organic Fitted Diaper
Organic cloth diapers may be preferable to normal cloth diapers for certain parents. Contrary to popular belief, chemical burns do not occur in babies when cotton is processed with chemicals.
Organic cotton, on the other hand, can prevent exposure to allergens like latex, which can cause unexpected allergic reactions in youngsters. These are cloth baby diapers made in the U.S.A. from 100% unbleached GOTS (Global Organic Textile Standard)-certified organic cotton. Hourglass-shaped, these close with durable snap fasteners are available in four sizes and have gentle elastic bands on the legs and waist.
Best Pocket Diapers:Babygoal  Reusable Pocket Cloth Diapers
The baby goal cloth diapers are a good option if you want a cloth diaper that will last a long time. This cloth diaper is one-size-fits-all and features double-row snaps for a secure fit. Due to the adjustable snaps, your child can wear these from infancy to potty training age.
The diapers are constructed of polyester and have a suede layer on the inside to wick away moisture. A microfiber insert is included in each diaper to absorb moisture and grows more absorbent with each wash. To prevent leaking, the outside is made of waterproof material.
Best for Potty Training: Blueberry Trainers
These training pants are designed to appear and feel like genuine underwear and are ideal for catching tiny spills. They have a cotton velour inner lining, a layer of super-absorbent terry, and a concealed waterproof panel. Thanks to an elastic waist, kids can effortlessly pull them up and down like underpants. These are only partially waterproof and should not be worn overnight or for naps. These trainers are made in the United States and accommodate most children weighing 20 to 42 pounds.
Best Fitted: GroV.I.A. One
Fitted cloth diapers are ready-to-wear, composed entirely of absorbent fabric, and require an over-the-diaper waterproof cover. They close with snaps around the waist and have elastic holes on the legs. Simply replace the diaper with a new one and re-use the waterproof cover to change diapers.
Guardians adore how this diaper doesn't require any prep work and how absorbent it is. The normal size is appropriate for babies weighing 10 to 35 pounds, while a newborn version is available for babies between 5 to 12 pounds. Many reviewers say these are the most absorbent of all the cloth diapers they've tried, and they're great for overnight use.
Remember that cloth diapering is not an all-or-nothing option for you and your family as you find whether or not it is right for you. There is no such thing as a bad approach. By experimenting with different diapering methods, you may find that cloth diapering improves both your and your child's diapering experience.
References: