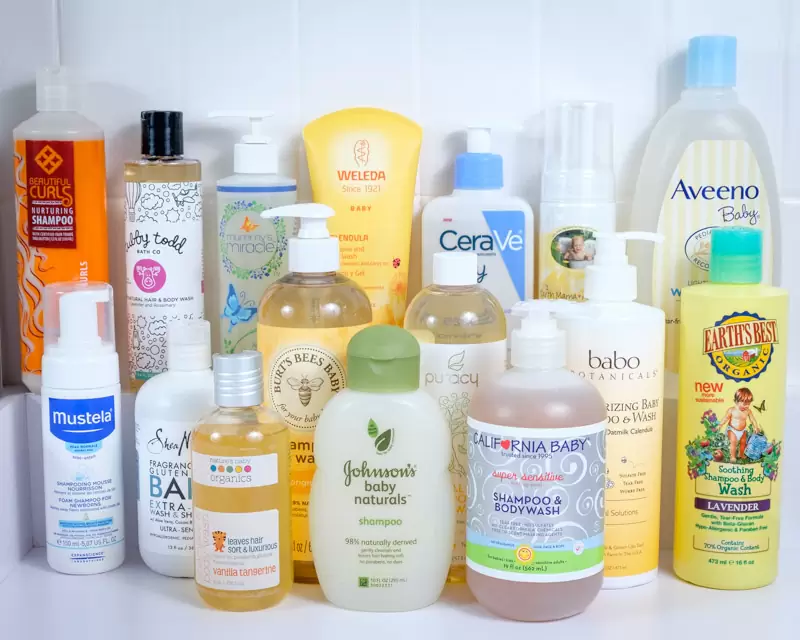 When it comes to the baby, there are a lot of things to consider. Baby's adorable soft skin and the peach fuzz on their head is the sweetest thing. Whether your baby is born bald or just a bit of peach fuzz up top, you definitely want to keep your child's skin, hair and scalp clean, soft and healthy.  That's why you are gonna need the best baby bath products including best shampoo and body wash to keep your little one clean without irritating their sensitive skin.
There are so many brands are available in the market, are offering their best baby products. But, to choose the best baby shampoo, you must lookout for the right shampoo which has the right ingredients. Don't worry. This guide will help you to find the right baby shampoo and body wash for your precious little one. If you are looking for the best baby products, read on and find the best baby shampoo and body wash for your baby.
Best Baby Shampoo: Quick Overview
| Baby Shampoo Brand | Best For | Fragrance | Price |
| --- | --- | --- | --- |
| Puracy Natural Baby Shampoo & Body Wash | Best Natural Baby Shampoo | Citrus Grove | Check Price |
| Aveeno Baby Gentle Wash & Shampoo with Natural Oat Extract | Best Baby Wash For Eczema & Dry Skin | Lightly Scented | Check Price |
| Mustela Foam for Newborns | Best Newborn Shampoo | Gentle fragrance | Check Price |
| Burt's Bees Baby Bee Shampoo & Wash | Best Overall Baby Shampoo | Fresh clean scent | Check Price |
Top Picks: Best Baby Shampoo and Body Wash Of 2020
So, let's check out our top 4 picks of best baby shampoo and body wash products, which are gentle and completely safe on baby's skin.
1

Puracy Natural Baby Shampoo & Body Wash – Best Natural Baby Shampoo
Special Features
Hypoallergenic
Baby shampoo and body wash
Non-toxic
No harsh chemicals
Sulfate-free
Paraben-free
Made in the USA
Essential oils
Jojoba seed oil
Vegan-friendly
PH-balanced
The BUMP 2019 award winner
Puracy Natural is the most popular and safest baby shampoos and body wash that has won Best Baby Skincare Products award of 2018 and The Bump 2019 award winner. A non-toxic, hypoallergenic, gluten-free, trusted and favorite natural shampoo by parents. Made in the USA.
This baby shampoo is super safe natural body wash that effectively cleaning baby's hair. It contains the most essential and natural ingredients including jojoba seed oil, which assure the shampoo is totally natural, effective and safe for babies. There are no harmful chemicals in this shampoo. Absolutely free of sulfates, triclosan, formaldehyde, eye-numbing agents, parabens, phosphates, dyes, petroleum-based ingredients, caustics, MEA, TEA, DEA, and perfumes. Puracy natural is good for sensitive skin, cradle cap and eczema.
About Ingredients
Jojoba Seed Oil – Jojoba seed oil is an amazing natural moisturizer with lots of other benefits that you'll find with this baby shampoo. It doesn't just do a great job at moisturizing your baby's hair and skin, but it is also full of great stuff like vitamins and antioxidants. It actually helps to fight off bacteria while also nourishing your baby's hair and skin!
Essential Oils – Essential oils are wonderful natural ingredients that have a myriad of different benefits. Pink grapefruit essential oil and lavender essential oil are used in Puracy Natural Baby Shampoo.
Pink grapefruit essential oil has antimicrobial and antiseptic properties. It helps to cleanse and can even boost the immune system among lots of other cool benefits! Lavender essential oil is wonderful because it brings a calming effect over your baby. It also helps your baby relax during their bath.
Downside
This baby shampoo is labeled as "tear-free". But this is actually different than other tear-free baby shampoos.  This shampoo can cause discomfort if it gets in the eyes. So, Tear-free labeling can be misleading considering this formula does not contain the eye-numbing agents in most tear-free baby shampoos.
---
Last update was on: March 6, 2021 10:38 am
2

Aveeno Baby Gentle Wash & Shampoo – Best Overall Baby Shampoo
Special Features
Lightly scented
Hypoallergenic
Baby shampoo and body wash
Tear-free
Paraben-free
Phthalate-free
Natural oat kernel extract
Sunflower seed oil
Dye-free
Aveeno, a pediatrician recommended brand for 60 years. Aveeno Baby Shampoo is the best baby wash for eczema and dry skin. This super-affordable trusted baby wash is gentle on baby's skin that is approved by the National Eczema Association for use on eczema-prone skin. This is a delightful lightly scented mild must-have shampoo. It is allergy tested, a hypoallergenic, tear-free, soap-free, and paraben-free, and phthalate-free formula rinses clean & leaves behind a light, fresh fragrance gently cleanses without drying.
About Ingredients
Sunflower Seed Oil – Sunflower seed oil is another amazing natural moisturizer and is found in the Aveeno Gentle Wash and Shampoo! It is absolutely filled with lots of different vitamins and antioxidants that do wonders to help nourish your baby's skin to keep it healthy and moisturized. It also has soothing and healing properties and even provides some natural sun protection.
Active Naturals Oat Extract – This baby shampoo is formulated with natural oat extract. The active natural oat extract helps to calm irritated skin and also lock in moisture. Cradle cap or eczema is very itchy and uncomfortable. The oat extract also provides a soothing effect while gently nourishing delicate skin.
Aveeno baby shampoo is tear-free and does not contain soap, so it won't over-dry your baby's skin.
Downsides
As it is tear-free, so it will not irritate baby's eyes. But, as it has a light fragrance, so it may irritate baby's sensitive skin.
---
Last update was on: March 6, 2021 10:38 am
3

Mustela Foam for Newborns – Best Newborn Shampoo for Cradle Cap
Special Features
Foaming formula
pH-balanced
Avocado extract
Hypoallergenic
Clinically tested
Natural ingredients
Paraben-free
Phthalate-free
Phenoxyethanol-free
Mustela Foam Shampoo is the best newborn baby shampoo that contains natural avocado perseose, helps to reduce and prevent cradle cap. If your baby is suffering from cradle cap, this is a must having shampoo for your newborn. This shampoo is specially formulated for newborns to cleanse baby's hair and scalp. Complete hypoallergenic, Paraben-free, Phthalate-free, Phenoxyethanol-free, tear-free, soap-free shampoo, composed of 99% ingredients to protect baby's scalp and rinse away cradle cap flakes. Specially formulated to minimize the risk of allergic reactions. It also helps to soothe, heal, nourish, and protect your baby's scalp in addition to being good for hair growth.  Tested under pediatric and dermatological control.
About Ingredients
Avocado Extract – This is the most effective and beneficial ingredients of this newborn shampoo. Avocado extract is useful ingredient to prevent cradle cap and protect baby's scalp. This is a cure for cradle cap. Avocado contains proteins, vitamins, amino acids. That's why this baby shampoo is also very nourishing for your baby's hair and scalp and can even help with hair growth!
Citric Acid – Citric Acid is another active ingredient in Mustela Foam Shampoo. Citric Acid actually helps to cleanse baby's hair naturally and also grow hair faster and healthier. This acid is known as pH level adjuster. That means, citric acid balances the pH level. So, this newborn baby shampoo will not interfere with baby's natural skin barrier.
This is a tear-free foaming formula. So, when applied this shampoo turns into rich foam, it helps to prevent dripping. That's why less possibility to go down in baby's face and eyes. If the shampoo gets into your baby's eyes, this won't hurt or irritate your baby. Because it is tear-free baby shampoo.
Downsides
The downside of this product is, this is the most expensive baby shampoo than the other options. So, less affordability for everyone. However, this is an excellent cure of cradle cap for newborn to any older babies and toddlers.
---
4

Burt's Bees Baby Bee Shampoo & Wash Original – Best Overall Baby Shampoo
Special Features
98.9% natural
Shampoo + Mild body wash
Tear-free
Non-irritating formula
Soy Protein-based formula
Fresh clean scent
Paraben-free
Phthalate-free
Petrolatum-free
SLS-free
Pediatrician-tested
Absorbs naturally on skin
Keeps skin soft, dry and comfortable
Burt's Bees Baby Bee is natural, gentle shampoo and body wash that cleanses and softens baby's delicate, sensitive skin, designed to soothe baby's tender skin. This non-irritating, natural foaming baby shampoo and wash is made with 98.9% natural plant-based formula contains soy proteins. Baby Bee is mild baby wash and tear-free body shampoo that cleanses hair to skin from head to toe. This baby shampoo and body wash contain no phthalates, parabens, petrolatum or SLS (sodium lauryl sulfate).
About Ingredients
Soy Proteins – Burt's Bees Baby Bee natural baby care shampoo has natural plant-based cleansing complex with Soy Proteins that moisturizes skin naturally. Soy Proteins are packed with vitamin B and essential minerals to scrub away the day. This gentle shampoo has a fresh scent that smells delicious.
Baby Bee Shampoo is clinically proven that it is 98.9% natural and so is totally safe and recommended product for everyday baby care. This shampoo is pediatrician tested and approved tear-free formula for baby care, so it won't irritate if it gets into the eyes of your child.
This is a plant-based soy protein formulated body wash shampoo. That's why is suitable for all type of skins. It can be used on both dry skin and skin with any form of allergy.
Downsides
The only downside of this baby shampoo is, some parents may not like the fragrance.
---
Last update was on: March 6, 2021 10:35 am
Why Right Shampoos and Body Washes Are Important?
Baby skin and hair are most sensitive. Their hair, skin and scalp can easily damage or drying than adults' skin. This new and sensitive baby hair and skin need extra special care. If you continuously use wrong products for bathing, this might cause skin dry out more quickly.
Babies have less fat than adults. Due to their less subcutaneous fat, the probability of toxin absorption into baby's body is higher.
Their skin layer is thinner. That's why adults have better skin protection than adults, while babies have less protection barrier to outside irritants.
Babies have an immune detox system. Their liver and kidneys are new, young and immature. So, they cannot remove toxins and harmful substances efficiently as adults.
That's why you must not purchase a shampoo blindly. That's why you must choose specially formulated, non-toxic and gentle baby cleansing products.
---
Last update was on: March 6, 2021 10:38 am
Which Baby Shampoo Is Best For My Baby?
The choice of baby shampoo may be different. Choosing the right baby shampoo will depend on baby's sensitivity and parent's preferences as well. Is your baby okay with fragrances or not? Is your baby allergic to the shampoo and body wash? Answering the question can easily get you the best shampoo for your precious little one.
---
Buying Guide: How to Choose a Baby Body Wash and Shampoo?
You may get confused to buying baby shampoo or baby body wash products. How to find out is the baby shampoo is safe or not? There are lots of things should be considered before choosing the perfect body wash and baby shampoo of your baby.
The first important thing of baby shampoo is its chemical composition or formula. Check the product is hypoallergenic or not? Check the shampoo ingredients list, they must not contain any harsh chemicals like Parabens, Phthalates, Sulfates and Phenoxyethanol. These are the most common irritant and harmful substances. The hypoallergenic label tells that, the shampoo is made with the right formula and will be gentle on baby's soft and sensitive skin.
Fragrances are smell nice, but always try to use fragrance-free shampoo. Synthetic fragrance might cause sensitive skin get overly dry. So it may irritate baby's skin. If you really want to buy fragrance products, you may buy those products who uses natural botanical extracts or essential oil to create natural fragrances. Actually, fragrance is not essential ingredient. So, better to avoid any fragrances.
Baby's skin easily releases moisture than adults, and also many baby skin problems stem from being overly dry. So, picking up a gentle baby shampoo can help from dry out baby's skin.
Parents have been given much attention to tear-free shampoos lately. Tear-free shampoos contain less cleansing agents then regular shampoos, so they do not irritate baby's eyes. Tear-free shampoos are completely safe for your baby.
---
You may also interested: Check out our top picks of best car seats for babies ultimate safety!
Last update was on: March 6, 2021 10:35 am
Final Words
Baby shampoo is essential and must-have baby bathing products that all parents need. Among all of the options and ingredients, consider the main factors like features, chemical ingredients and as well as price tag, you will find the right and best baby shampoo for your little one.
---