By simply feeling the forehead of your baby, you may be able to suspect that your baby has fever. But, it is necessary for you to determine the accurate fever of your baby. A reliable baby thermometer is a perfect addition to your medicine cabinet that can help you take the baby's temperature whenever necessary. Although most fever in babies usually caused by viral infections. Fever can also lead to serious problems if not handled quickly. That is why a baby thermometer gives you an accurate reading, which is essential for proper baby care.
In this article:
Best Baby Thermometer Recommended by Doctors
Which Is the Best Baby Thermometer Recommended by Doctors? There is a wide range of collections of child thermometers out there in the market and on the ...
What Is the Best Baby Thermometer Recommended by Doctors?
There is a huge collection of baby thermometers out there in the market and online. However, you need to choose the best baby thermometer for your baby. Here are different types of thermometer recommended by doctors:
back to menu ↑
Rectal thermometers
---
The doctors recommend rectal thermometers for newborns and kids up to 3 years of age. These thermometers are reliable and the most accurate ones to measure the core baby temperature of your baby. For that purpose, you should include rectal thermometers in the list of your baby thermometer.
back to menu ↑
Axillary thermometers
---
Axillary thermometers are also known as underarm thermometers. You need to place these types of thermometers against the skin in the armpit. Such thermometers work best in infants who can hold the thermometer in place without causing any disruption until the thermometer beeps. Although this method is easier to use as compared to the rectal thermometer, make sure about its accuracy as well.
back to menu ↑
Ear and forehead thermometers
---
Again, ear and forehead thermometers are easy to use as compared to rectal thermometers. These types of thermometers are placed in your baby's ear or against the forehead. If you want to get a quick reading, such thermometers are the ideal choice. However, you need to invest in the best baby forehead thermometer to get an accurate reading – the same applies to an ear thermometer.
back to menu ↑
Oral thermometers
---
As your baby continues to grow and becomes 3 or 4 years old, you can use oral thermometers. At this stage, your baby tends to cooperate which helps you to place the thermometer under your child's tongue. Remember, your child has to keep the thermometer under the tongue for a minute, which can be a downside for you in case your baby does not cooperate. Otherwise, such thermometers can provide you accurate readings.
So, these types of thermometers are recommended by expert doctors. You can purchase one that best suits your needs and budget.
back to menu ↑
Which Type of Infant Thermometer Is Most Accurate?
When it comes to the most accurate thermometer for kids, rectal thermometers are on top of the list.
However, most parents opt for axillary thermometers or ear and forehead thermometers because these are easy to use on their babies. But, you need to follow up with a rectal reading to get the most accurate fever results. Purchase the best rectal thermometer that is comfortable to use when taking a young baby's temperature.
back to menu ↑
Which Is the Best Thermometer for Babies? Expert Reviews
1
Amplim Medical Grade Non-Contact Digital Infrared Thermometer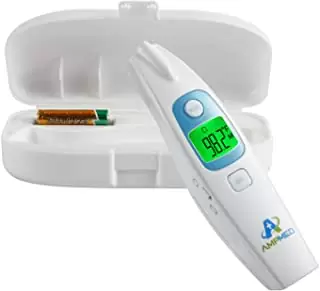 It has an ergonomic design which includes a simple button for activation and a large, easy to read backlit display. For an accurate reading, this thermometer is FSA HAS approved. For a newborn, it is an ideal thermometer to measure your baby's temperature. Moreover, it doesn't require any disposable probe cover. When it comes to reading, it only takes less than one second to take an accurate reading.
PROS:
FSA HSA approved
Readings can be taken in one second
The flexibility of choosing between Celsius or Fahrenheit
CONS:
May be difficult to read readings in a well-lighted room
2
iProven Infrared Lens Thermometer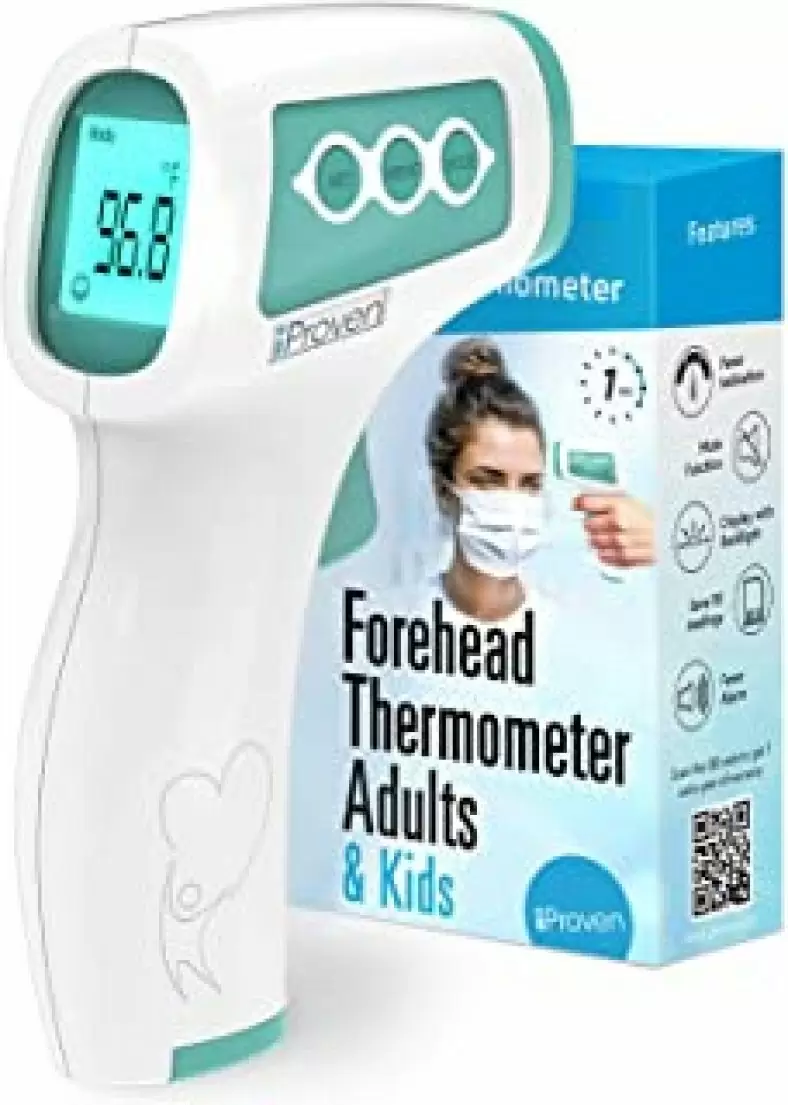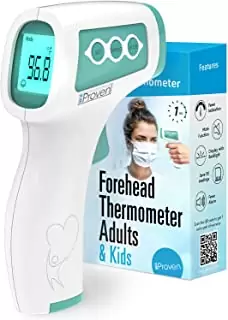 It is the best thermometer for kids that can be used as either forehead or ear thermometer. In either way, this thermometer takes the reading quickly (between 1 – 3 seconds). Moreover, operating a device is very simple as all you need to do is press a single button. It is labeled as 'ear' or 'head' thus you can press the ear one if you want to use it as an ear thermometer and vice versa.
Most importantly, it also beeps after the reading is taken to help you know it has been done. When it detects a fever, there is a sound alarm as well.
PROS:
Easy to use
A large display and backlit
It beeps when done and a fever indicator
Easy to clean and waterproof

Are you looking for the best ear thermometer? Look no further than Braun Ear Thermometer. Such thermometers are easy to use and comfortable as well. The ordinary thermometers may give you an inaccurate reading if positioned incorrectly. For that purpose, Braun Ear Thermometer resolves this problem by introducing visual and audible signals that help you know that it is positioned correctly.  Then, you will get a correct reading.
PROS:
It's fast that takes readings in a couple of seconds
Positioning indicator for accuracy
Easy to clean
Choose between Celsius and Fahrenheit
CONS:
The screen is not back-lit
Lacks fever warning indicator
4
Vicks Baby Rectal Thermometer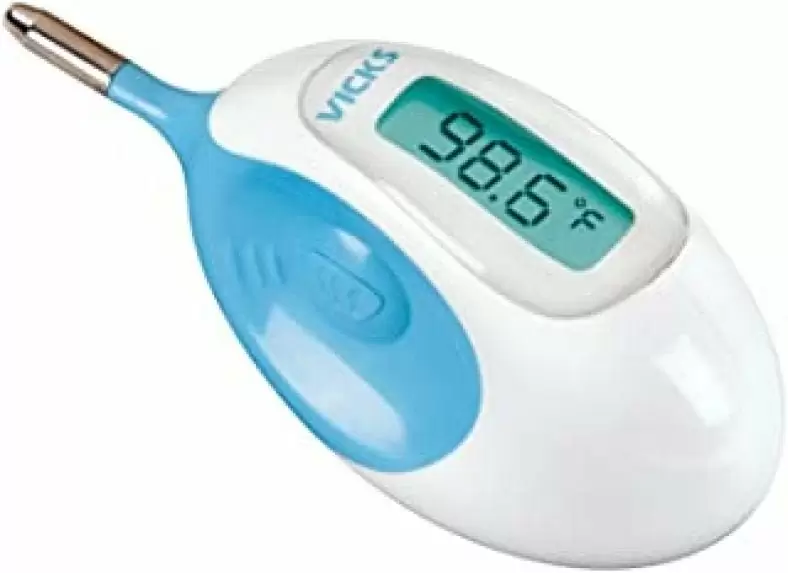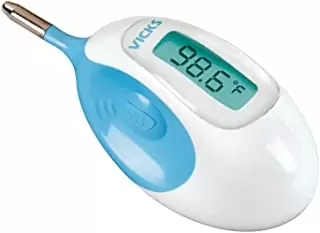 This infant thermometer is specifically designed with your child's body in mind. It has a short probe that ensures not inserting it too far that can cause accidental harm to your baby. Moreover, you need to keep it still for about 10 seconds to get a reading. It shows the reading in the back-lit digital display.
PROS:
It gives you an accurate reading
It works quickly
The short probe prevents accidental harm to your baby
Comes up with a backlight
CONS:
Not so versatile because it is only for rectal use
5
Exergen Temporal Artery Thermometer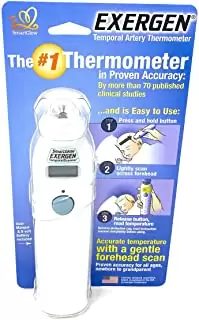 Ear infections are very common in little kids. For that purpose, you need to have an option that can help you take your child's temperature easily and comfortably when they are sick. During ear infections, ear thermometers can be inaccurate or uncomfortable to the inflamed ear.
This thermometer resolved this downside by allowing you to do a gentle swipe across your baby's forehead. As a result, you will get a reading that has been proven by Harvard Medical. It gives you a more accurate reading than ear temperatures.
PROS:
Highly accurate (proven by Harvard Medical)
You can use it on a sleeping baby
It comes up with a backlit screen for night use
It can be programmed to beep if you want to do so
CONS:
Display lit is relatively small
back to menu ↑
What to Expect When Buying Best Thermometer for Newborn
Do you need the best thermometer for newborn? Here are a few things you should expect and features you may want to look for when buying a thermometer for a newborn.
Digital readings: Digital thermometers are so versatile because of their accuracy. Moreover, the AAP recommends against using mercury thermometers as mercury is an environmental toxin and can be dangerous when broken down. For that purpose, make sure to purchase the best digital thermometer for the baby.
Flexible tip: When you insert a rectal thermometer, this feature can be helpful. It provides great comfort to your baby. That is why you can look for this feature when buying a rectal thermometer.
Wide base: When you use a rectal thermometer, an easier time gripping can help you while inserting. You can achieve it with the help of a wide base feature.
Backlit display: You, of course, want a thermometer that makes the readings readable. A backlit display serves the purpose of easy to read thermometer when checking your baby's temperature in a dark room.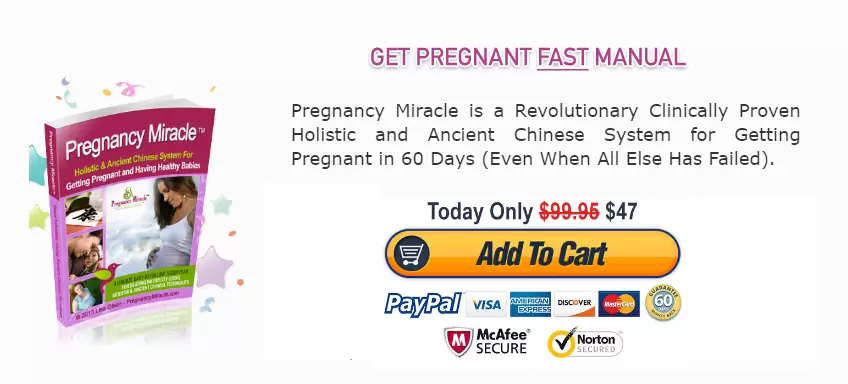 Talking thermometer: A talking thermometer is handy especially in the middle of the night when you are unable to read the temperature. Such a thermometer reads it for you and provides you great comfort. Moreover, if it has a small display, a talking thermometer is a way to go.
Memory: Do you want to save the readings of your baby's temperature? Memory is a high-tech feature that can help you keep the track of your child's temperatures. As a result, you can observe the changes in temperatures daily.
Battery type and cover: When it comes to electronic thermometers, these contain button cell batteries. Your little one can unintentionally swallow it. For that purpose, make sure battery covers are secure.
It can be overwhelming for you to sort a huge collection of different best child thermometer. For your comfort, we have provided you with a few top-rated options that can help you get the best baby thermometer for your little one.